BLUETTI| EP500 USP Model 2,000W 5,100Wh Solar Power Station
Regular price

Price:

$4,299.00 USD

Regular price

List Price:

$4,599.00 USD

Sale price

Price:

$4,299.00 USD

You save:

$300.00 USD (7%)

Unit price

per
2% off, Free Shipping & Tax Free| Coupon Code: BLUETTI | Ends:
Shipping Information

Free Shipping to Contiguous United States| We do not ship to Alaska, Hawaii, American Samoa, Guam, Northern Mariana Islands, Puerto Rico, U.S. Virgin Islands
30 Days Price Match Guarantee
ecopowerit will refund you the difference if you find a lower price from us within 30 days of your purchase, shop with confidence.
Share
BLUETTI| EP500 USP Model 2,000W 5,100Wh Solar Power Station
5100Wh LiFePO4/Up to 1200W MPPT Solar/Seamless UPS/240V Split Phase
Features:
5100Wh LiFePO4, 3500+ Cycles to 80% Capacity

2000W Pure Sine Wave Output

Movable Power Station

In-grid UPS Mode&Flexible UPS Mode(24/7)

Off-grid Energy Storage

Multiple Devices Can Be Loaded Simultaneously

Flexible Recharging Way To Keep Your EP500 Always On

App Remote Control

Smart Touchscreen
BLUETTI PV350 350W Solar Panel
Features:
Higher Conversion Rate

Easy Setup & kickstand Included

Durable & Splash-Proof

Compatible With BLUETTI AC200P/AC200MAX/AC300/EB150/EB240/EB500

Foldable & Portable
 Learn More about Bluetti Solar Panels
*Please NOTE: This item is only applicable to orders in the US (except Alaska and the Virgin Island.
All-in-one Backup Power Station
The BLUETTI EP500 is shipped with a ground-breaking 5100Wh LiFePO4 battery pack and a 2000W rated (3000W for the EP500 Pro) pure sine wave AC inverter. This class-leading power station brings you the power to run your entire party, family camping trip, cabin workshops, or even your whole house for a day or two in the event of an unexpected outage. Up to 15 outlet sources allow you to power anything from laptops and air conditioners to your electric vehicles without breaking a sweat.
Safe, Smart, And Continuously Evolving
The advanced Battery Management System and LiFePO4 chemistry bring the EP500 incredible safety and durability. With the built-in dual-core microcomputer and Internet connection, the EP500's firmware can be upgraded through your internet connection. There is no best, only better!
Seamless UPS Backup
The EP500 will automatically become your home energy source for essential loads when the electrical grid goes down. Unlike gasoline generators, the BLUETTI EP500 keeps your lights on and laptops charged without upkeep, fuel, carbon monoxide or annoying noise. Pair with up to 1200W MPPT solar input to rapidly recharge or to keep your appliances running without depleting the onboard battery. Remember when you had to worry about a power outage? Worry no longer, Meet BLUETTI EP500.
How To Use The EP500/EP500PRO
Designed as a flexible power station to meet various scenarios, the EP500 Series has different usages. 
Tech Specs

BLUETTI EP500 Solar Power Station | 2,000W 5,100Wh
General Information
AC Rated Power:

2000W 

2000W<load<2500W,2min

2500W<load<3000W,10s

3000W<load<4800W,500ms

(peak 4800W)

Net Weight:

≈76kg (167lbs)

Dimensions:

500*300*760mm (22.8*11.8*29.9in)

Battery Capacity:

5100Wh

Battery Cell Type:

LiFePO4

Rated Life Cycle:

3500+ Cycles to 80% Capacity

Charge Temperature:

0°C ~ 40°C (32°F ~104°F)

Storage Ambient Temperature:

0°C ~ 45°C (32°F ~113°F)

Working Environment humidity:

10-90%

Certification:

PSE, FCC, CE, UN38.3, msds, UL, SAA and ROHS

Warranty Perior:

60 Months

Color:

Superior Grey, Elegant White


Input Specs
AC Input:

600W Max, 100-264VAC

PV Input or T500 Input:

2400W Max 

1200W Max,

55-145VDC, 20A


Output Specs
USB-C:

1*100W

AC:

220-240VAC*3
100-120VAC*4

USB-A:

2*Quick Charging, 36W Total, 2*5VDC, 3A Total

Cigarette Lighter:

1*12VDC, 10A

RV (Aviation Port):

1*12VDC, 30A

DC 5521:

2*12VDC, 10A Total

Wireless Charging Pad:

2*5/7.5/10/15W
BLUETTI PV350 350W Solar Panel
| | |
| --- | --- |
| Peak Power (Pm) | PV350 |
| Solar Cell Lamination | 350W |
| Cell Efficiency | ETFE |
| The voltage at Max Power (Vmp) | Up to 23.4% |
| Current at Max Power (Imp) | 37.5V |
| Open Circuit Voltage (Voc) | 9.2A |
| Short Circuit Current (Isc) | 46.5V |
| Operation Temperature | 10.8A |
| Best Working Temperature | -10°C ~+65°€ |
| Folding Number | +25°C |
| Dimension (Unfolded) | 2400*905mm/94.4*35.6inch |
| Dimension (Folded) | 905*613*65mm/35.6*24.1*2.5inch |
| Weight | 13.9kg/30.6lbs |
| Warranty | 24 months |
Warranty, Return & Registration
Click to learn about Bluetti Warranty, Return & Registration
Shipping
Thank you for visiting and shopping at ecopowerit.com. aims to offer you the best shipping options.
Shipment processing time
All orders are processed within 3-5 business days. Orders are not shipped or delivered on weekends or holidays.
If we are experiencing a high volume of orders, shipments may be delayed by a few days. Please allow additional days in transit for delivery. If there will be a significant delay in the shipment of your order, we will contact you via email.
Shipment to P.O. boxes or APO/FPO addresses
ecopowerit.com ships to addresses within the U.S., some of U.S. Territories (Please consult Sales@ecopowerit.com before ordering) and does not ship to P.O. Box and APO/FPO/DPO addresses.
Shipment confirmation & Order tracking
You will receive a Shipment Confirmation email once your order has shipped containing your tracking number(s). The tracking number will be active within 24 hours.
Damages
ecopowerit.com is not liable for any products damaged or lost during shipping. If you received your order damaged or lost your package, please contact us within 20 days at info@ecopowerit.com.
After-sale Service Contact
---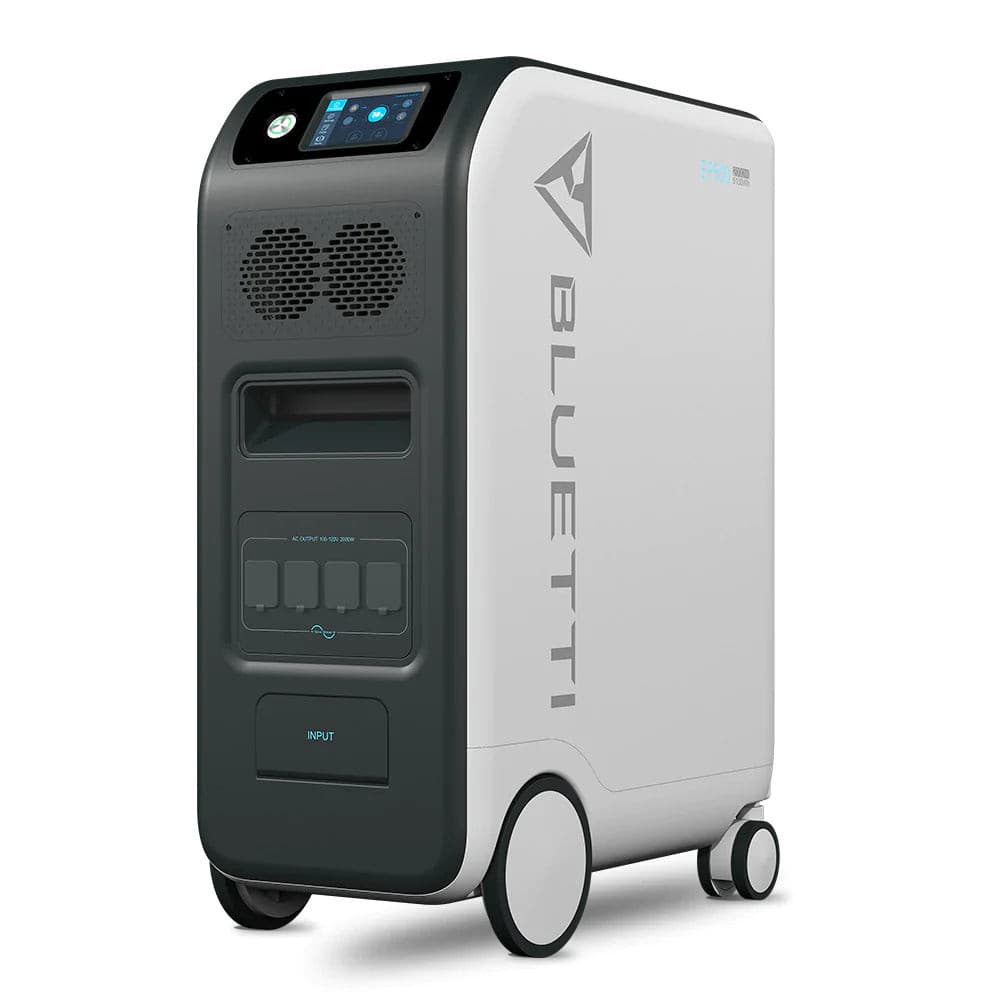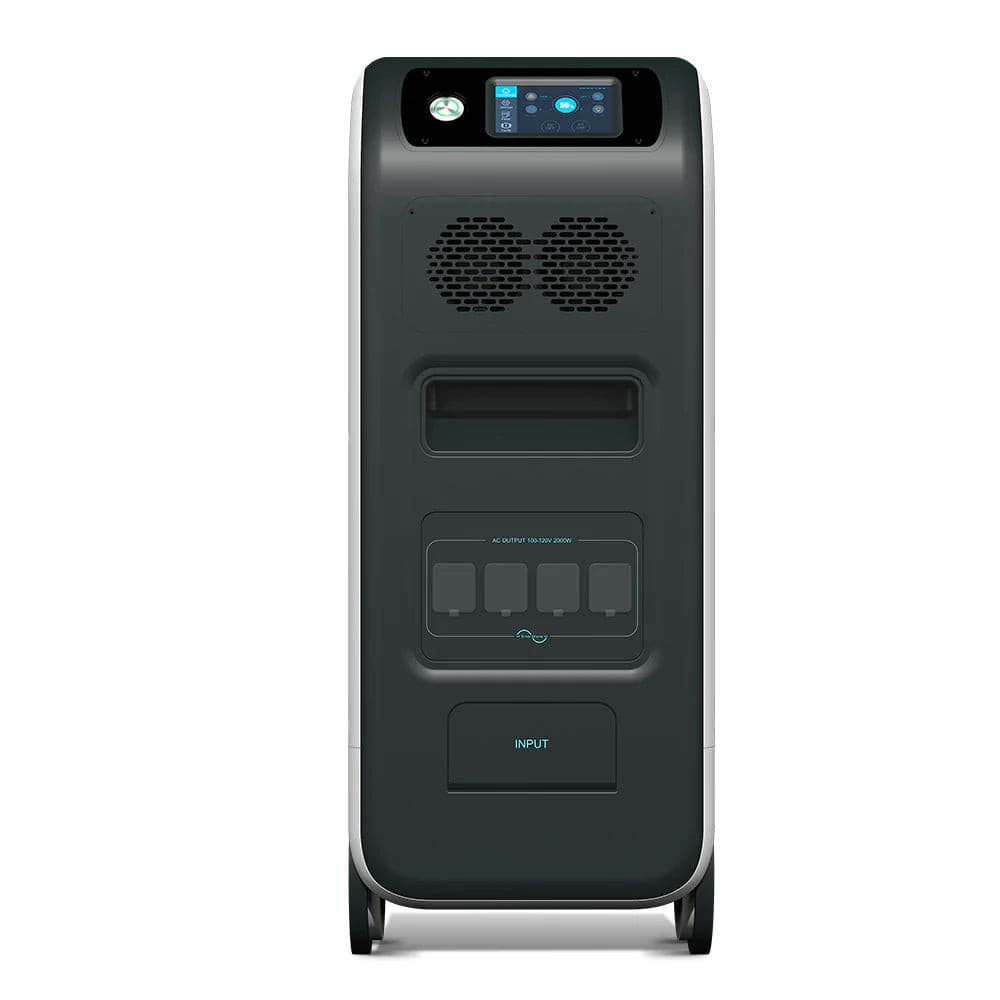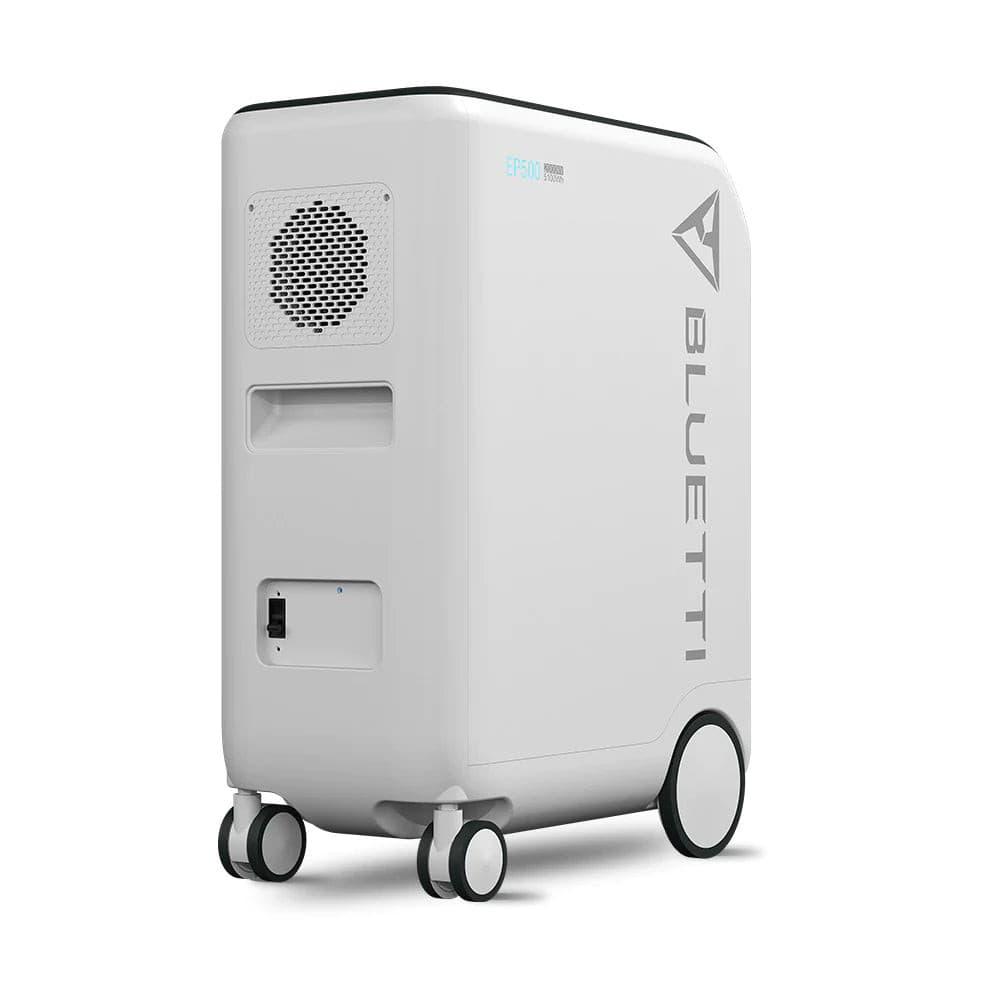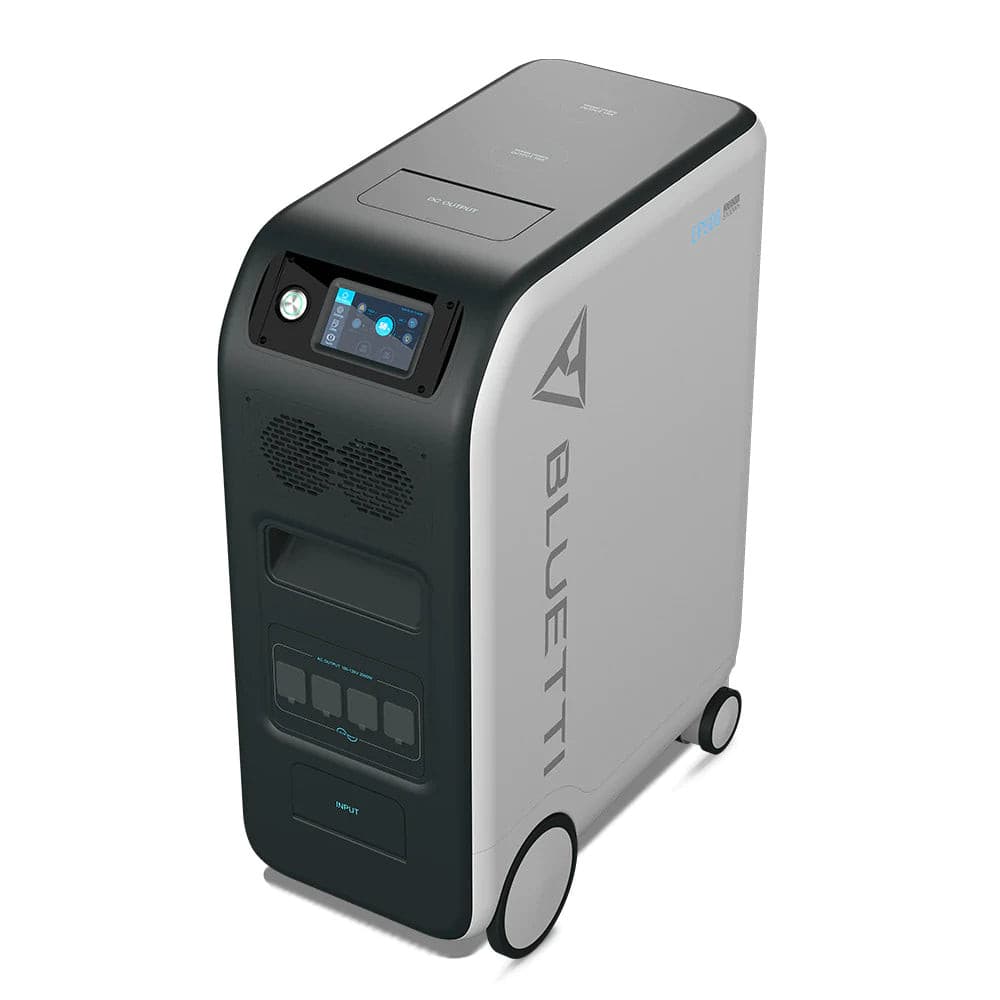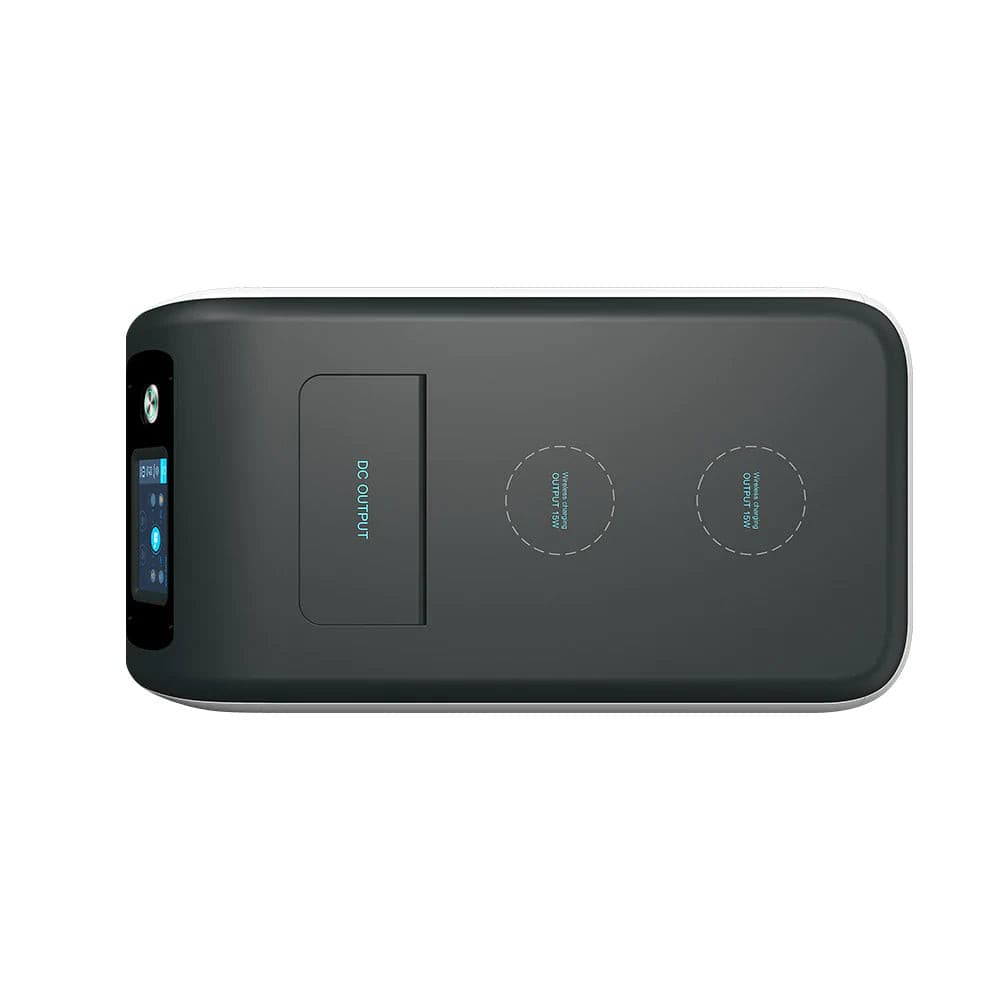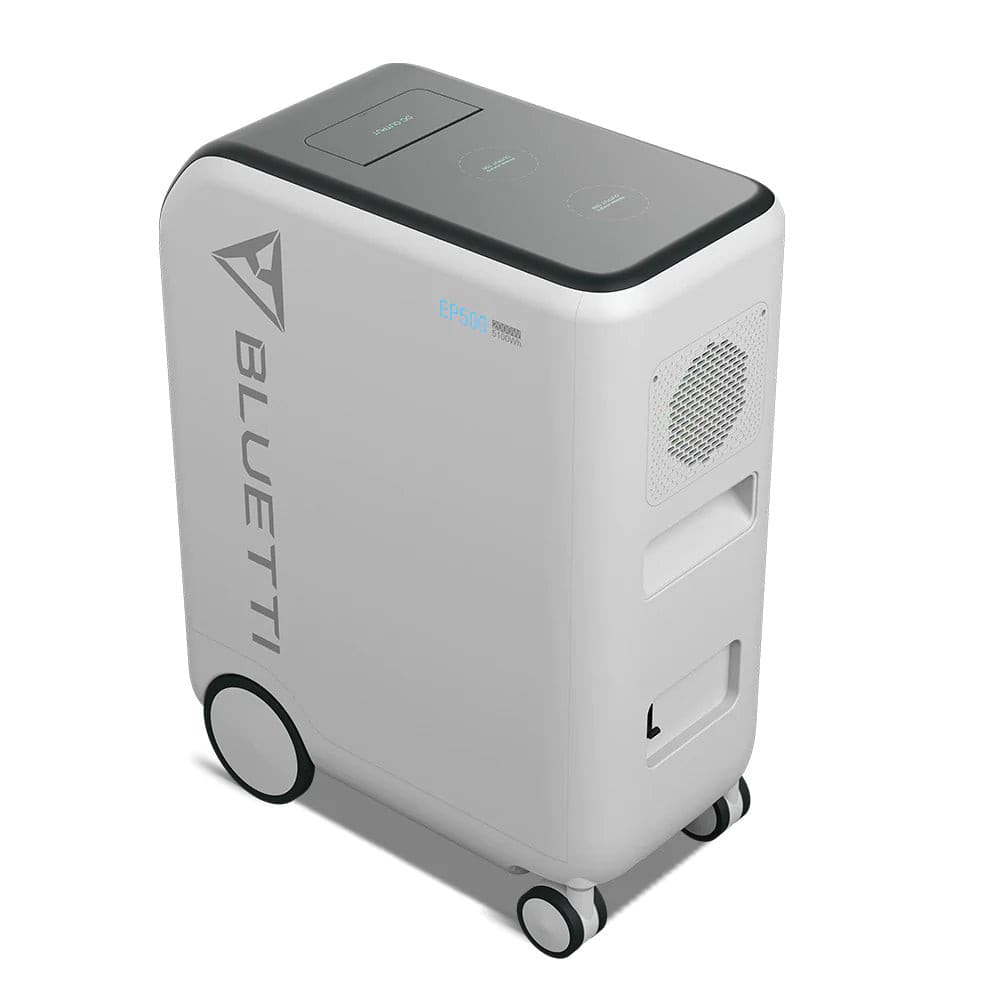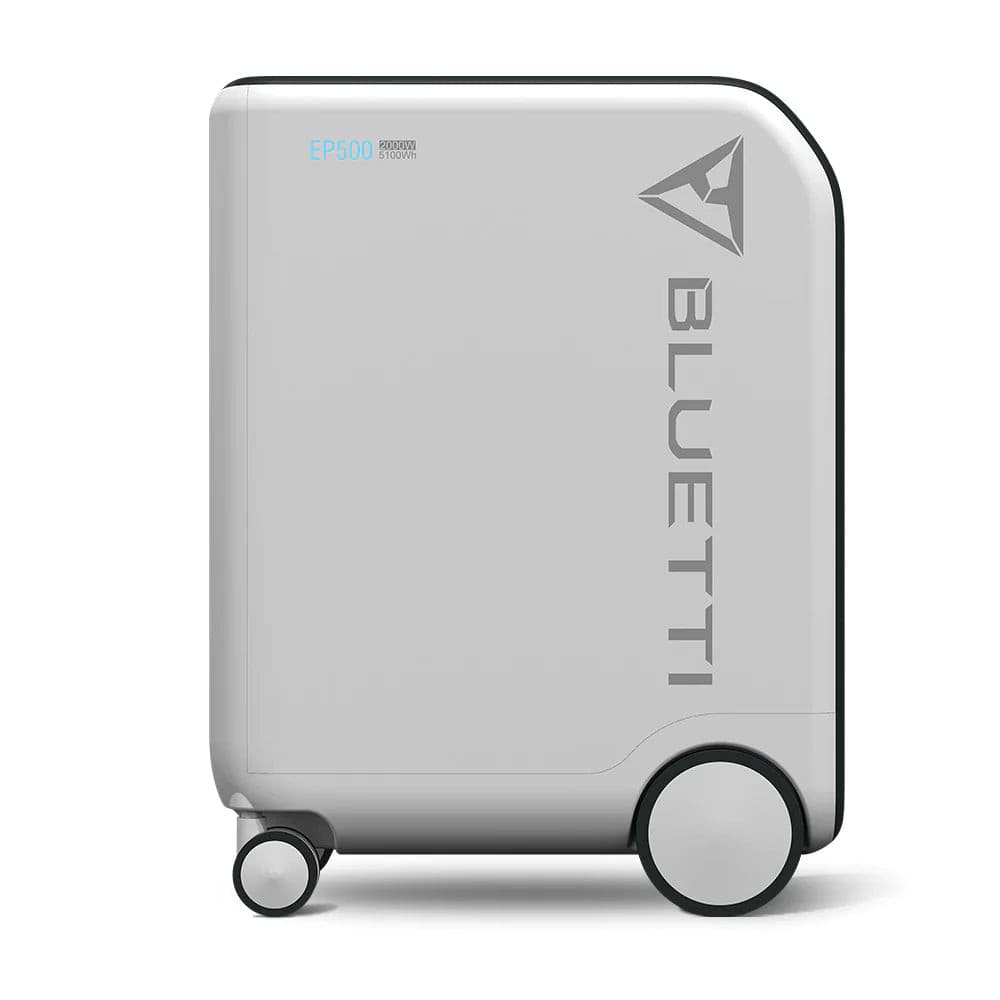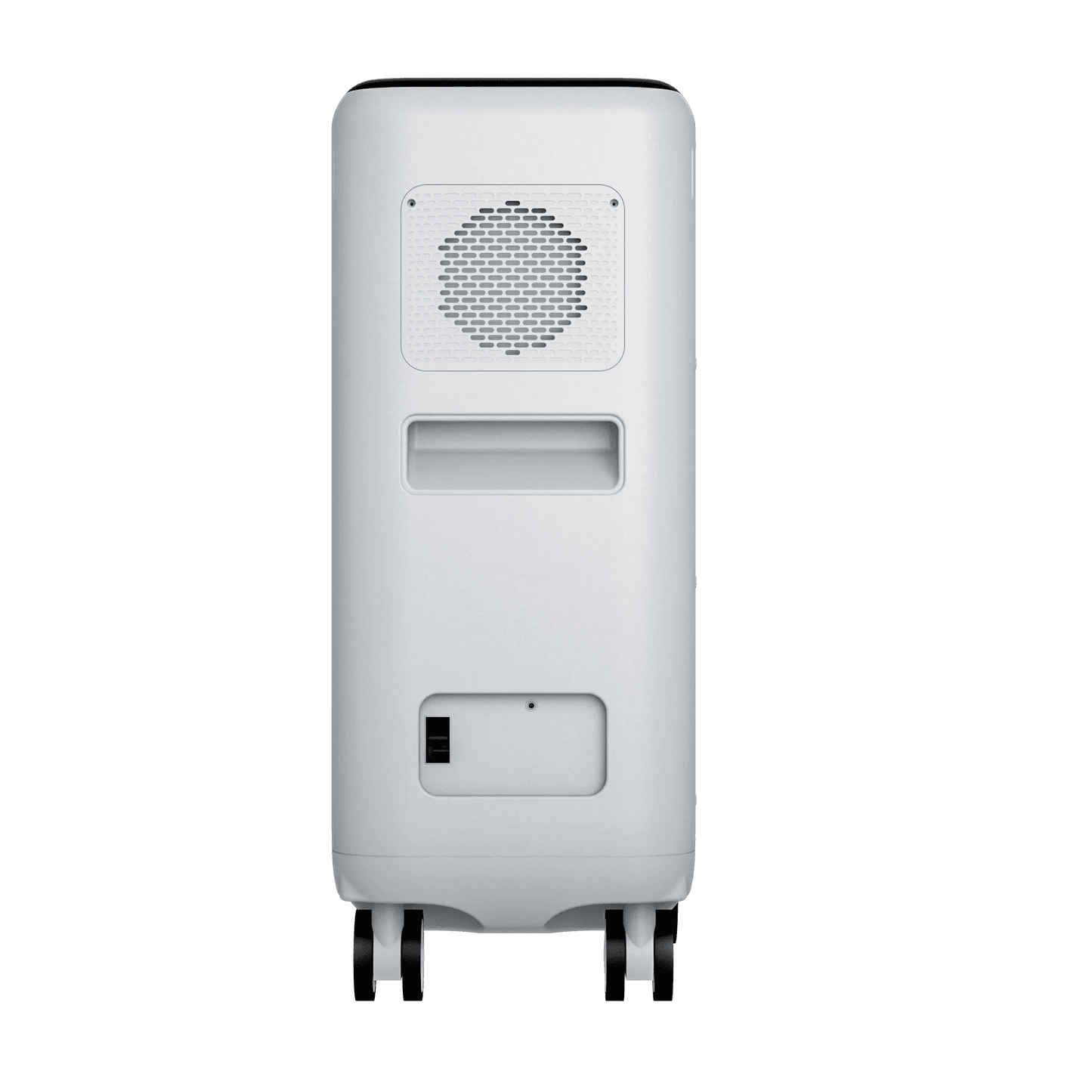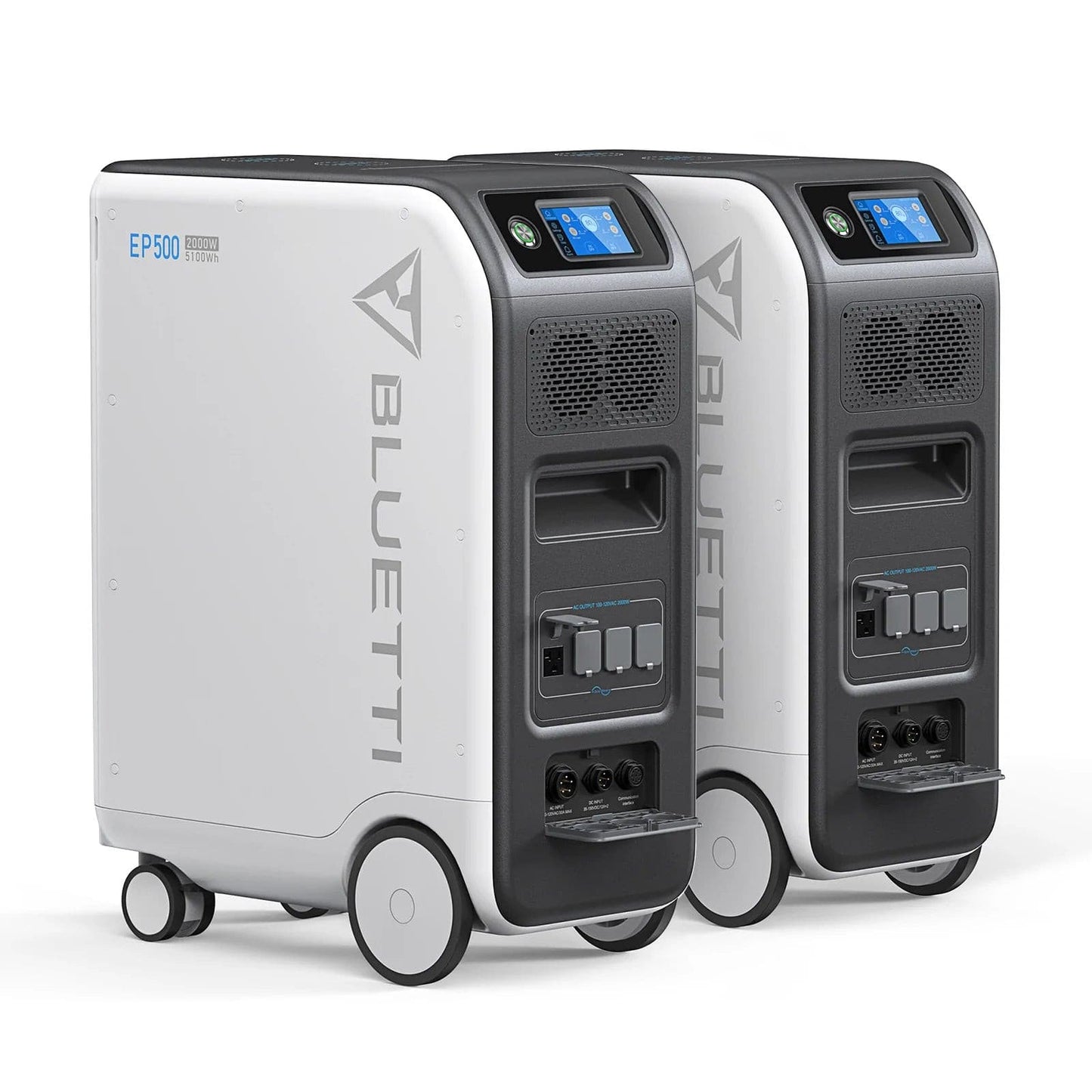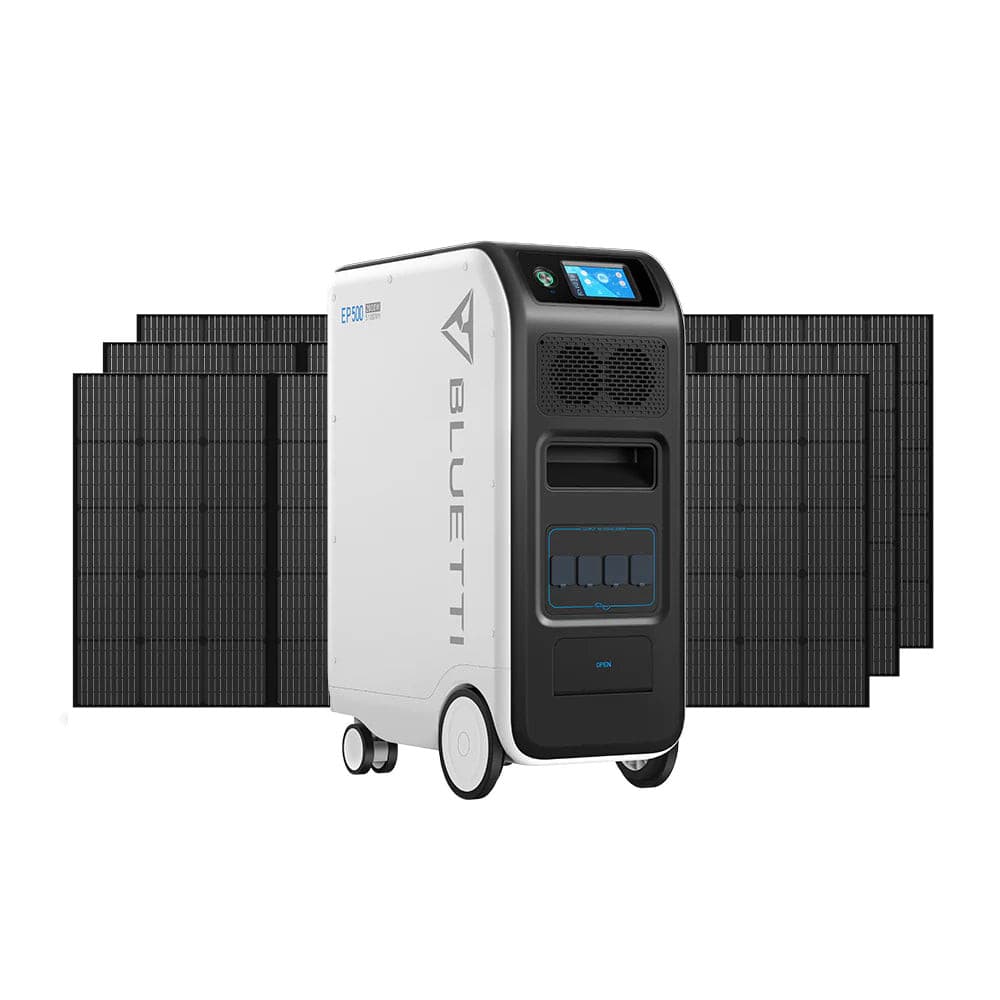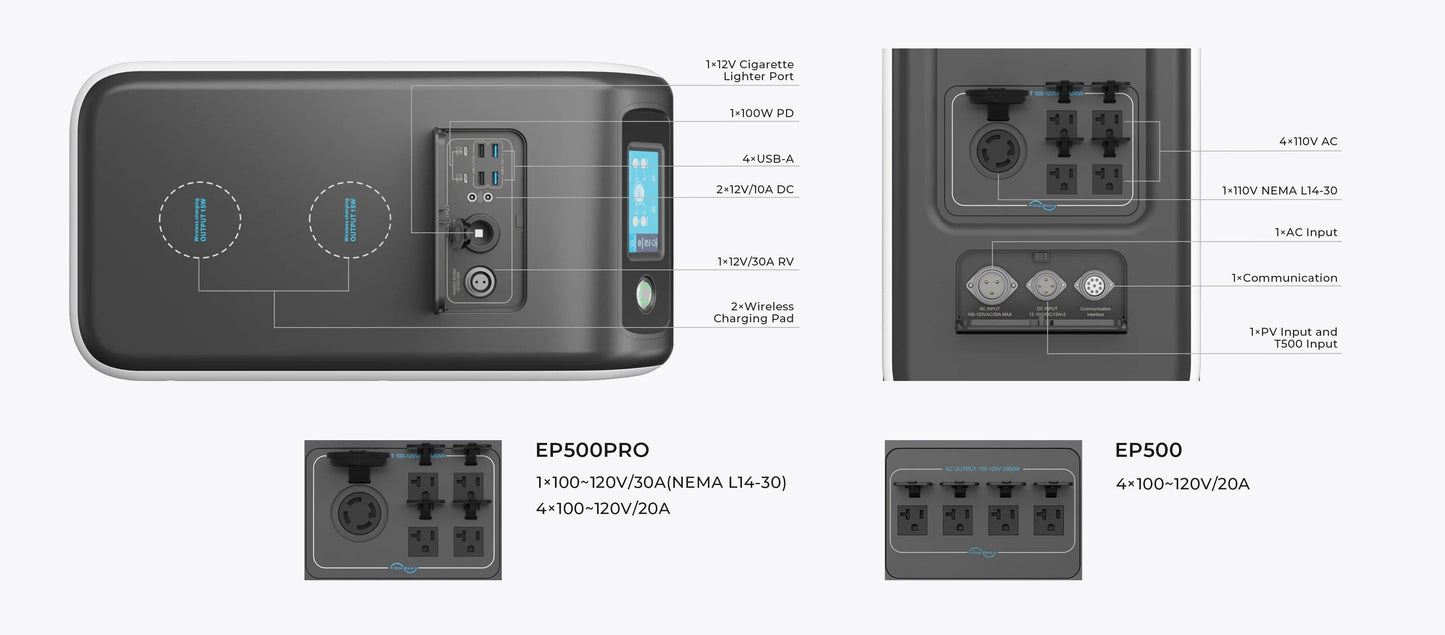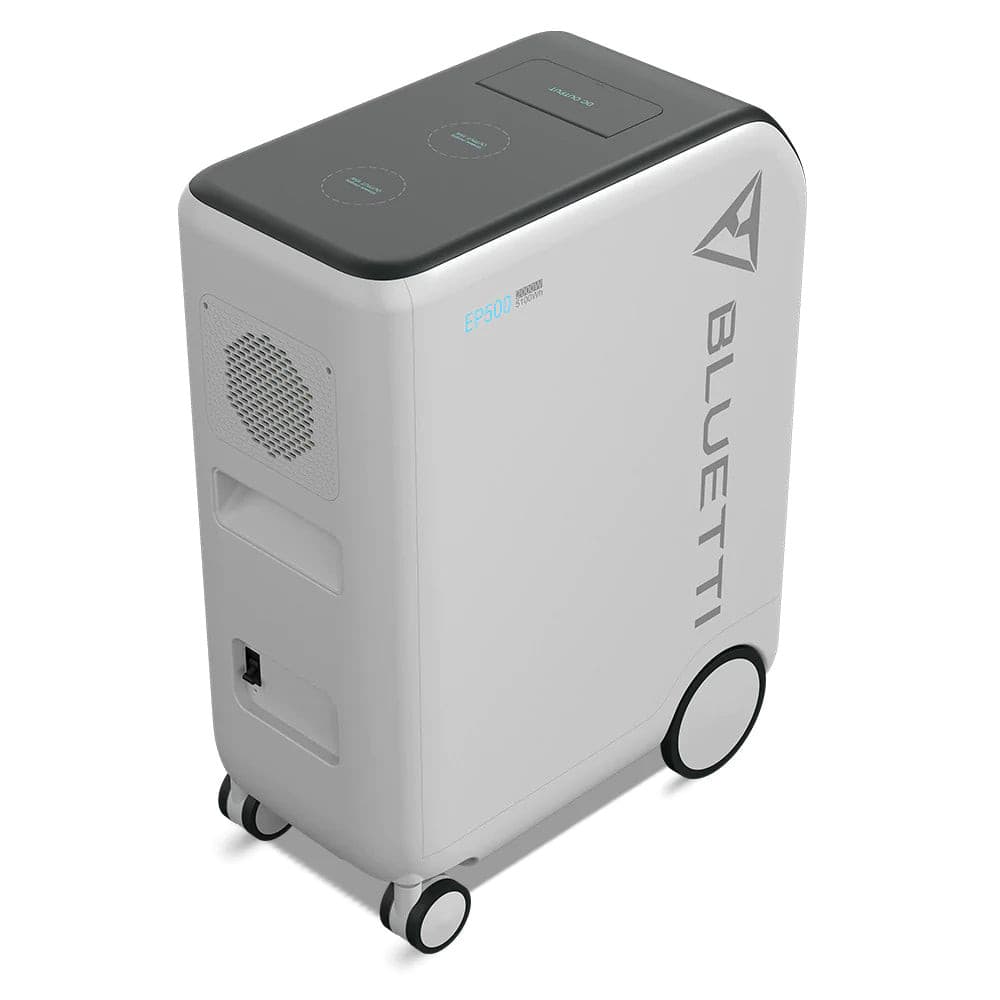 BLUETTI EP900&B500 Energy Storage System, Live a Sustainable Farm Life
BLUETTI EP500/Pro (5.1kWh | 2kW/3kW), The Future Of Home Backup Power.
BLUETTI EP500Pro Review - BLUETTI EP500Pro Powerstation
A useful guide to making the most of it all.
Everything you need to know about Bluetti's NEW EP500 - review

So darfst du auf KEINEN Fall in dein Haus Strom einspeisen! Bluetti Power Station EP500

BIG POWER! 5100Wh Bluetti EP500 Battery Generator TEST & Review
Frequently Asked Questions
Frequently Asked About EP900 Home Battery Back Up

Q1: How much power can the EP900 provide?

EP900 can provide up to 9kW output. Please note that when you combine 1 EP900 and 2 B500 units, the system can only provide a maximum of 7.6kW of power.

Q2: What is the battery life of the EP900?

Based on the battery's throughput, we guarantee a minimum of 15.48MWh per battery pack.

Q3: What is the noise level of the EP900?

Less than 50dB.

Q4: What is the maximum solar input of EP900?

It depends on how many B500 battery packs you connect to it. Numbers of B500 Battery Packs Max. solar Input 6,000W 2 9,000W 3/4

Q5: How can I recharge the EP900?

You can recharge it via your rooftop solar panels or home grid.

Q6: Can I charge the EP900 via solar and grid power simultaneously?

Yes, the EP900 accepts both solar and grid power simultaneously, with a maximum input of 9kW. Note that the system always prioritizes charging with solar energy.

Q7: If I already have a solar system and inverter at home, can I use them together with the EP900?

Yes, you can. Please provide us with the power and voltage details of your current system so we can help you plan a suitable installation.

Q8: Can the EP900 prioritize solar power usage?

Yes, the EP900 comes with an intelligent energy management system that allows you to set charging and discharging times, as well as the SoC limits, to maximize the use of solar energy and minimize your electricity bills.

Q9: How many MPPT channels does the EP900 have, and how many solar panels can be connected to it?

The EP900 has dual MPPT controllers that can handle up to 3,000W and 6,000W of solar input separately. To determine how many solar panels you need, refer to the full specifications of the panels. Each MPPT channel of the EP900 supports a voltage range of 150V-500V and a maximum working current of 12.5A.

Q10: Can I program the EP900 to charge and discharge according to my energy usage patterns and needs?

Yes, you can set a charging and discharging schedule in the BLUETTI App.

Q11: Is it possible to add additional battery packs to the EP900 after it has been installed?

Yes, but additional installation fees may apply. We recommend that you plan in advance for all your power needs.

Q12: Can I control the EP900 via the App?

Yes, with the BLUETTI App, you can control and monitor your EP900  from anywhere, anytime.

Q13: Will the failure of the EP900 affect the normal supply of my home?

No, the system comes with a maintenance switch that can be manually triggered to switch back to grid power.

Q14: Can the EP900 be used with battery packs other than the B500, such as the B300, B300S, or B230?

No, the EP900 only accepts B500 battery packs now.

Q15: What's the power consumption in standby mode?

It's about 50 watts.

Q16: Does it have an energy-saving ECO function?

Yes, you can enable ECO mode in the BLUETTI App.

Q17: What is the switching time for the UPS feature?

In 10ms.

Q18: Do I need to purchase any additional accessories or components to install the EP900?

Possibly, it depends on your specific installation requirements. Please consult with your installer for more details.

Q19: What is the weight capacity of each unit?

The B500 battery pack can support a weight of over 441 lbs/200kg, allowing you to stack up to 4 battery packs or 3 battery packs with an EP900 unit. And this won't affect heat dissipation.

Q20: Is it necessary to ground the EP900 unit?

Yes, grounding the EP900 unit is necessary for safety reasons and to ensure proper functionality.

Q21:Can the EP900 charge electric cars?

Yes.

Q22: Is the EP900 a hybrid system?

Yes.

Q23: Can I install the EP900 unit by myself?

No, the system should be installed by a licensed electrician, and we highly recommend our authorized installers.

Q24: Can the EP900 be used as backup power for medical equipment?

No, the EP900 is intended for home use only.

Q25: How can I check the operation status of the EP900?

You can check the basic system information from the EP900's indicators, and learn more on the App.

Q26: Are the EP900 and B500 waterproof and dustproof?

They have an IP65 rating to protect them from water-resistant and dust.

Q27: What kind of warranty do the EP900 and B500 come with?

The EP900 unit and B500 battery pack come with a 10-year warranty, while consumable accessories such as fans and WiFi modules have a 3-year warranty. Paid maintenance is available after the warranty period expires.

Q28: What should I do if there are quality issues during the warranty period?

Simply submit a maintenance request on the BLUETTI App, providing a brief description of the issue, your address, and contact information. Our team will contact you and arrange an on-site inspection and maintenance.

Q29: Does BLUETTI offer product liability insurance for its products?

Yes, we have purchased third-party product liability insurance worldwide.

Q30: Is the EP900 risky or prone to catching fire?

The EP900 is designed to prioritize safety and reliability. However, it's essential to take certain precautions to maintain its longevity. Please keep the device away from heat sources like heaters and fire, avoid exposing it to direct sunlight, and prevent severe impacts or contact with chemicals. Please note that any accidents resulting from these situations are not covered by the manufacturer's warranty.
Does EP500Pro support App control?

Yes. Once connected via WiFi or Bluetooth, the BLUETTI App will enable you to control the EP500ProPro remotely, like switching the working mode and upgrading the firmware.
Can I use EP500Pro as a UPS?

Yes. It supports four UPS modes: 
1. Standard UPS. 
2. Time Control UPS (Pay less for higher electricity consumption).  
3. PV Priority UPS (Recommended for regions with sufficient solar energy). 4. Customized UPS.
How do I connenct this to my home main panel?

BLUETTI recommends a competent and trained licensed electrician undertake the task.Connect the wires of critical equipment from your house electric panel to BLUETTI Smart Home Panel*.Then connect EP500Pro to the Smart Home Panel.* Sold separately.
What is the UPS for EP500Pro switching time?

There are two types of working conditions of UPS for EP500Pro system. 
1) No delay for online UPS; 
2) 20ms from standby UPS.
What is the maximum input charging power of the BLUETTI EP500Pro?
 How can it reach 3,000W AC recharging?

Based on the battery's throughput, we guarantee a minimum of 15.48MWh per battery pack.
What kind of solar panels should I choose for EP500Pro?

PV input requirements for EP500Pro: 
Open Circuit Voltage: 35-150V 
Input Power: 2,400W Max. 
Include MC4 connectors. 
Highly Recommended: 
6x BLUETTI PV120: ≈8hrs*. 
5x BLUETTI PV200: ≈6hrs*. 
3x BLUETTI PV350: ≈5.5hrs*. 
* For reference ONLY.
Can I use my solar roof to charge the EP500Pro?

Yes, but please note your solar roof should have:1. NO micro-inverter2. an open-circuit voltage of 35-150V3. MC4 connectorsHowever, when the OCV falls in 150-550V, you can also use BLUETTI D300S* to step down the voltage and achieve solar charging.* Sold separately.
Can I connect two EP500Pro together for more power (240V Split Phase Bonding)?

Yes. With the Fusion Box (P030A), you can connect two EP500Pro in series for 240V/6,000W output.
Can EP500Pro connect with EP500?

No. Only EP500 to EP500, or EP500Pro to EP500Pro is acceptable.
Can it charge and discharge at the same time?
How do I know whether my appliance can work well with the EP500Pro?

Calculate the total wattage of your devices. EP500Pro should work if the load doesn't exceed its rated 3,000W.
How long can it run my device?

Running time = Battery capacity × DoD × η ÷ Device rated power 
DoD refers to Depth of Discharge and η is local inverter efficiency. 
For EP500Pro, both DoD and η are 90%. If you run a 1,000W microwave oven with it, the running time will be: 
5,100Wh × 90% × 90% ÷ 1,000W ≈ 4.1hrs Note: 
1) The formula is NOT suitable for inductive loads with compressors, like refrigerator, air conditioner, etc. 
2) The above data is for reference ONLY.
Is the EP500Pro power station waterproof?

No. Also, please do NOT store it in a humid environment for a long time.
When I keep the power plugged in, will EP500Pro stop charging automatically when fully charged?

Yes. And when the SOC is less than 100%, EP500Pro will automatically charge again without damage to the battery.
Is it possible to replace the built-in battery?

No. If the internal battery pack is faulty or even dead, please contact BLUETTI Customer Service.
How is it different from the EP500?

The main differences are:1) Output power : 3,000W AC power for EP500Pro, while 2,000W for EP500.2) Solar Input: 2,400W for EP500Pro, while 1,200W for EP500.3) AC Input: 3,000W for EP500Pro, while 600W for EP500.4) Output Port: EP500Pro has one more 100W USB-C port and 1 NEMA L14-30 port.5) Recharging: EP500Pro supports charging from car cigarette lighter and lead-acid battery, while EP500 doesn't.
How is it different from the AC300?

The main differences are: 1) Battery: AC300 has no built-in battery and must work with B300, while EP500Pro connects with B300 only for capacity expansion. 2) 30A AC Output: EP500Pro has an L14-30 port while AC300 has a TT-30 port. 3) Maximum Input: 5,400W for AC300 with two B300, 3,000W with one B300, while 4,000W for EP500Pro. 4) Weight and Dimensions: AC300 is smaller.