BLUETTI| AC300 Inverter Module Generator | 3,000W (Must Work With B300)
Regular price

Price:

$1,699.00 USD

Regular price

List Price:

Sale price

Price:

$1,699.00 USD

Unit price

per
2% off, Free Shipping & Tax Free| Coupon Code: BLUETTI | Ends:
Shipping Information

Free Shipping to Contiguous United States| We do not ship to Alaska, Hawaii, American Samoa, Guam, Northern Mariana Islands, Puerto Rico, U.S. Virgin Islands
30 Days Price Match Guarantee
ecopowerit will refund you the difference if you find a lower price from us within 30 days of your purchase, shop with confidence.
Share
BLUETTI| AC300 Inverter Module Generator | 3,000W (Must Work With B300)
Features:
3,000W AC Pure Sine Wave Inverter (6,000W Surge);

Expandable Up To 12,288Wh with 4×B300"s;

7 Ways to Recharge (AC/Solar/Car/Generator/Lead battery/Dual AC/AC+Solar);

2400W Max. Solar Input

5400W Max. Fast Dual Charging (Solar + AC Adapter Simultaneously);

Smart App Control & Monitor;

240V Connection Available;

24/7 UPS Home Backup;
AC300 Support Four UPS functions as
1- Standard UPS(back up)
2- Time Control UPS(peak load shifting)
3- PV Priority(money-saving)
4- Customized UPS(advanced mode)
*Please NOTE: This item is only applicable to orders in the US (except Alaska and the Virgin Islands).
3000W Pure Sine Wave Inverter
With a quality AC inverter, the AC300 is capable and safe enough to take care of your high-power devices like air conditioners, fridges, mowers and laser cutting machines.
Expandable Power Supply
As BLUETTI"s first 100% modular station, the AC300 can accept external battery packs and boost its capacity to a Max. 12,288Wh. From emergency backup to off-grid power source, this generator for home backup is sure to handle all your electricity needs.
5400W Fast Charging
Plug in the adapter and solar panels, then you can top up BLUETTI AC300 with astonishing 5400W input rate. Charge this powerhouse before an impromptu trip, and you"re good to go.
5400W = 3000W AC + 2400W Solar( At least 2×B300 are REQUIRED)
5 Ways to Charge
Flexible to charge your AC300 via wall outlet, solar panels, car, generator and lead-acid battery, etc. Stay connected anytime, anywhere.
24/7 UPS Home Backup
With the BLUETTI Smart Home Panel, you can tie the AC300 power system to your home grid. Always get ready for power outages.
240V Connection Available
Pair 2×AC300 units and hook up 8×B300 batteries, you can build the unparalleled power center for home comfort. The BLUETTI Fusion Box Pro (P030A) is REQUIRED.
Multiple Outlets for Every Need
The NEMA TT-30 and 12V/30A DC port are perfect for RVers. Meanwhile, the wireless chargers enable you to charge compatible smart phones, earphones and so on.
Tech Specs
OUTPUT
AC Outlets:

6 x 120V/20A Outlets 

1 x 120V/30A TT-30 
3,000W In Total

Inverter Type:

Pure Sine Wave

Surge Power:

6000W

USB-C Port:

1 x 100W Max.

USB-A Port:

2 x 5V/3A USB-A 

2 x 18W USB-A

12V* DC Outlets:

1 x 12V/30A (RV Outlet) 

1 x 24V/10A (Car Outlet) 
*All Regulated.

Wireless Charging Pad:

2 x 15W Max. (For Each)
INPUT
| | |
| --- | --- |
| AC Charging Cable Input: | 3,000W Max. |
| Solar Input: | 2,400W Max., VOC 12-150VDC, 12A |
| Car Input: | 12/24V from Cigarette Lighter Port |
| Maximum Input: | 5,400W, with AC and Solar Input Simultaneously |
GENERAL
| | |
| --- | --- |
| 240V Split Phase Bonding: | Yes |
| App Control: | Yes, Wifi&Bluetooth |
| Scalability: | Expandable W/Up to 4 x B300 |
| Simultaneous Recharge & Discharge: | Yes |
| Weight: | 47.6lbs (21.6kg) |
| Dimensions (LxWxD): | 20.5 x 12.5 x 14.1in ( 52 x 32 x 35.80cm) |
| Operating Temperature: | -4-104℉ (-20-40℃) |
| Storage Temperature: | -4-104℉ (-20-40℃) |
| Certification: | UL Standard, PSE, FCC, CE, UN38.3, msds, SAA and ROHS |
| Warranty: | 48 Months (Enter to learn more about our warranty policy) |


What's in the box
User Manual
BLUETTI AC300 Inverter Module Generator | 3,000W ( Requires The B300 To Work ) User Manual
Warranty, Return & Registration
Click to learn about Bluetti Warranty, Return & Registration
Shipping
Thank you for visiting and shopping at ecopowerit.com. aims to offer you the best shipping options.
Shipment processing time
All orders are processed within 3-5 business days. Orders are not shipped or delivered on weekends or holidays.
If we are experiencing a high volume of orders, shipments may be delayed by a few days. Please allow additional days in transit for delivery. If there will be a significant delay in the shipment of your order, we will contact you via email.
Shipment to P.O. boxes or APO/FPO addresses
ecopowerit.com ships to addresses within the U.S., some of U.S. Territories (Please consult Sales@ecopowerit.com before ordering) and does not ship to P.O. Box and APO/FPO/DPO addresses.
Shipment confirmation & Order tracking
You will receive a Shipment Confirmation email once your order has shipped containing your tracking number(s). The tracking number will be active within 24 hours.
Damages
ecopowerit.com is not liable for any products damaged or lost during shipping. If you received your order damaged or lost your package, please contact us within 20 days at info@ecopowerit.com.
After-sale Service Contact
---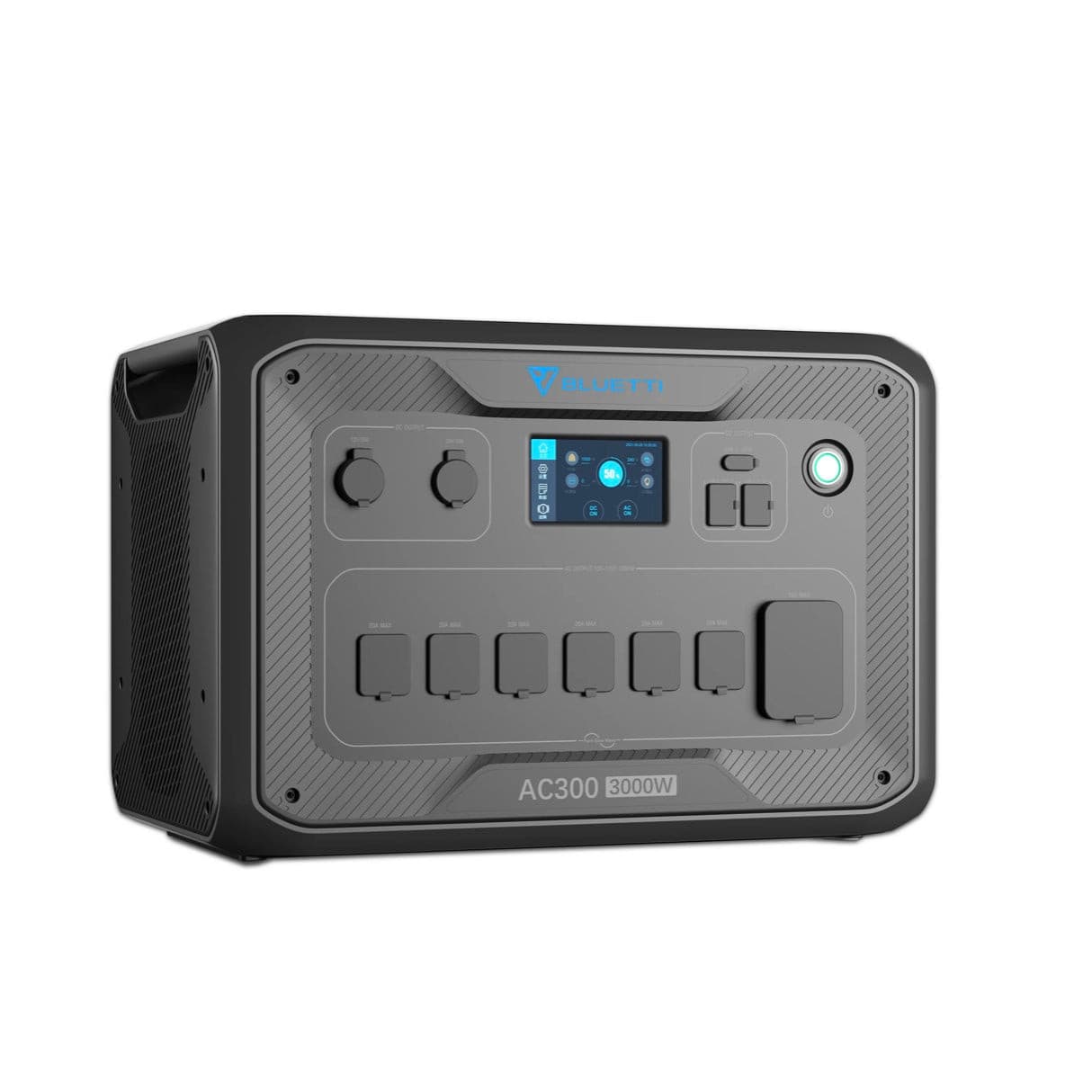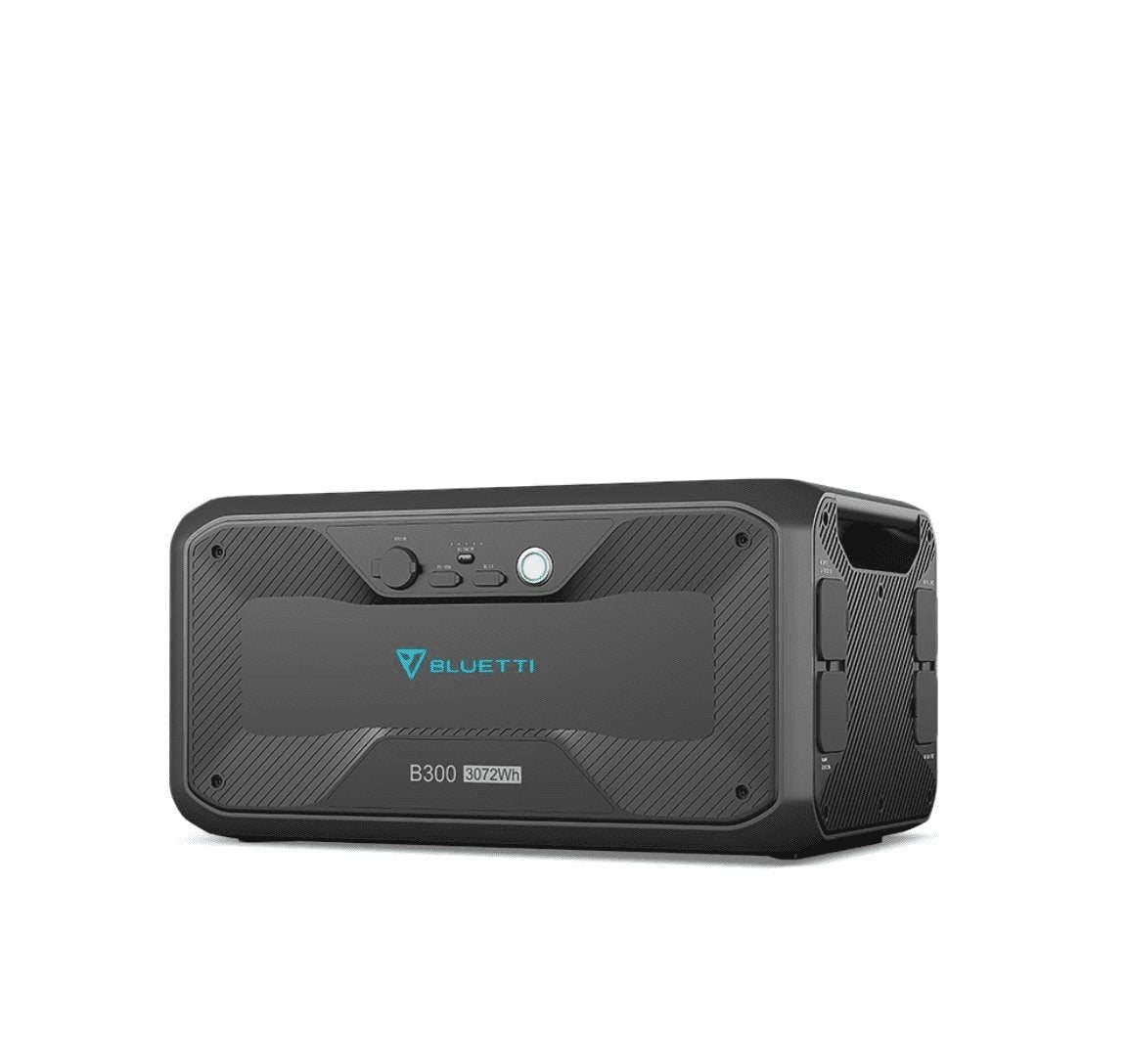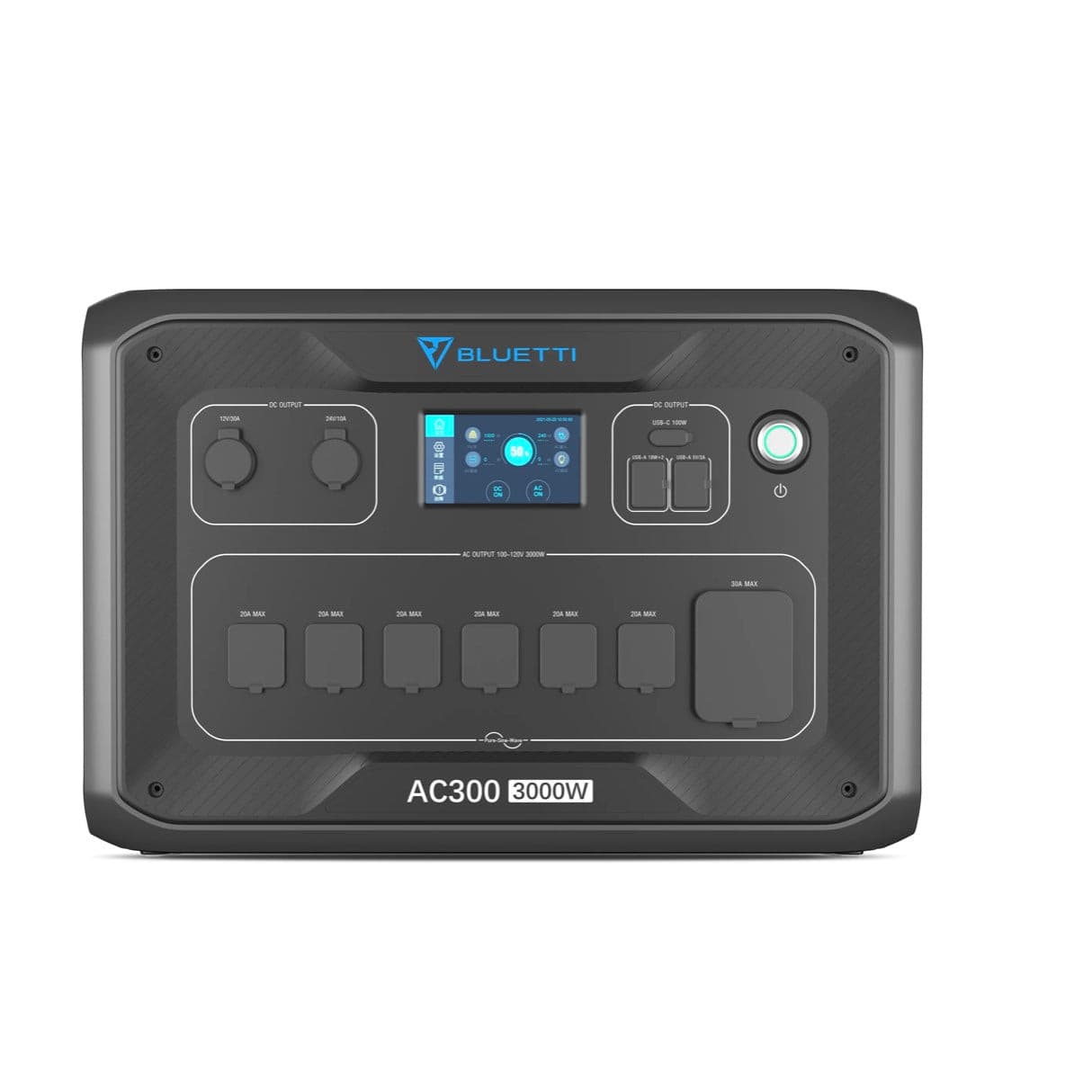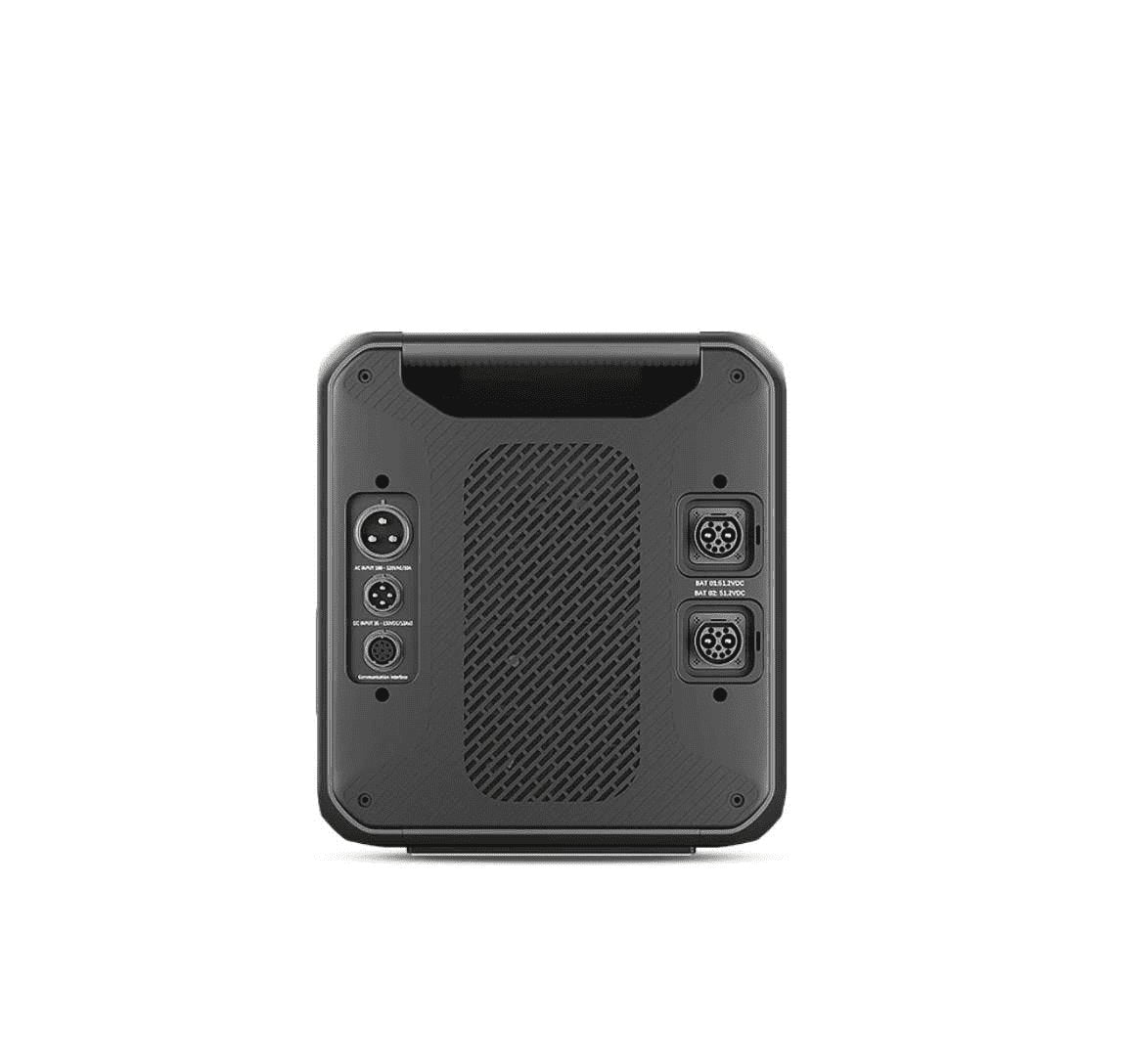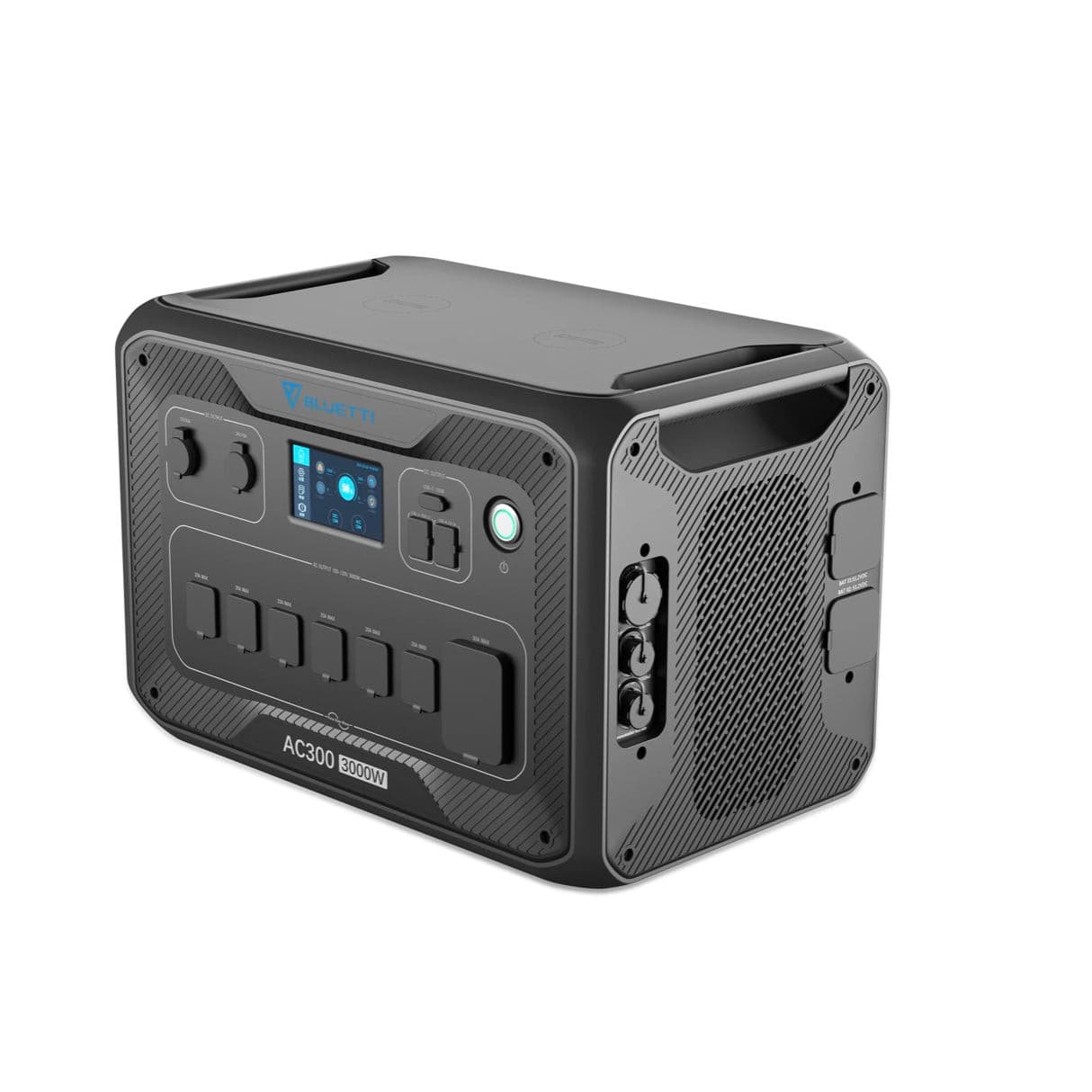 AC300 paid itself off during Hurricane
We live in North Port, FL where Hurricane Ian just passed through and received about five hours of relentless winds and flooding. Every gas station within reach either didn't have gas or had a 4 to 6 hour wait w/no guarantees of getting any. The AC300 with only one 3kw pack allowed us to live quite comfortably and kept our food in the refrigerator and chest freezer good. We also used our microwave and air fryer during the day quite a bit as well as the TV and PS3 to watch movies. I bought 6 used panels for two 810 watt arrays, slightly undersized for what the MPPT's can handle, but they worked perfectly and produced 5-7 KWH each day after the storm. As far as my wife and I see it, this thing paid itself off and we just bought it a few weeks prior to the storm
BLUETTI AC300 3000w Modular B300 LiFePO4 Battery Solar Generator
A useful guide to making the most of it all.
How many B300 battery modules can AC300 be connected To Up To 6kW, 24.6kwh?
Frequently Asked Questions
How many B300 expansion batteries can I connect with AC300?

A single AC300 can take up to 4 B300 batteries for a capacity of 12,288Wh. Friendly Note: Only B300 can be connected to AC300. B230 can not be connected to AC300.
Does AC300 work with third-party expansion battery?

No. AC300 ONLY accepts BLUETTI B300 expansion battery.
Can I use AC300 alone?

No. There's no battery inside AC300 and it must work with B300.
Does AC300 support App Control?

Yes. Once connected via WiFi or Bluetooth, the BLUETTI App will enable you to control the AC300+B300 remotely, like switching the working mode and upgrading the firmware.
Can I use it as an uninterruptible power supply (UPS)?

Yes. It supports four UPS modes: 1. Standard UPS. 2. Time Control UPS (Pay less for higher electricity consumption). 3. PV Priority UPS (Recommended for regions with sufficient solar energy). 4. Customized UPS.
How do I connect this to my home main panel?

BLUETTI recommends a competent and trained licensed electrician undertake the task. Connect the wires of critical equipment from your house electric panel to BLUETTI Smart Home Panel*. Then connect AC300 to the Smart Home Panel. 
* Sold separately.
Dose AC300 have UPS function?

Yes. It supports 4 UPS modes: 
1.Standard UPS 
2.Time Control UPS(Pay less for higher electricity consumption) 
3.PV Priority UPS(Recommended for regions with sufficient solar energy) 
4.Customized UPS
What is the UPS switching time?

There are two types of working conditions of UPS for AC300 system.1) No delay for online UPS;2) 20ms from standby UPS.
Can I use third-party solar panels to charge the AC300 system

Yes, if the solar panels' specs fall in1) Total Voltage: 12-150V2) Total Power: 2,400W Max. (From the two PV input ports)3) Include MC4 connectors.
 Can I use my solar roof to charge the AC300 system?

Yes, but please note your solar roof should have:1. NO micro-inverter2. an open-circuit voltage of 12-150V3. Include MC4 connectors. However, when the OCV falls in 150-550V, you should use BLUETTI D300S* to step down the voltage and achieve solar charging.* Sold separately.
Can I connect two AC300 systems in series?

Yes. With BLUETTI P030A fusion box*, you can connect two AC300 systems in series for 240V/6,000W output and a total capacity of 24,576Wh (4*B300 for each AC300).* Sold separately.
Is the AC300 power station waterproof?

No. Also, please do NOT store it in a humid environment for a long time.
Can it charge and discharge at the same time?
How do I know whether my appliance can work well with the AC300 and B300 combo?

Calculate the total wattage of your devices. AC300 should work if the load doesn't exceed its rated 3,000W.
How long can it run my device?

Running time = Battery capacity × DoD × η ÷ Device rated power DoD refers to Depth of Discharge and η is local inverter efficiency. For AC300, both DoD and η are 90%. If you run a 1,000W microwave oven with AC300+B300 combo, the running time will be: 3,072Wh × 90% × 90% ÷ 1,000W ≈ 2.5hrsNote:1) The formula is NOT suitable for inductive loads with compressors, like refrigerator, air conditioner, etc.2) The above data is for reference ONLY.
What is the maximum input charging power of the BLUETTI AC300?

For AC300 with one B300: 3,000W Max. Via a 120V30A wall socket by a 30A AC charging cable (sold seperately). For AC300 with more than one B300: 5,400W Max. Via 3,000W wall socket and 2,400W solar panels simultaneously.
Is the AC300 system hot-swappable?

Yes. You can easily swap battery packs for continuous power use, and the system can hold 4 batteries at once.
Is it possible to replace the built-in battery?

No. If the battery inside your power station is faulty or even dead, please contact BLUETTI Customer Service.
I'd like more tutorial videos on the AC300 system.

Sure, please follow BLUETTI Support onYouTube..
 How to recharge AC300 rapidly?

Recharge it with the wall outlet and solar panels at the same time, then you will get a maximum 5,400W input.