A LEGENDARY EVOLUTION - Introducing BLUETTI AC200 MAX Modular Power Station
BLUETTI| AC200MAX + 3*PV200 |2048Wh USP Mode Solar Generator Kit
Regular price

Price:

$2,496.00 USD

Regular price

List Price:

$3,156.00 USD

Sale price

Price:

$2,496.00 USD

You save:

$660.00 USD (21%)

Unit price

per
2% off, Free Shipping & Tax Free| Coupon Code: BLUETTI | Ends:
Shipping Information

Free Shipping to Contiguous United States| We do not ship to Alaska, Hawaii, American Samoa, Guam, Northern Mariana Islands, Puerto Rico, U.S. Virgin Islands
30 Days Price Match Guarantee
ecopowerit will refund you the difference if you find a lower price from us within 30 days of your purchase, shop with confidence.
Share
BLUETTI| AC200MAX + 3*PV200 |2048Wh USP Mode Solar Generator Kit
BLUETTI AC200MAX 2,200W Portable Power Station

Flexible From 2048Wh to 8192Wh
Features:
2,200W AC Pure Sine Wave Inverter (4,800W Surge)

2,048Wh Capacity

LiFePO4 Battery with 3,500+ Life Cycles to 80%

Expandable Up To 6,144Wh with 2×B230, or 8,192Wh with 2×B300

7 Ways to Recharge (AC/Solar/Car/Generator/Lead Battery/Dual AC/AC+Solar)

900W Max. Solar Input

1400W Max. Fast Dual Charging (Solar + AC Adapter)

Smart Control & Monitor in BLUETTI App
Learn More about B230 Expansion Battery
BLUETTI PV200 Solar Panel | 200W
Features:
Monocrystalline Solar Cells with Up to 23.4% Efficiency

Long-lasting ETFE Coating

Foldable & Portable

Compatible With Most Solar Generators with MC4 Connectors

12-month Warranty
Learn More about Bluetti Solar Panels
*Please NOTE: This item is only applicable to orders in the US (except Alaska and the Virgin Islands).
All-round Upgraded Expandable Power Station
BLUETTI first expandable power station-AC200MAX with 2,048Wh LiFePO4 cells and 2,200W pure sine wave inverter.
Your mobile power center at home or on the way. 

Less To Spend, More To Love
Struggling between power and flexibility? We got you covered! With two expansion ports, The AC200MAX welcomes up to two BLUETTI B230's(2048Wh each) or B300(3072Wh each) battery modules, connecting of which can boost the total capacity to a staggering 8192Wh!

Get Charged In Anyway You Prefer
The AC200MAX allows up to 900W of solar input and 500W via the adapter, you can even charge it up via your wall outlet and solar panels simultaneously, boost a stunning 1400W total charging rate which can top up your power beast in less than two hours! Further more, every BLUETTI battery module has their own input port for AC adapters, you'll get another 500W of input capability with every module added (Up to two for the AC200MAX).

Small Change, Huge Leap
The AC200 Max can now take one module via its solar input port with a converter cable for extra capacity!

Incomparable Outlet Versatility
With AC200MAX's 16 outlets, you get to run all your needs simultaneously without breaking a sweat. And especially for the RV enthusiasts the AC200 MAX has a specially designed built-in 30A NEMA TT-30 outlet and a 12V 30A super powerful DC outlet.
Tech Specs
BATTERY INFO
| | |
| --- | --- |
| Capacity: | 2,048Wh (51.2V, 40Ah) |
| Type: | LiFePO4 (Lithium Iron Phosphate) |
| Life Cycles: | 3,500+ Cycles to 80% Original Capacity |
| Shelf-life: | Recharge to 80% Every 3-6 Months |
| Management System: | MPPT Controller, BMS, etc |


OUTPUT
AC Outlets:

4 x 120V/20A Outlets 

1 x 120V/30A NEMA TT-30 
2200W In Total

Inverter Type:

Pure Sine Wave

Surge Power:

4800W

USB-C Port:

1 x 100W Max.

USB-A Port:

2 x 5V/3A USB-A 

2 x 18W USB-A

12V DC Outlets:

1 x 12V/30A (RV Outlet) 

1 x 12V/10A (Car Outlet) 
2 x 12V/10A DC 5521 (5.5mm Outlet) 
*All Regulated.

Wireless Charging Pad:

2 x 15W Max. (For Each)


INPUT
| | |
| --- | --- |
| AC Adapter Input: | 500W. |
| Solar Input: | 900W Max., VOC 10-145VDC, 15A |
| Car Input: | 12/24V from Cigarette Lighter Port |
| Max Input: | 1,400W, with AC+Solar Input |


RECHARGE TIME
| | |
| --- | --- |
| AC Adapter (400W): | ≈5.5~6 Hours |
| Solar (900W): | ≈3~3.5 Hours (With prime sunshine, ideal orientation and low temperature) |
| 12V/24V Car Outlet (100W/200W): | ≈10 or 20 Hours |
| AC Adapter + Solar (1300W): | ≈2.0~2.5 Hours (With prime sunshine, ideal orientation and low temperature) |
| Dual AC Adapters (800W): | ≈3~3.5 Hours (Extra adapter is REQUIRED) |


GENERAL
| | |
| --- | --- |
| 240V Split Phase Bonding: | No. Need 240V power source? Explore here. |
| Scalability: | Expandable w/ Up to 2 x B230 or 2 x B300 |
| Pass-through Charging: | Yes |
| Weight: | 61.9lbs (28.1kg) |
| Dimensions (LxWxD): | 16.5 x 11 x 15.2in ( 42 x 28 x 38.65cm) |
| Operating Temperature: | -4-104℉ (-20-40℃) |
| Storage Temperature: | 14-113℉ (-10-45℃) |
| Certifications: | UL Standard, CEC, DOE, FCC, CA Prop 65 |
| Warranty: | 48 Months (Learn more about BLUETTI warranty policy) |
 

BLUETTI PV200 Solar Panel | 200W
POWER
| | |
| --- | --- |
| Power: | 200W |
| Lamination: | ETFE (Ethylene tetrafluoroethylene) |
| Cell Type: | Monocrystalline Silicon |
| Cell Efficiency: | Up to 23.4% |
| Voltage at Max Power(Vmp): | 20.5V |
| Current at Max Power(Imp): | 9.7A |
| Open Circuit Voltage(OCV): | 26.1V |
| Short Circuit Current(Isc): | 10.3A |
GENERAL
| | |
| --- | --- |
| Connector: | Standard MC4 Connector |
| Weight: | 16.1lbs (7.3kg) |
| Dimensions (Unfolded): | 23.2 × 89.2in (59 × 226.5cm) |
| Dimensions (Folded) : | 23.2 × 24.8inch (59 × 60cm) |
| Operating Temperature: | 14-149℉ (-10-65℃) |
| Best Working Temperature: | 77℉ (25℃) |
| Cable Length: | 118in (3m) |
| Certifications: | FCC, CE, ROHS |
| Warranty: | 12 Months (Enter to learn more about BLUETTI warranty policy) |
What's in the box



User Manual
BLUETTI AC200MAX Portable Power Station | 2,000W 2,000Wh User Manual
BLUETTI PV200 Solar Panel | 200W User Manual
Warranty, Return & Registration
Click to learn about Bluetti Warranty, Return & Registration
Shipping
Thank you for visiting and shopping at ecopowerit.com. aims to offer you the best shipping options.
Shipment processing time
All orders are processed within 3-5 business days. Orders are not shipped or delivered on weekends or holidays.
If we are experiencing a high volume of orders, shipments may be delayed by a few days. Please allow additional days in transit for delivery. If there will be a significant delay in the shipment of your order, we will contact you via email.
Shipment to P.O. boxes or APO/FPO addresses
ecopowerit.com ships to addresses within the U.S., some of U.S. Territories (Please consult Sales@ecopowerit.com before ordering) and does not ship to P.O. Box and APO/FPO/DPO addresses.
Shipment confirmation & Order tracking
You will receive a Shipment Confirmation email once your order has shipped containing your tracking number(s). The tracking number will be active within 24 hours.
Damages
ecopowerit.com is not liable for any products damaged or lost during shipping. If you received your order damaged or lost your package, please contact us within 20 days at info@ecopowerit.com.
After-sale Service Contact
---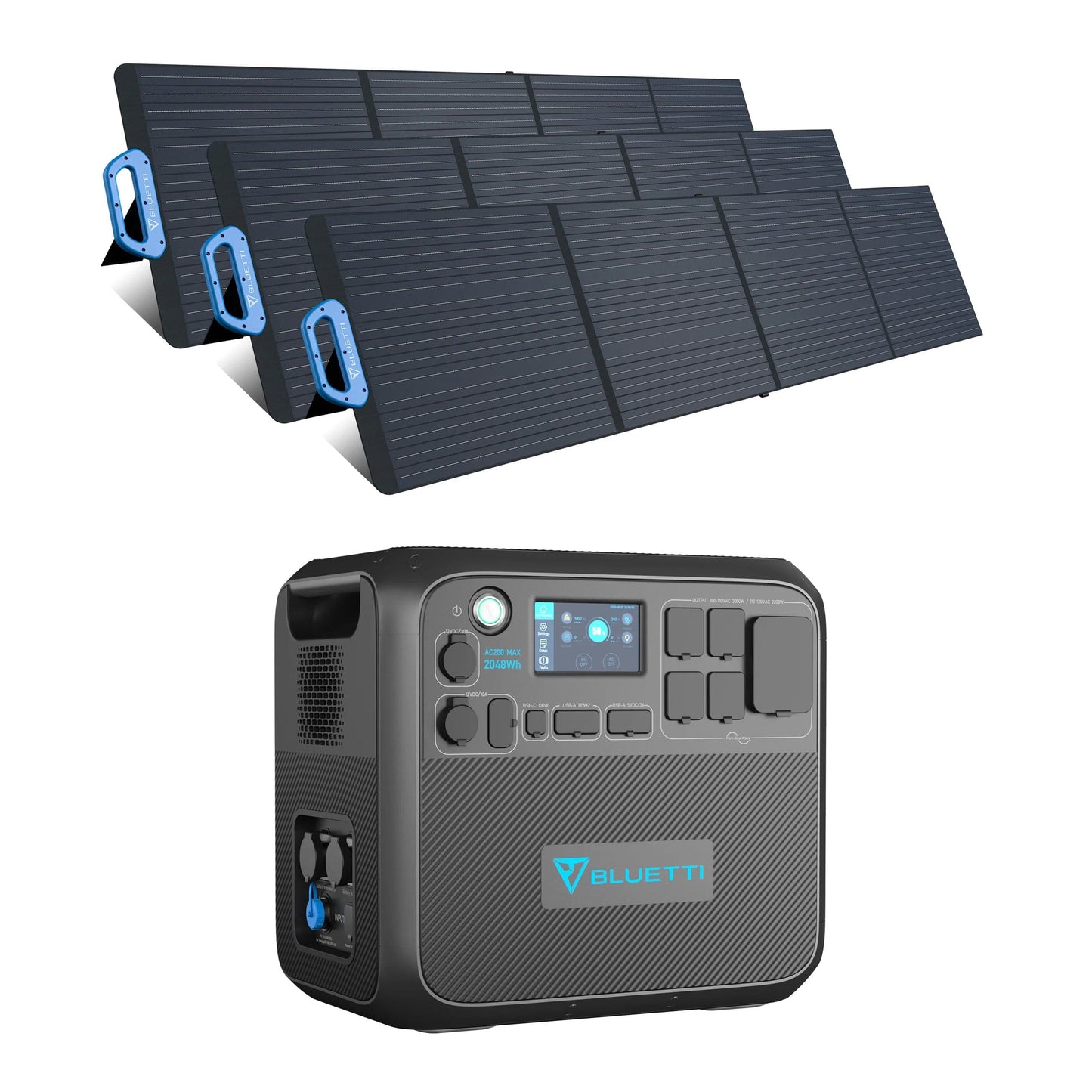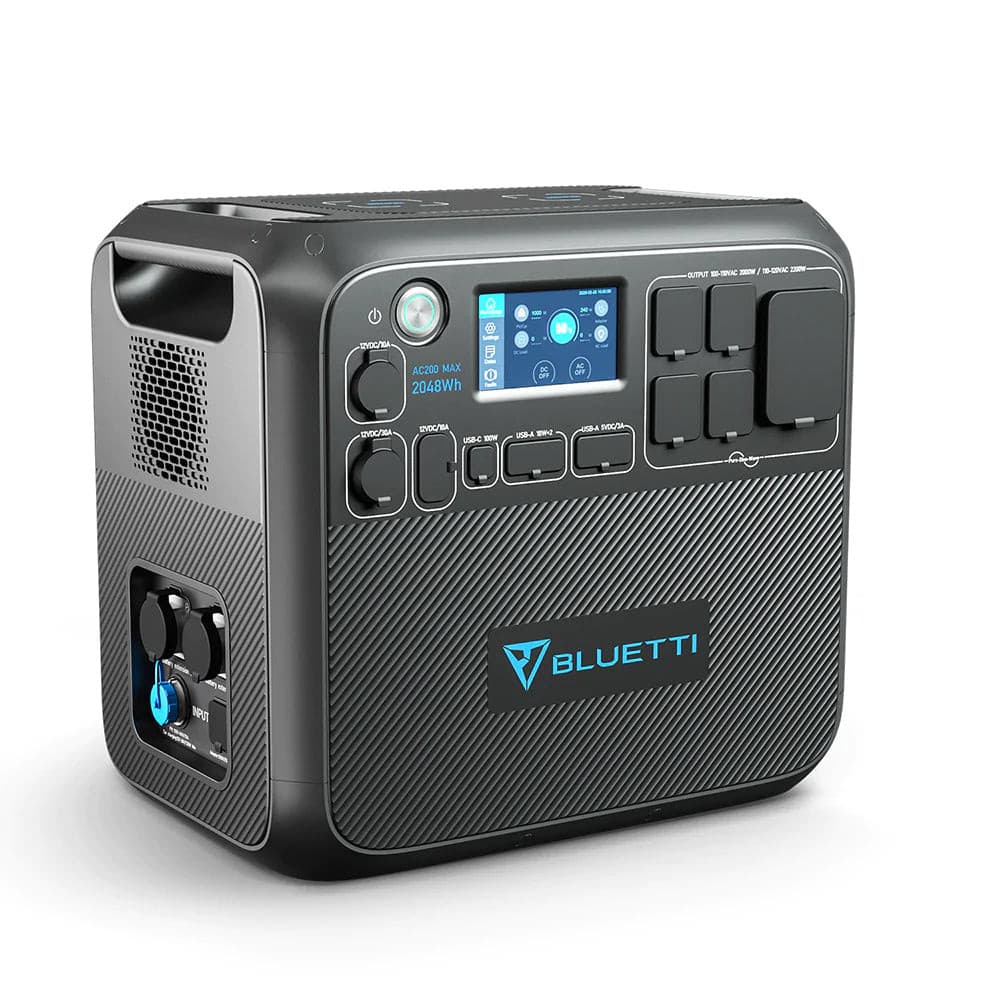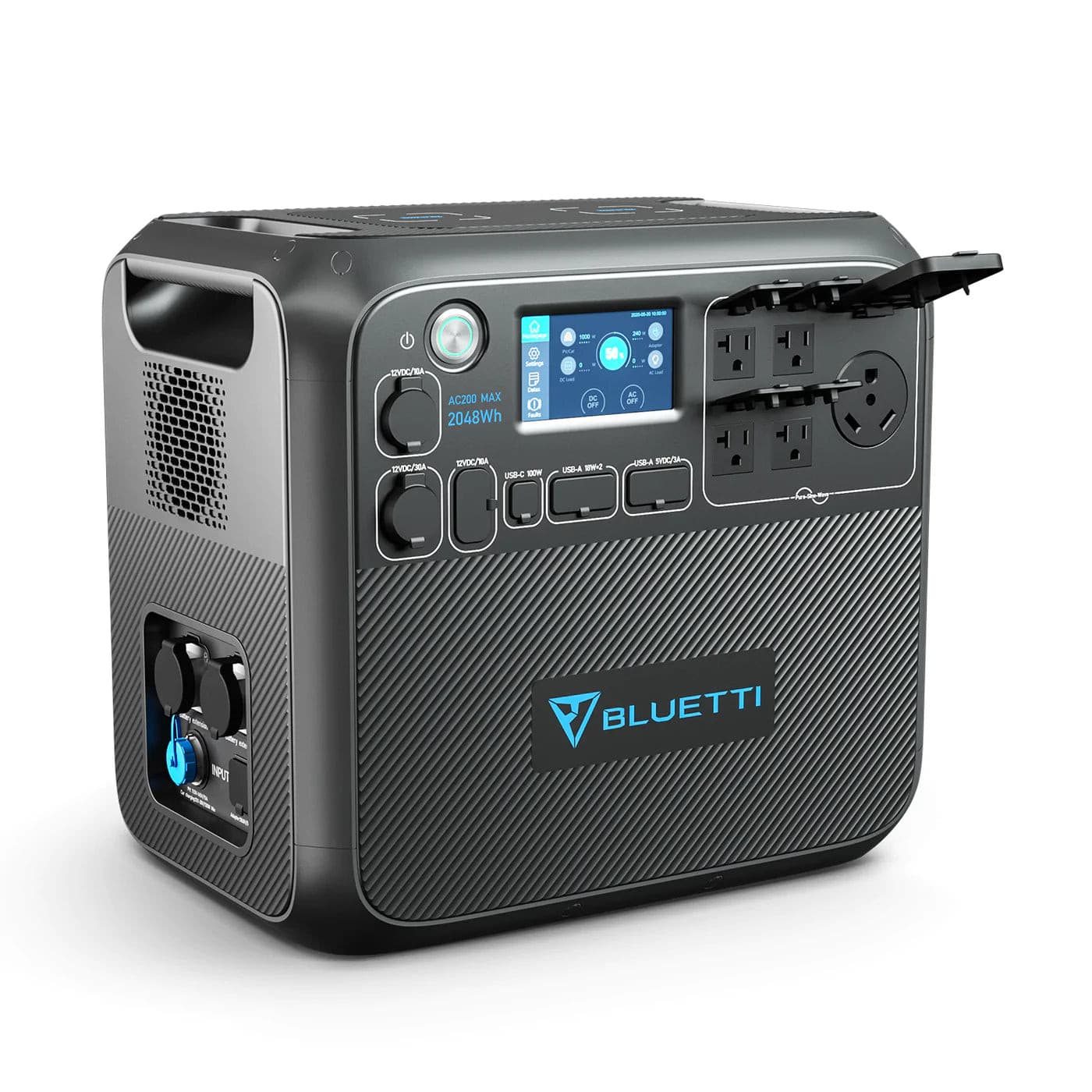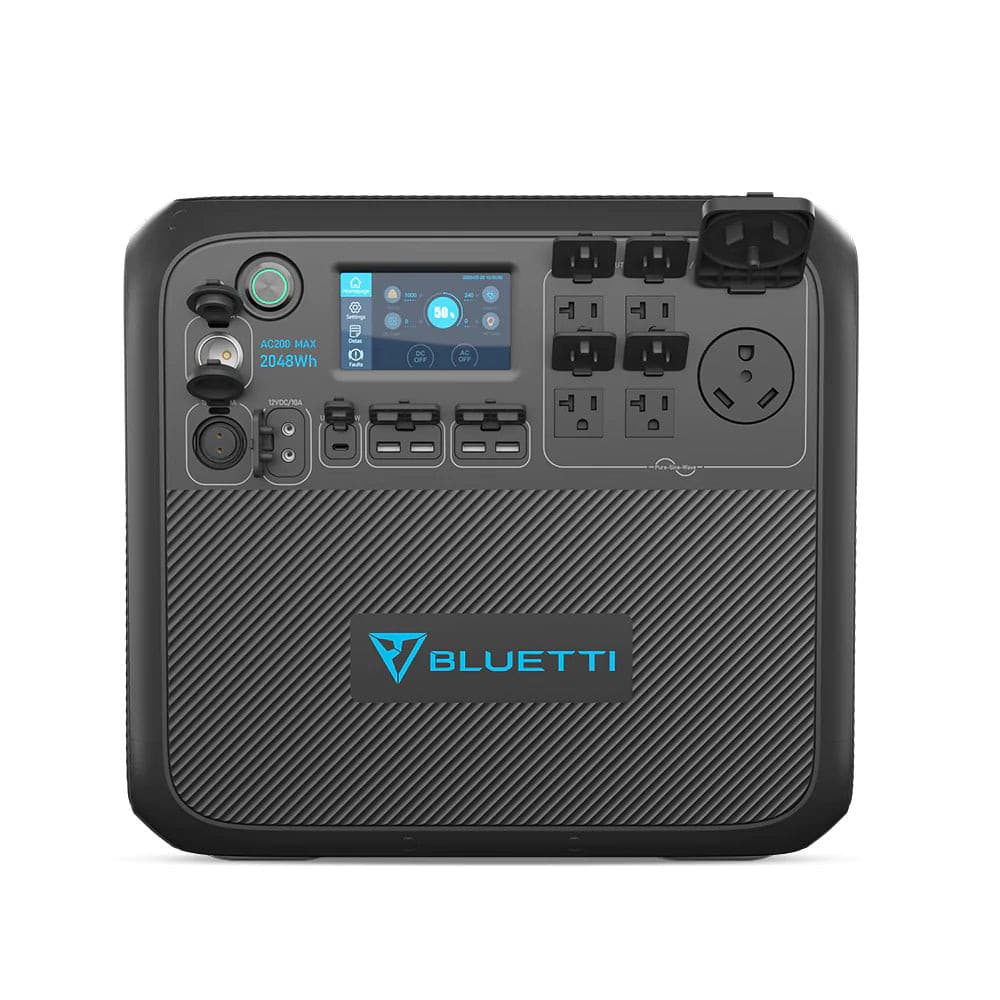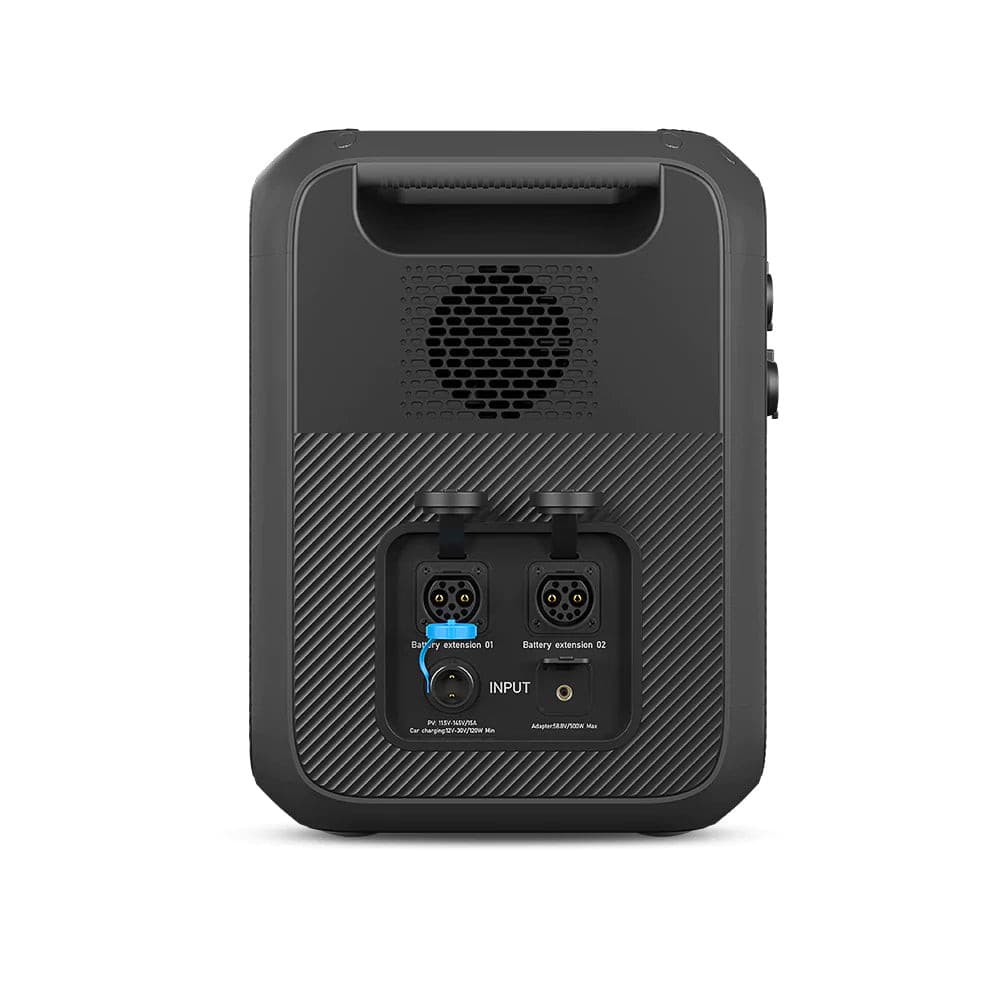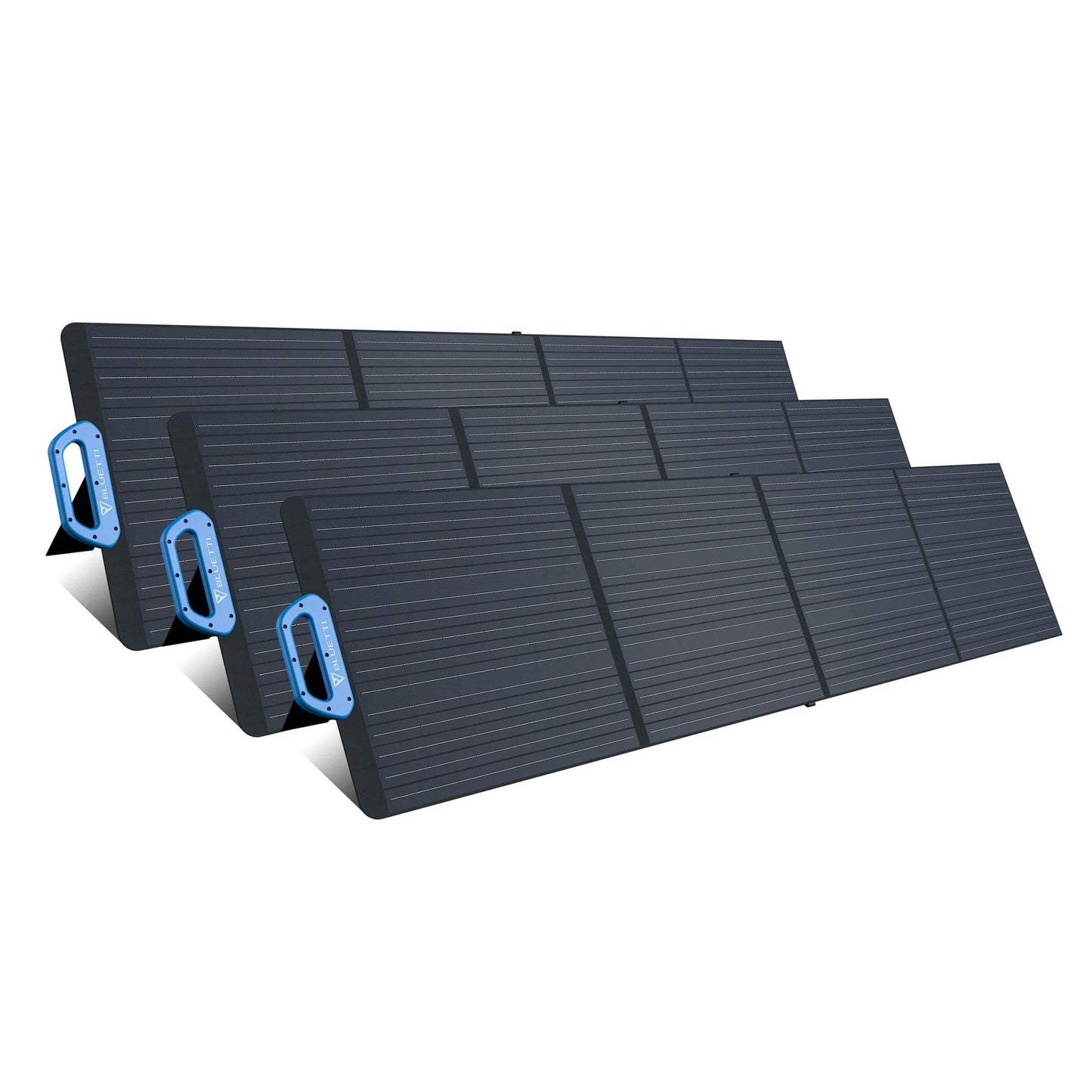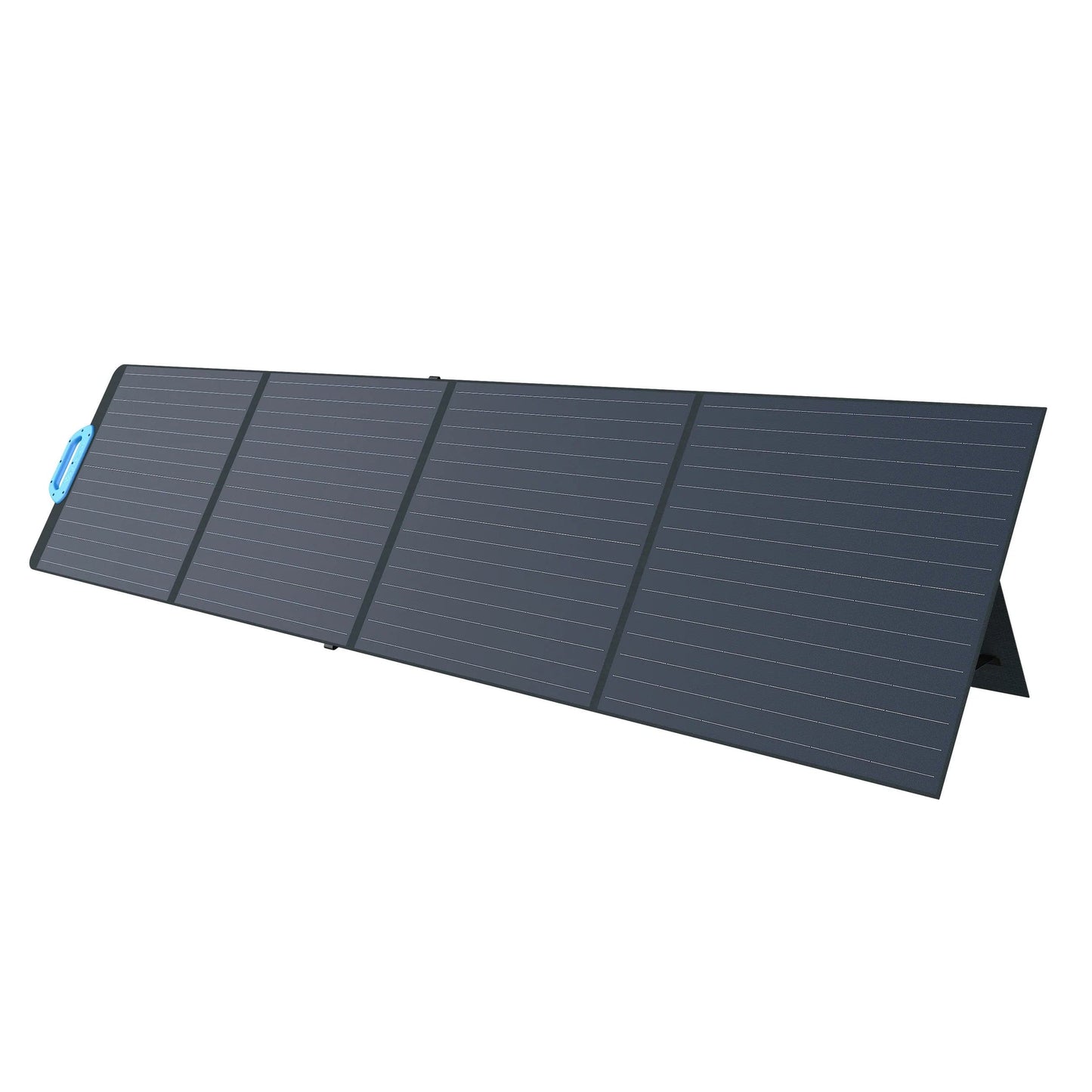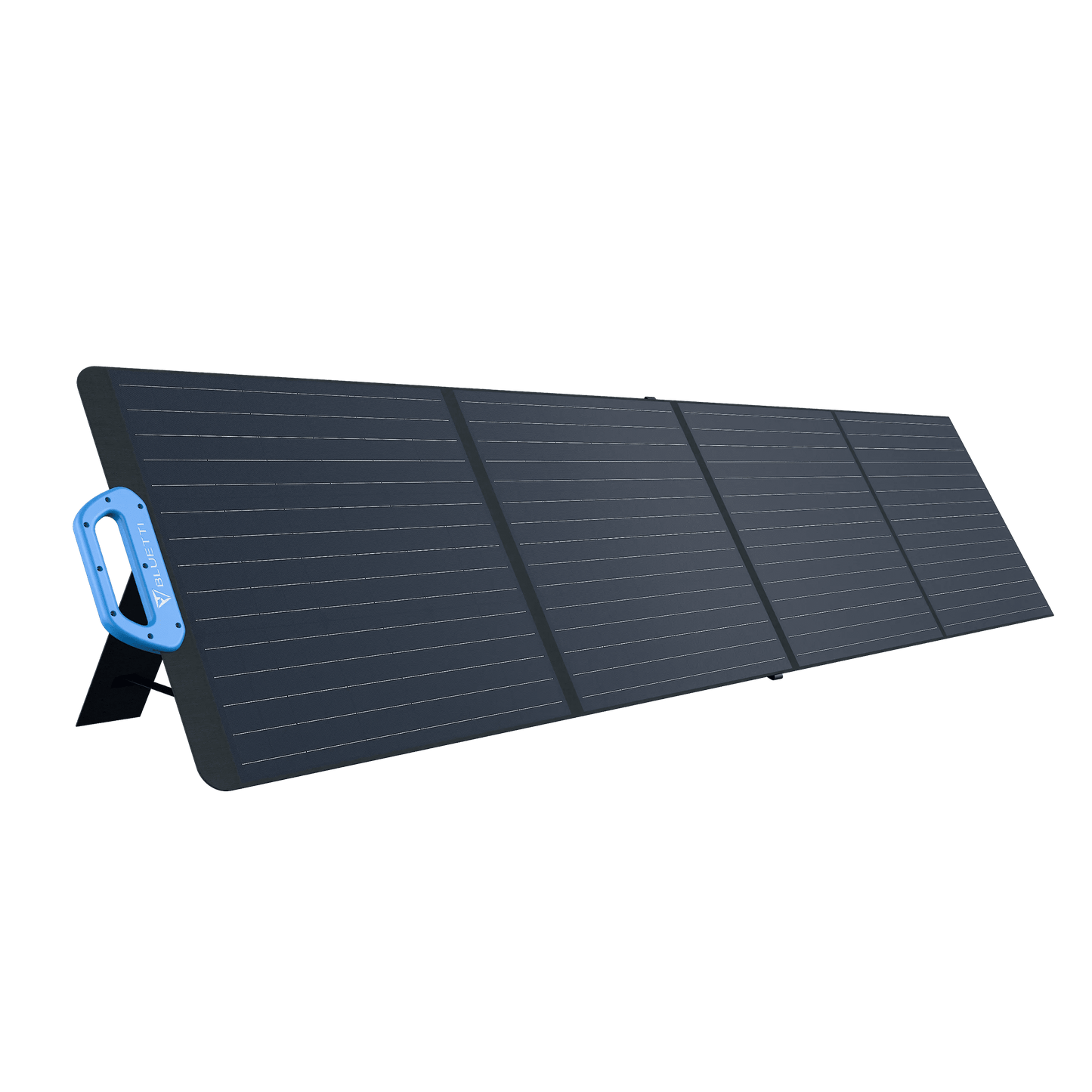 Bluetti AC200Max 2200w Off Grid Backup Generator | Modular LiFePO4 Solar Power Station
A useful guide to making the most of it all.
How to recharge AC200MAX via solar panels?

How to connect AC200MAX with either B230 or B300 Battery Modules?

How to use the Touchscreen of AC200MAX?
Frequently Asked Questions
How many BLUETTI B300 or B230 expansion batteries can connect with the AC200MAX?

Two B300 for 8,192Wh capacity. 
Two B230 for 6,144Wh capacity.
Can I connect third-party expansion batteries to AC200MAX?

No. AC200MAX ONLY accepts BLUETTI B230 or B300 expansion batteries.
Does AC200MAX support App control?

Yes. Once connected via Bluetooth, the BLUETTI App will enable you to control the 
AC200MAX remotely, like switching the working mode and upgrading the firmware.
Can I use AC200MAX as a UPS?
What kind of solar panels should I choose for AC200MAX?

PV input requirements for AC200MAX: 
Open Circuit Voltage: 10-145V 
Input Power: 900W Max. 
Include MC4 connectors. 
Highly Recommended: 
6x BLUETTI PV120: ≈3.5hrs. 
4x BLUETTI PV200: ≈3hrs. 
2x BLUETTI PV350: ≈3.5hrs. 
* For reference ONLY.
Can I connect two units of AC200MAX together for more power (240V Split Phase Bonding)?
Is the AC200MAX power station waterproof?

No. Also, please do NOT store it in a humid environment for a long time.
Can it charge and discharge at the same time?
Can I use or charge AC200MAX in sub-zero temperatures?

Temperature ranges for AC200MAX are: 
Charge: 0-40℃ (32-104℉); 
Discharge: -20-40℃ (-4-104℉); 
Storage: -20-40℃ (-4-104℉). 
Technically, it can power electrical devices under such situations, but please avoid charging it.
How do I know whether my appliance can work well with the AC200MAX?

Calculate the total wattage of your devices. AC200MAX should work if the load doesn't exceed its rated 2,200W.
How long can it run my device?

Running time = Battery capacity × DoD × η ÷ Device rated power DoD refers to Depth of Discharge and η is local inverter efficiency.For AC200MAX, both DoD and η are 90%. If you run a 1,000W microwave oven with it, the running time will be:2,048Wh × 90% × 90% ÷ 1,000W ≈ 1.65hrsNote:1) The formula is NOT suitable for inductive loads with compressors, like refrigerator, air conditioner, etc.2) The above data is for reference ONLY.
What is the maximum input charging power of the BLUETTI AC200MAX?

1,400W Max. Via 500W wall socket and 900W solar panels simultaneously.
Can it be laid on its side to save space?

No. Long-term placement will make the internal structure loose, it is recommended to place the machine upright.
Can I hot-swap expansion batteries to AC200MAX?

Yes. You can easily swap battery packs for continuous power use, and the system can hold two batteries at once.ONLY.
Is it possible to replace the built-in battery?

No. If the battery pack is faulty or even dead, please contact BLUETTI Customer Service.
 What is the difference between the AC200MAX and AC200P?

The main differences are:1. Output power and capacity: 2,000W AC power and 2,048Wh capacity for AC200MAX, while 2,000W and 2,000Wh for AC200P.2. Max. Input: 1,400W for AC200MAX, while 1,200W for AC200P.3. Output Port: AC200MAX has a 12V/30A NEMA TT-30 port.4. App Control: AC200MAX supports BLUETTI App control.
I'd like more tutorial videos on the AC200MAX.

Sure, please follow BLUETTI Support onYouTube.