KARA Pure Antioxidant Alkaline Air-To-Water Dispenser
Regular price

Price:

$3,799.00 USD

Regular price

List Price:

$3,799.00 USD

Sale price

Price:

$3,799.00 USD

Unit price

per
10% off, Free Shipping & Tax Free| Coupon Code: KARA | Ends:
Shipping Information

Free Shipping on order to Contiguous United States| We do not ship to Alaska, Hawaii, American Samoa, Guam, Northern Mariana Islands, Puerto Rico, U.S. Virgin Islands.

We Ship within 2-5 bussiness days from California.
30 Days Price Match Guarantee
ecopowerit will refund you the difference if you find a lower price from us within 30 days of your purchase, shop with confidence.
Share
MEET KARA PURE
The World"s First 9.2+ pH Antioxidant
Alkaline Air-To-Wat er Dispense
Kara Pure is a Luxury Air-to-Water Dispenser that makes up to 300 liters of alkaline water per month. All you have to do is plug it in!

Our water is sourced from the air and fortified with minerals that contain antioxidants, anti-aging, and anti-anxiety properties you won't find anywhere else. It also has an unbeatable pH value of 9.2+.
Specifications 
| | |
| --- | --- |
| Dimensions | 1070 mm, (H), 400mm (W), 220mm (D) |
| Power | |
| Power Consumption | 588W |
| Water Properties | Ionized, Mineral, Antioxidant, Anti-Bacterial  |
| Operating R.H. | 60% - 80% R.H. |
| Optimal Temperature ( C ) | 21 C |
| acoustic Footprint (operating) | 30 dBa |
| Air Purification (cfm) | 200 cfm |
| Water Output Purity | 99.9999% |
| Weight (empty) | 35 kg (77 lbs) |
| Material | Stainless Steel, BPA Free  |
| Water Capacity | 2.5 gallons (about 5-10L) |
| Construction | Brushed Stainless Steel |
Kara Pure Review
Blind Taste | Essentia VS Kara Pure
We have done a blind test for Kara Pure and Essentia to see which one will be loved most.
---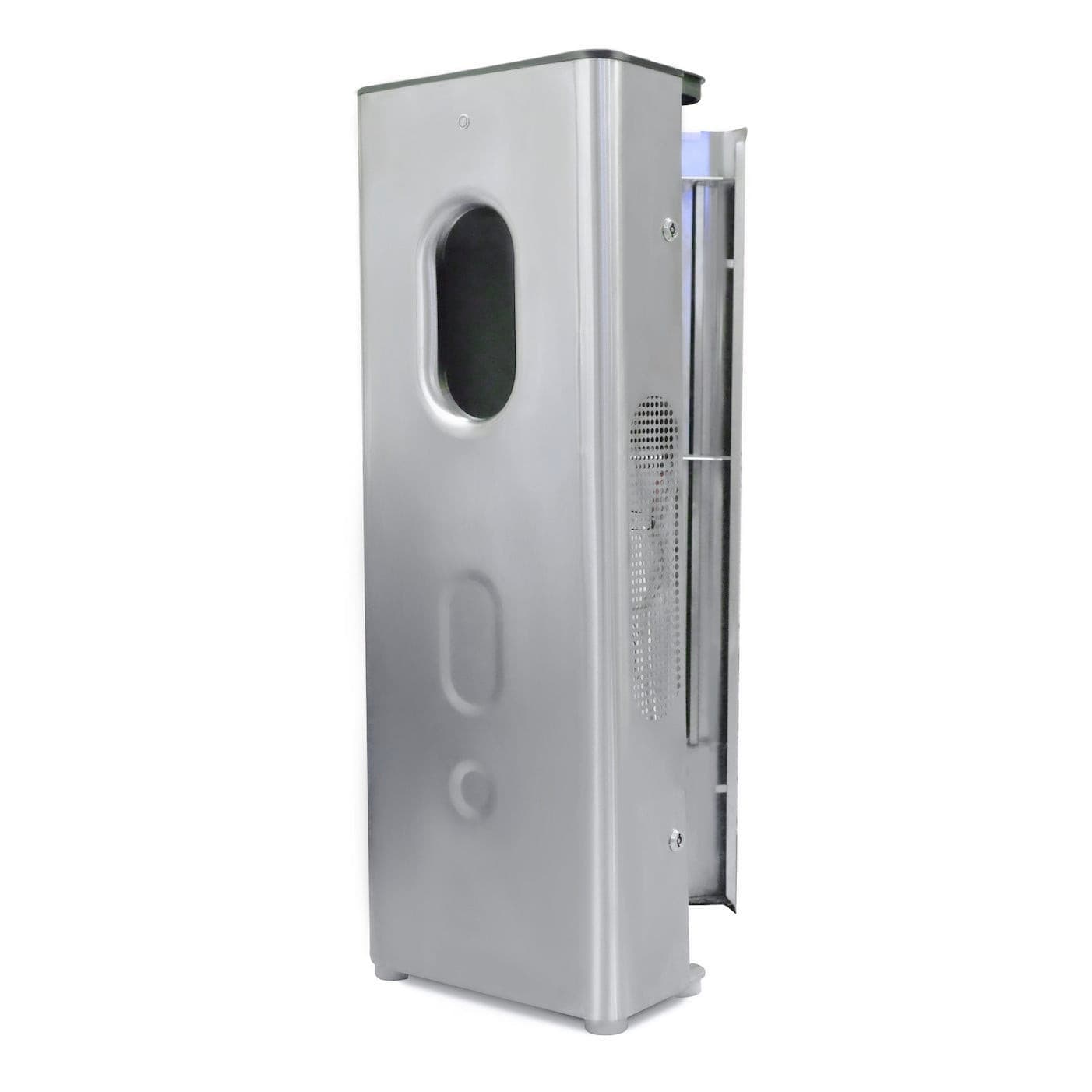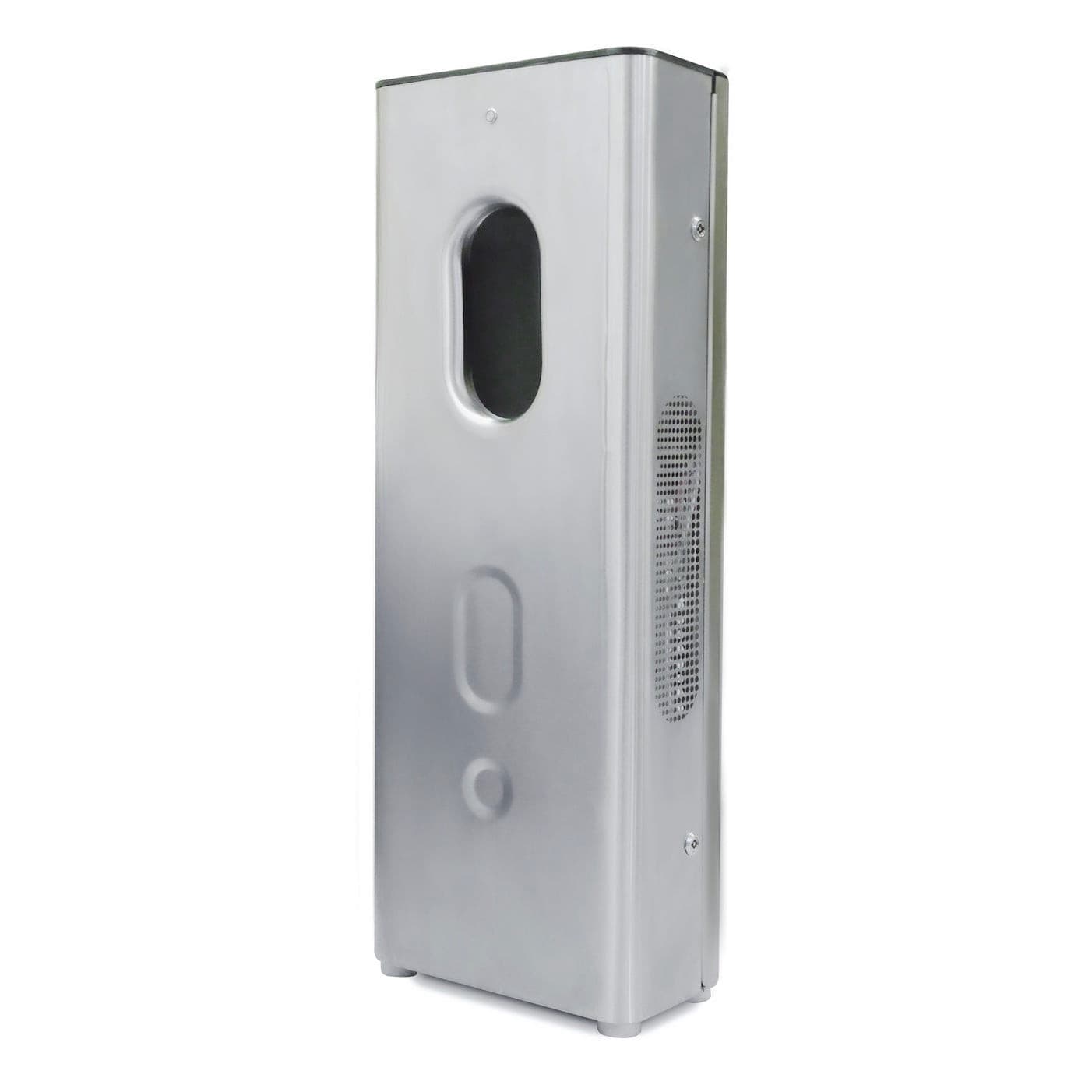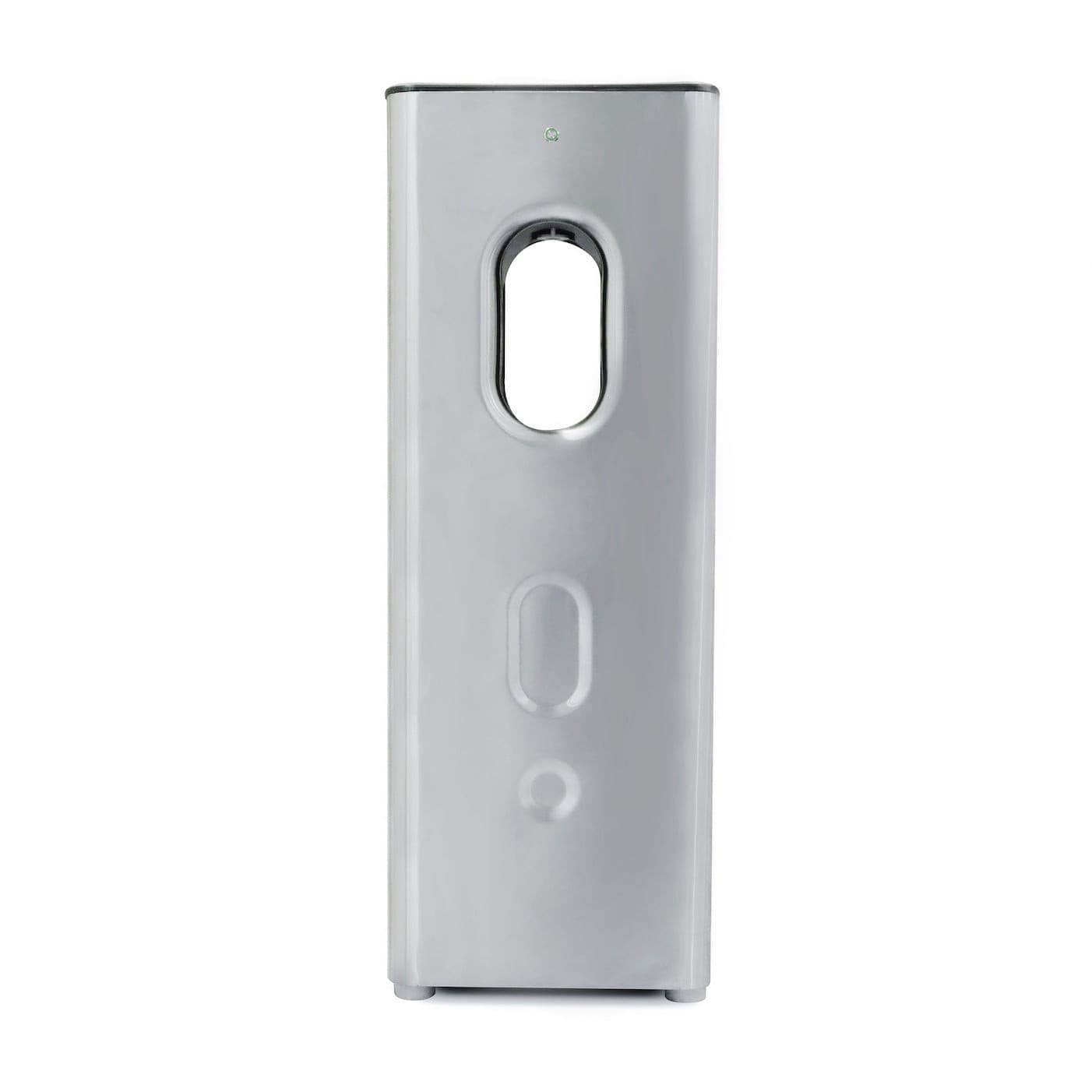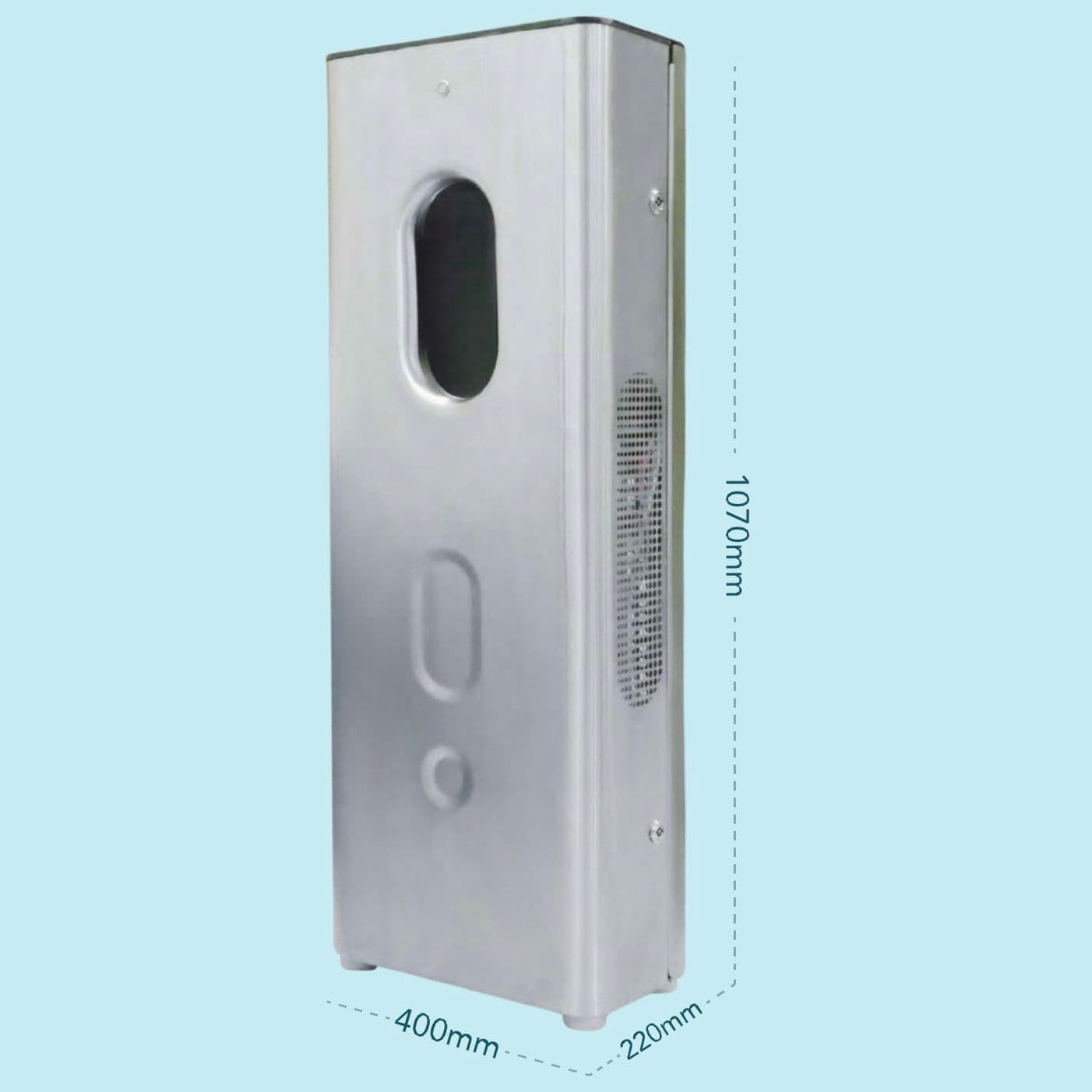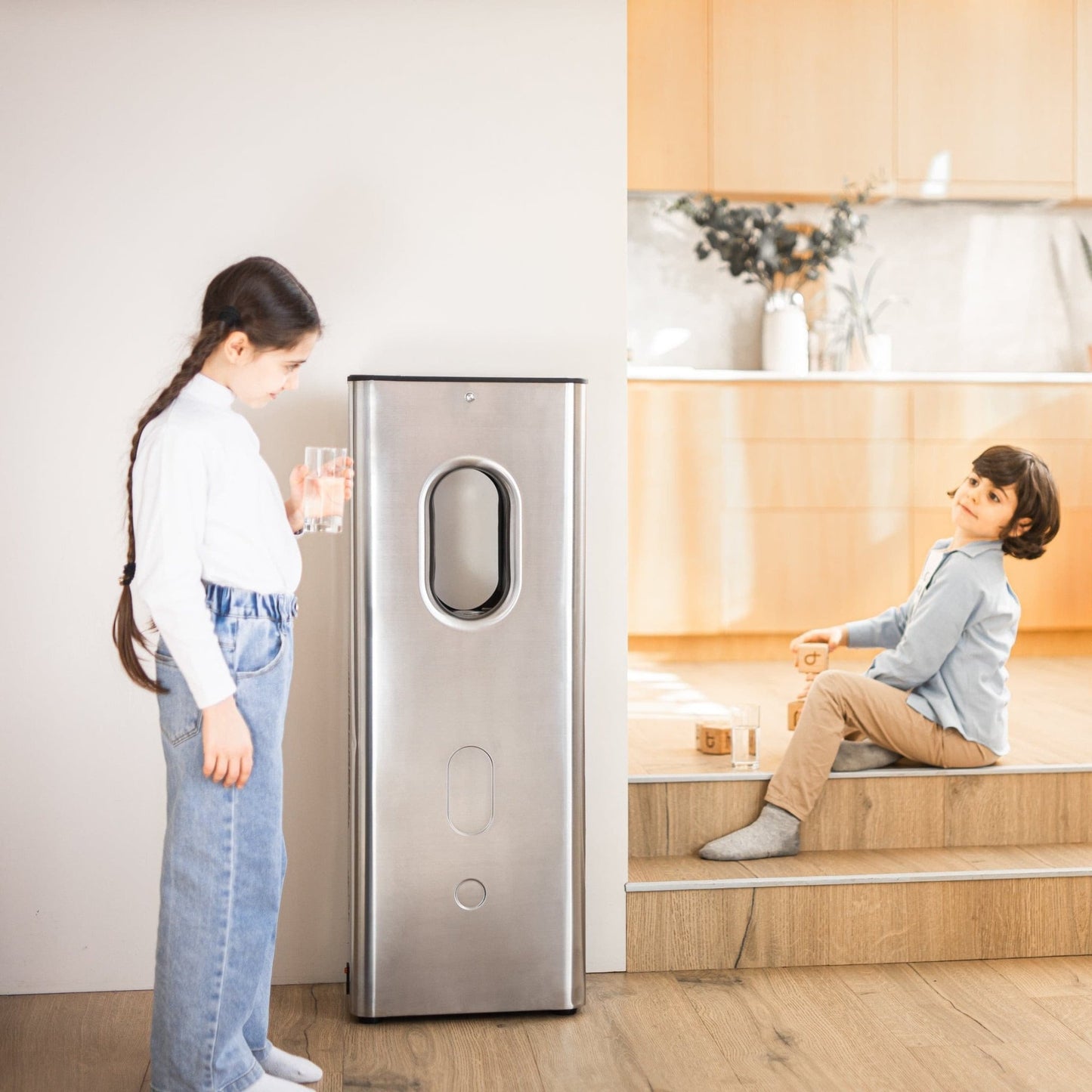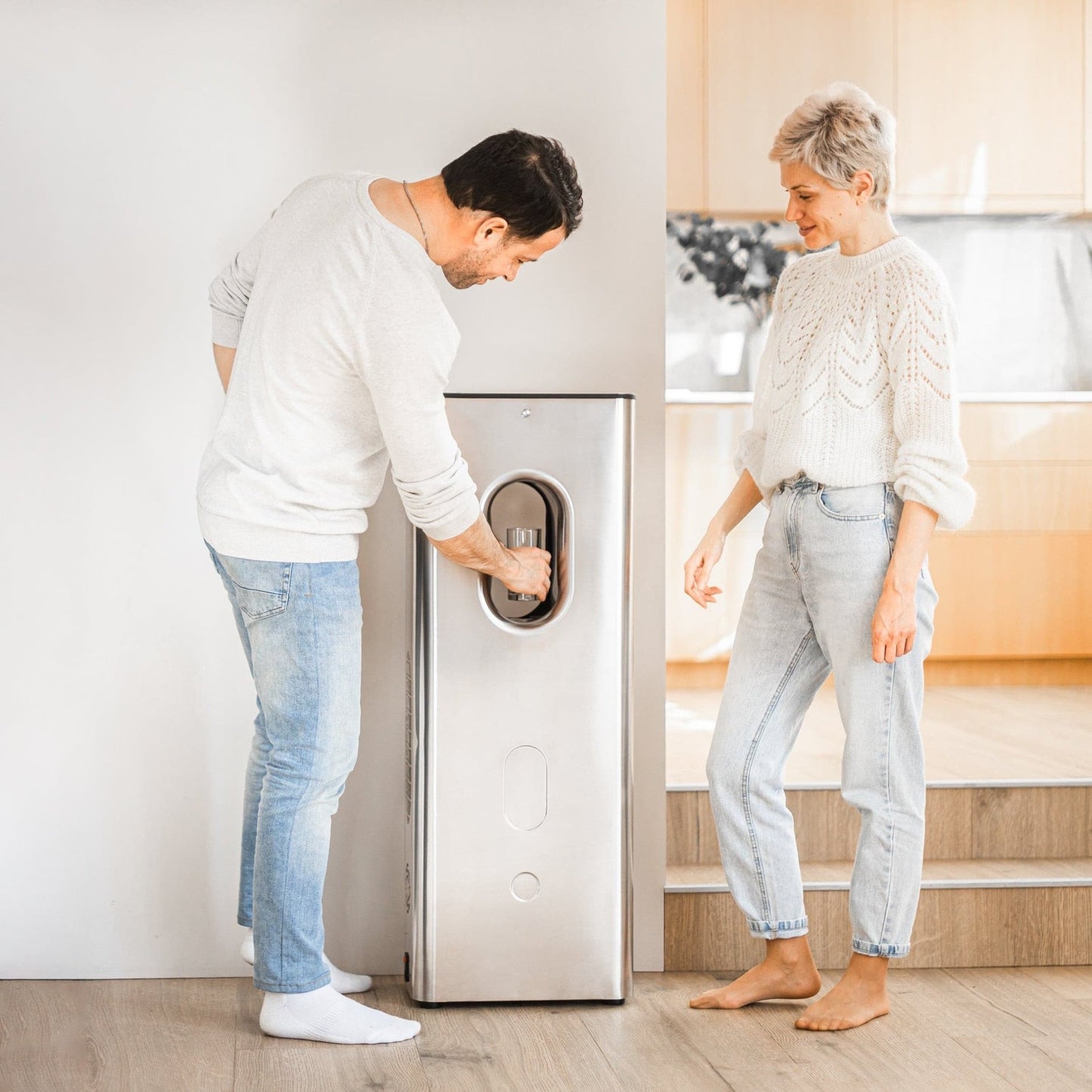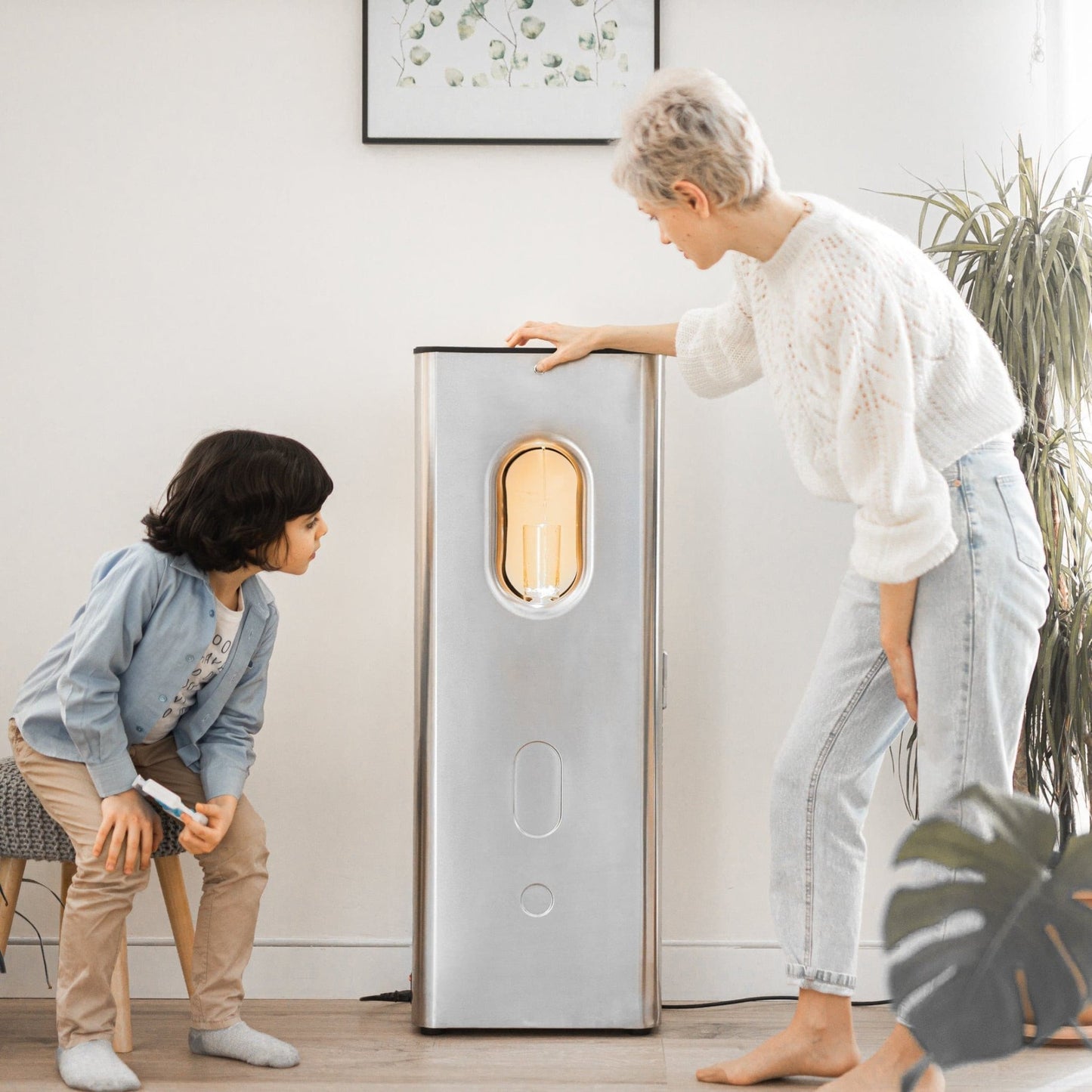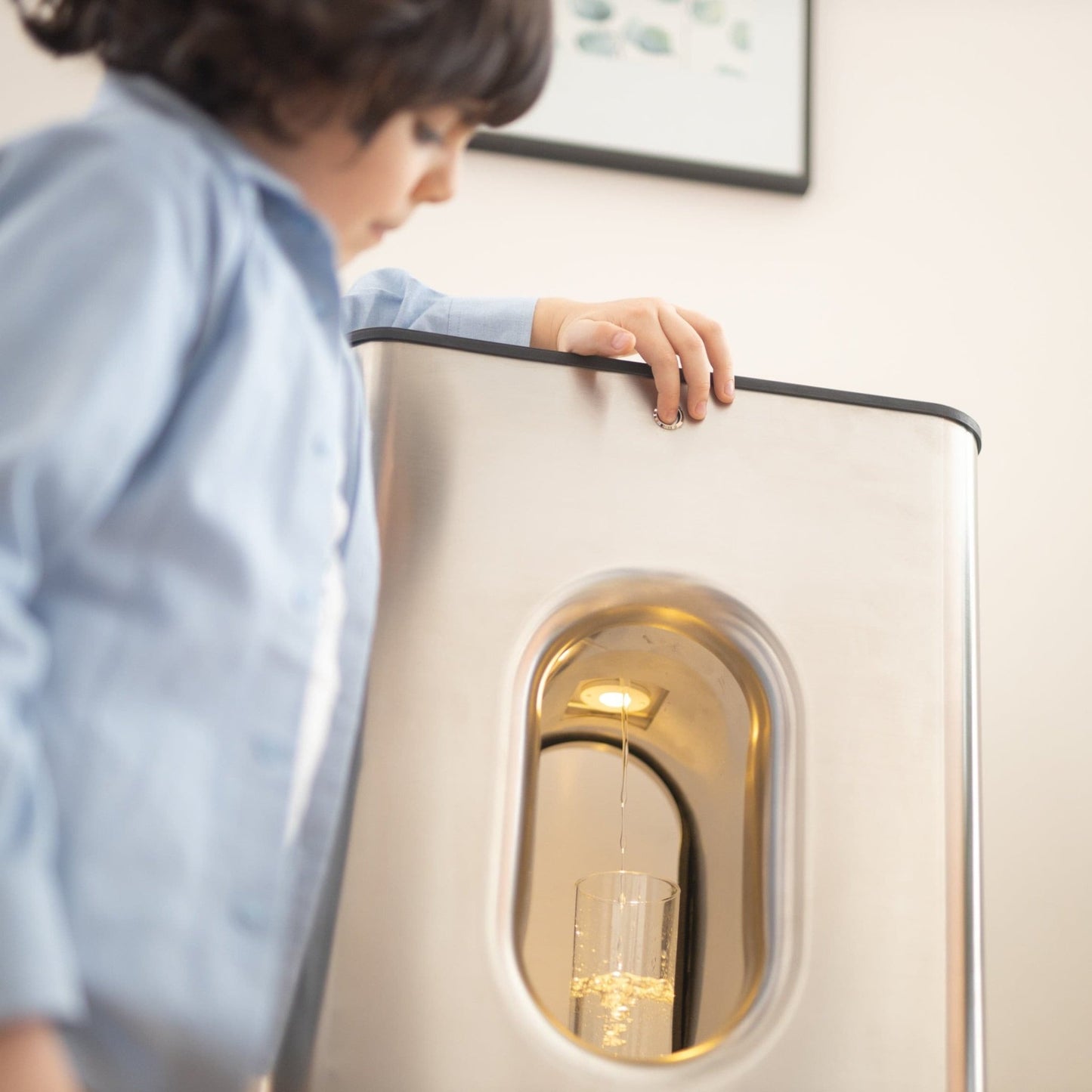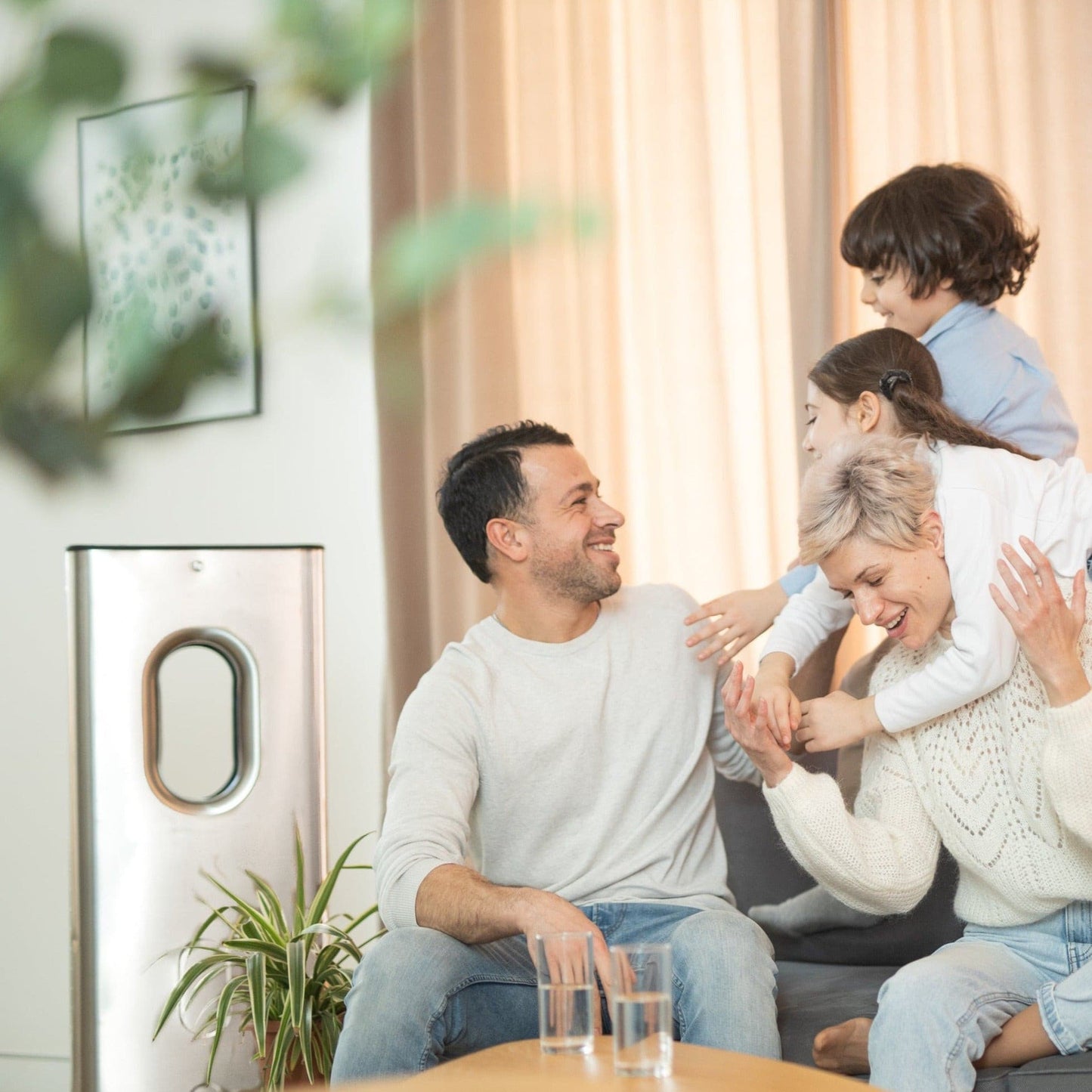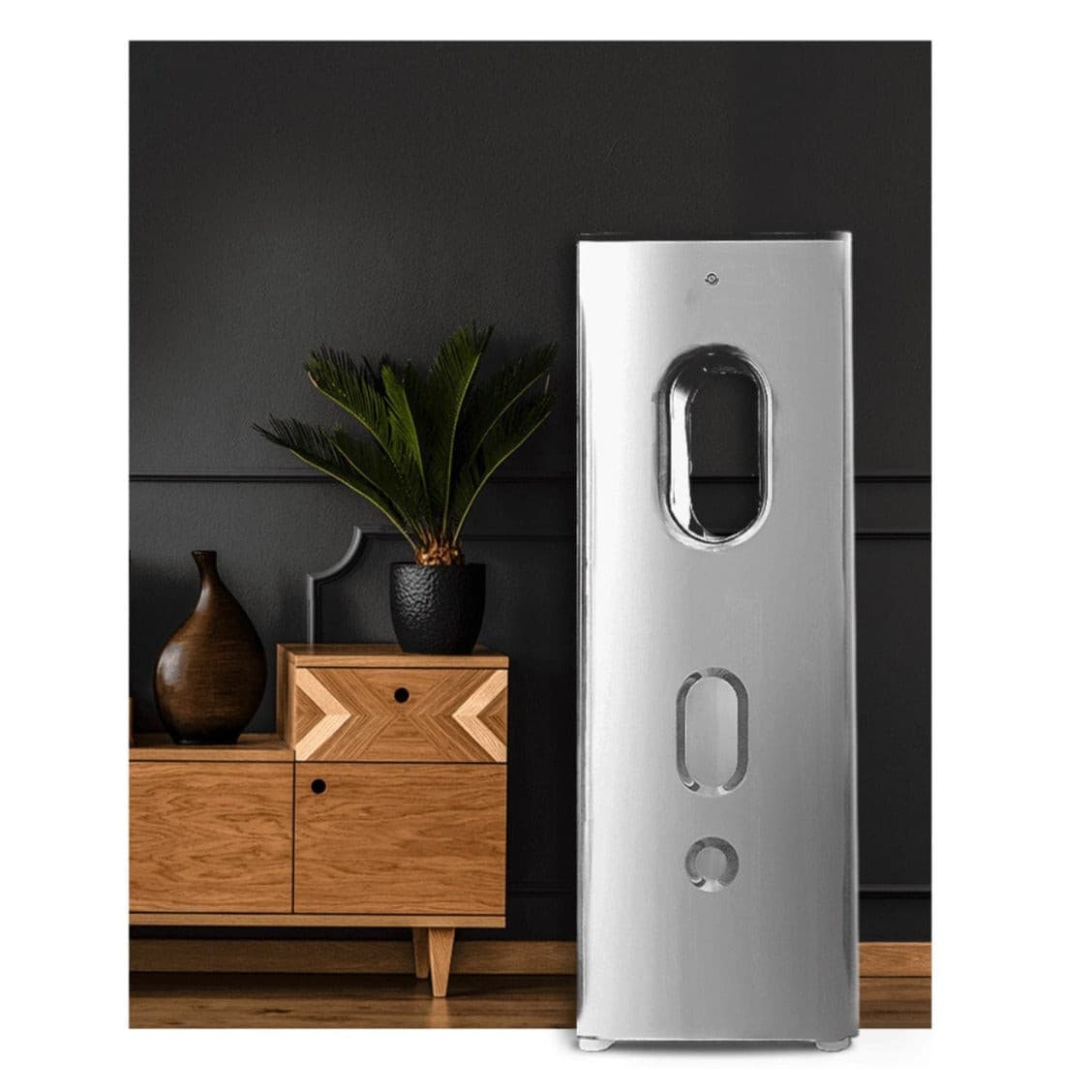 Best Price in the Market
Great product, slim, looks nice in my kitchen. The best price in the market from ecopowerit, they offer a great discount, no one in the market can beat it, not the manufacturer himself. Sure recommended, especially with an old couple want to live a healthy life. Yes recommended it, do not forget to apply the discount, huge saving.
Great Saving
Worth every penny, pure,Antioxidant and Alkaline water. I tested it myself and checked the result, amazing. I used to buy my alkaline water from-----, wast of money and time, they tested below the tap water. I am planning to purchase another one for my sister with health issues to help her control the acidity in her system. Highly recommended, worth every penny. The staff were so nice to help me with all my questions before purchasing it.
Tastes Great, No more bottled water, Sleek design
My family and I love our Kara pure in our dining room and enjoy showing it off. My wife thinks Kara Pure is sleek and loves the design. The water tastes great. I'm not sure we can go back to filtered tap water. My kids enjoy dispensing water and drink more water by THEMSELVES. I finally have a trustworthy drinking water solution to meet my weekend warrior lifestyle- all without the guilt of purchasing premium bottled water.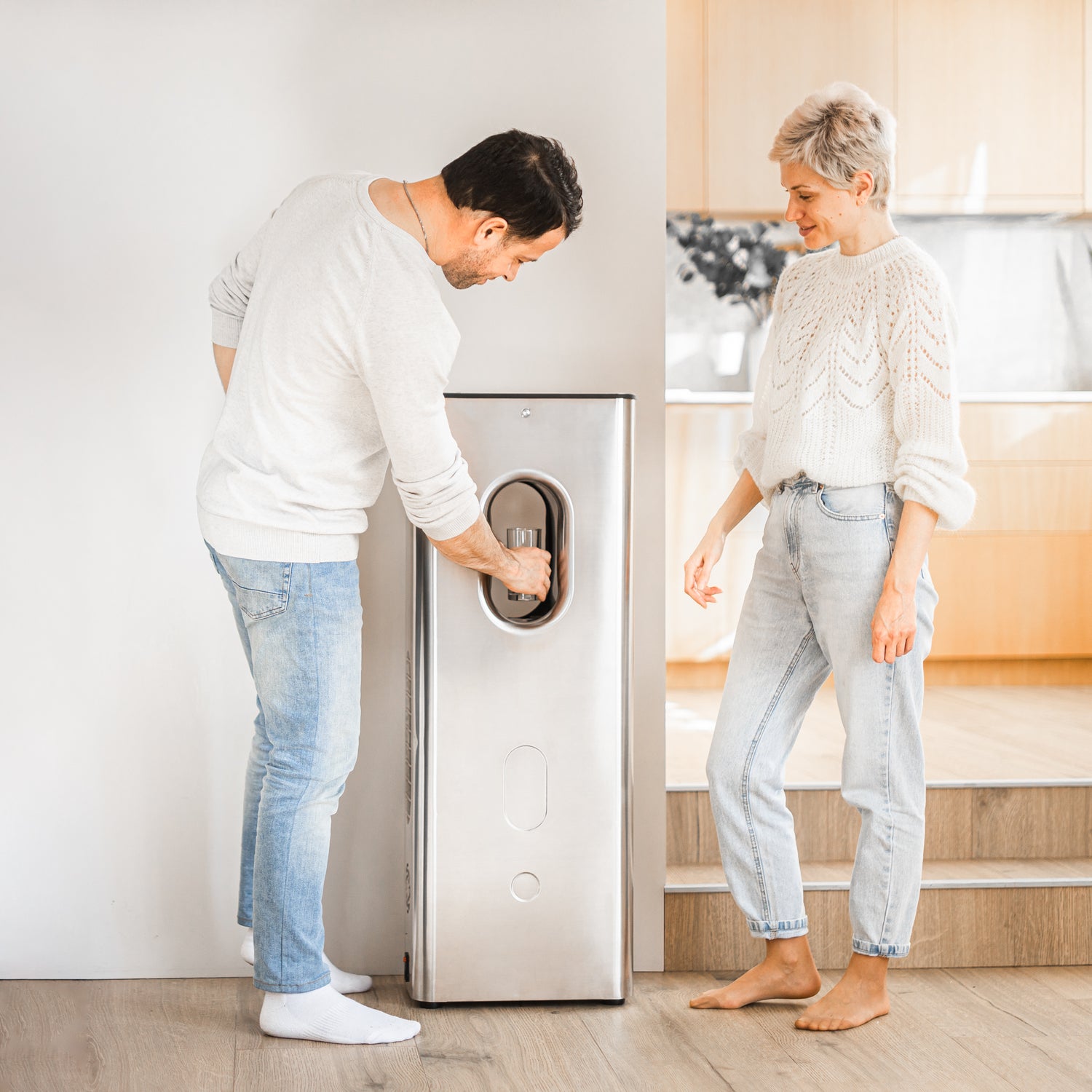 1. Makes Water From Air
Yes! you read that right. With Kara Pure, you can enjoy
delicious alkaline

and mineral-rich water from the air.
Water is everywhere in the air we all breath, even in the driest deserts.
However, it remains trapped int eh atmosphere until the right conditions allow
it to be releases.
"The Earth's air has ~ 12,900 billion tons of fresh water distributed all
over

the world with fast replenishment."
Kare Pure capture the air around you inside the dispenser where it removes
all the impurities from the air. The cleansed air then undergoes a special heat
exchange and cooling process that leads to the point where air is condensed,
and water is generated.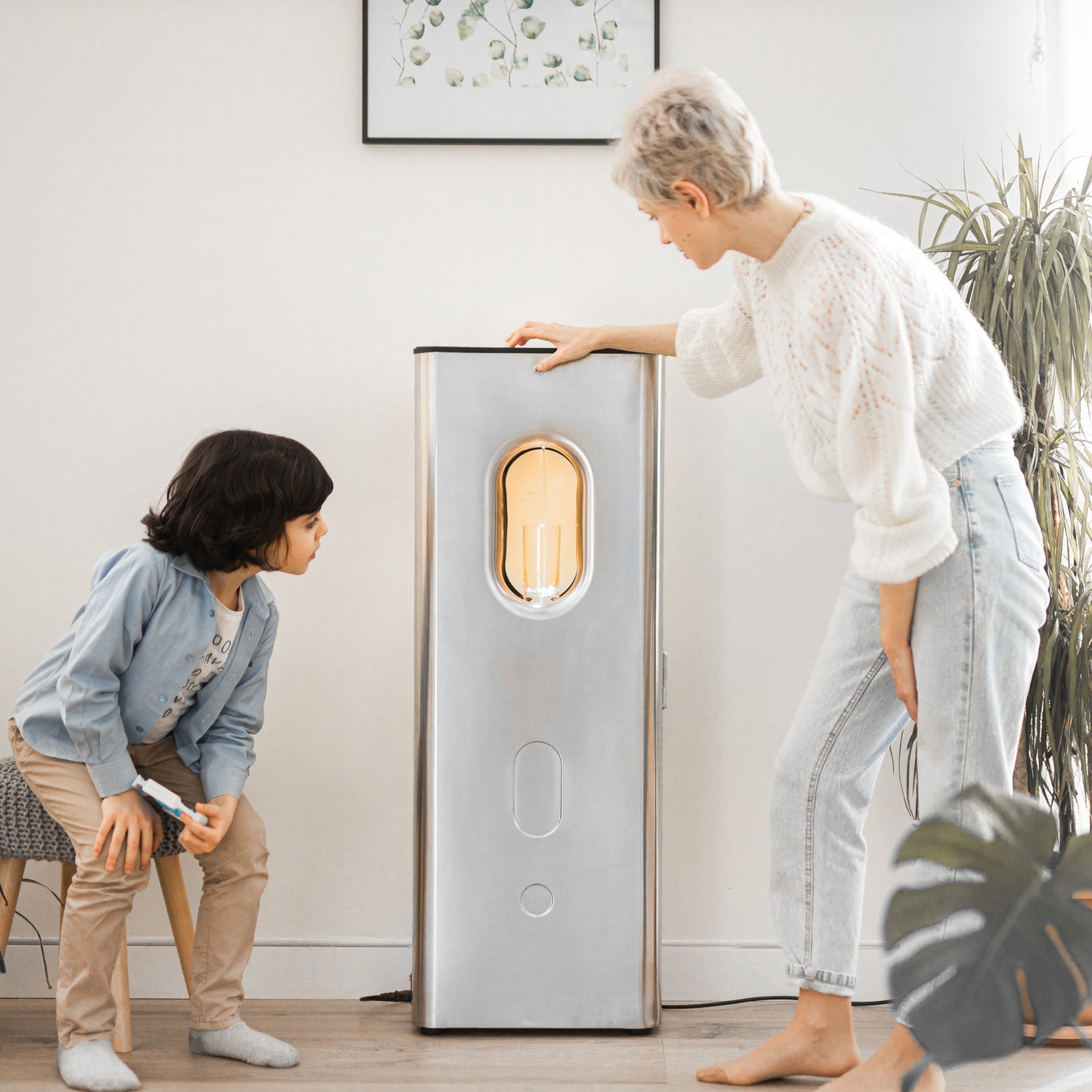 3.DELIVERSHEALTHY ALKALINE WATER
Water created with Kara Pure tastes better than regular
tap water. But more importantly, it helps improve our wellness! How?
Kara Pure delivers you with perfectly pH-balanced
alkaline water.
Thanks to the
inbuilt ionizer, it separates water into acidic and alkaline, and enhances the
newly created water properties through fortifying the water with

9.2+ pH alkaline minerals.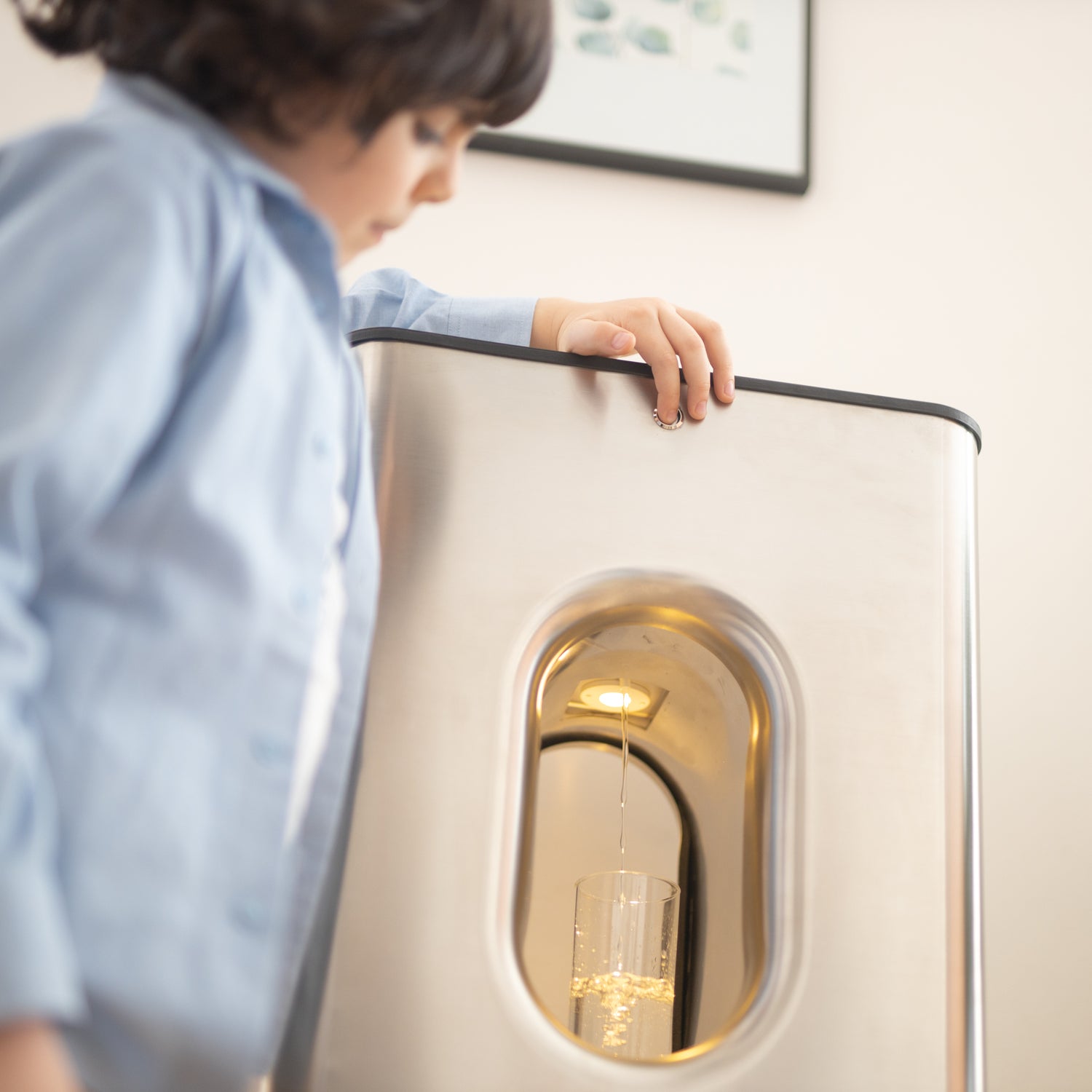 4.ALWAYSCLEAN & NEVER STALE
Kara Pure Water is purified through a multistage filtration and purification process.
Thanks to its UV-C sterilizer built-in water reservoir, Kara Pure produces highest quality and purity drinking water. Low in bacteria and biological contaminants.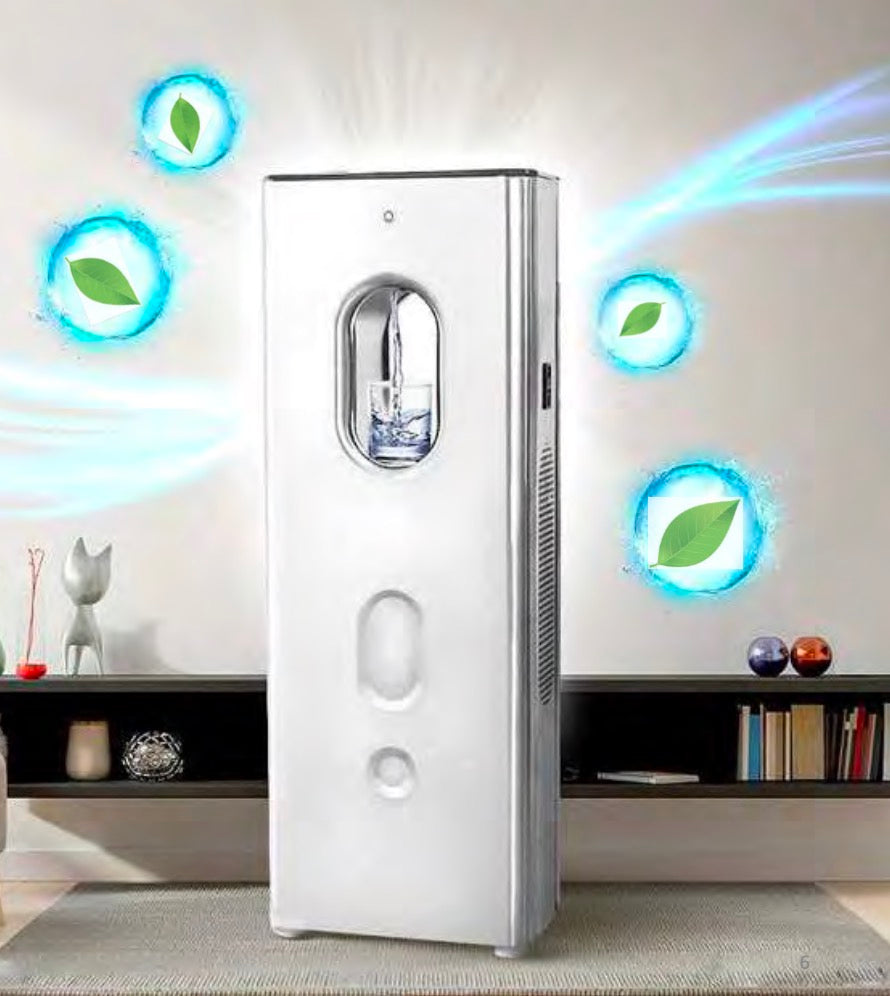 5.IT PURIFIES THE AIR YOU BREATH
With Kara Pure you not only will drink high-quality water but will also breath pure air. In fact, air purification is part of its water creation process.
Thanks to XX-level filtration system, Kara Pure cleans the air from impurities, heavy metals, particles, and extracts water from the air. After which the purified air is released back.
Button label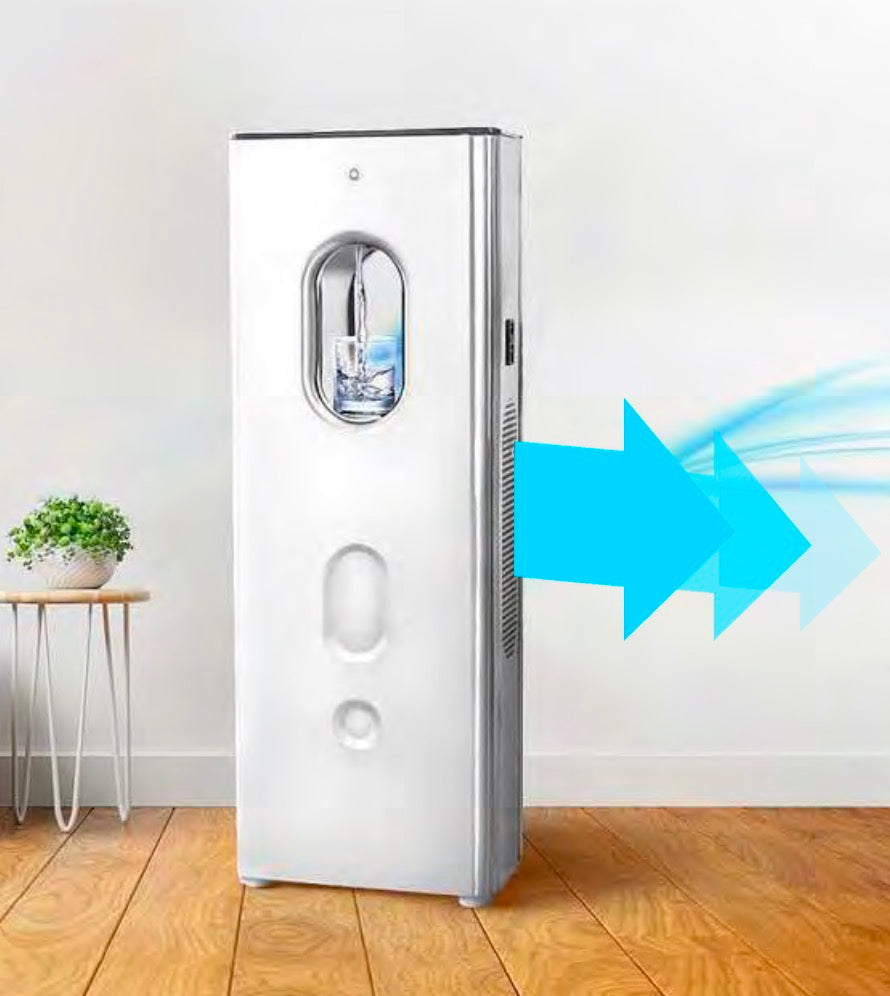 IT'S ALSO A DEHUMIDIFIER
Kara Pure is more than a Air-To Water generator.
As Kara Pure produces water through capturing the humidity in the air, it also serves you as a dehumidifier. It effectively removes the excess water from your environment and prevents the buildup of mold that can result in several issues. 
CREAT A MORE CONFORTABLE LIVING ENVIRONMENT WITH KARA PURE.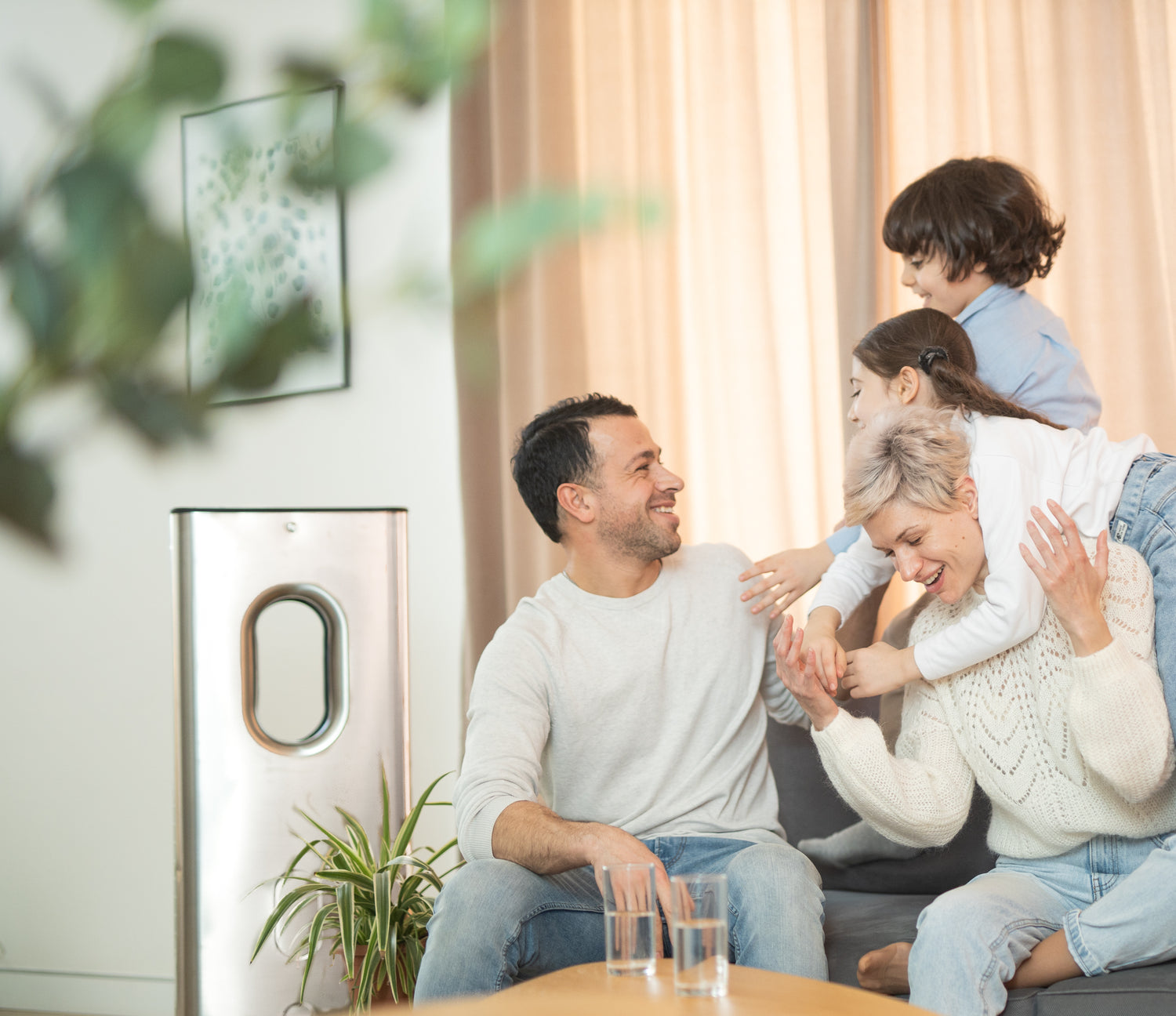 FORGETALL ABOUT BUYING BOTTLED WATER
Featuring the innovative, Air-To-Water filtration system, combined with a germicidal UVC tech, the Kara Pure delivers you pure, ionized, fresh drinking water, without the need to connect it to the water pipes and infrastructures.
Plug Kara Pure in and begin drinking the pure and clean water you deserve.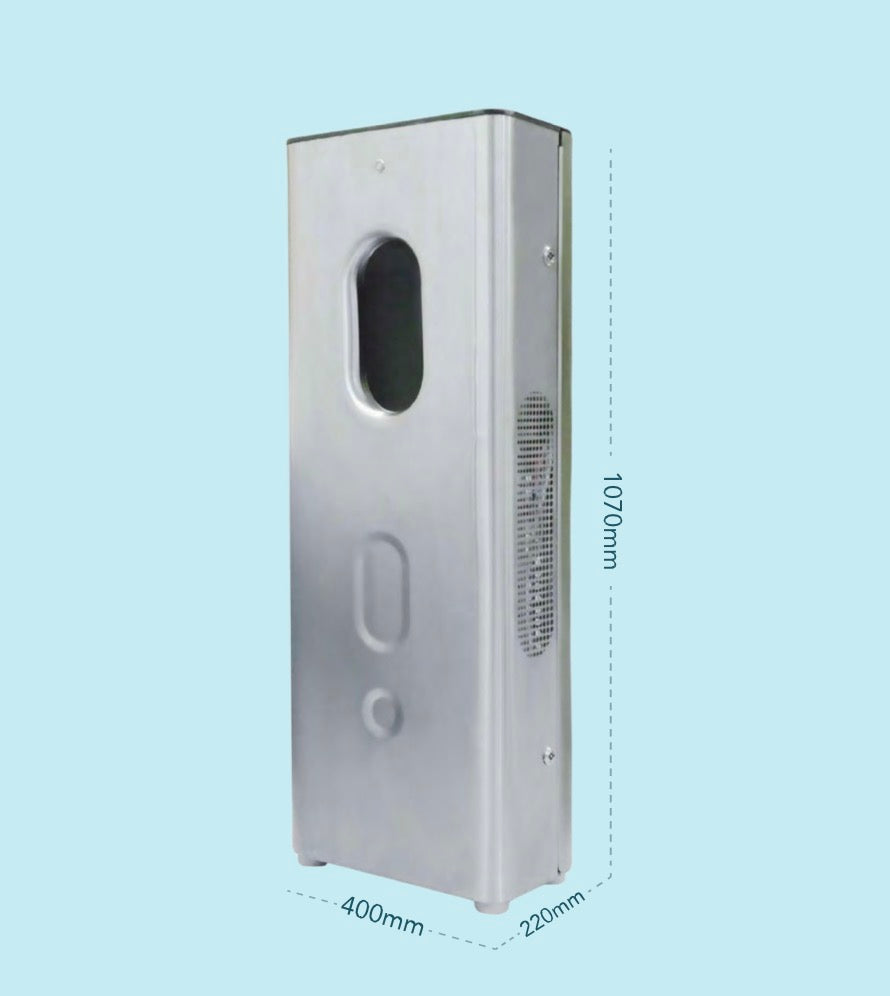 Specifications
Power
110/240C X 60HZ
Water Properties
Ionized, Mineral, Antioxidant, Anti-bactereial
Weight
28 kg (61lbs)
Materials
Staniless Steel, BPA Free
Water Tank Capacity
Kara Pure collects and stores water in a 2.5 gallons ( about 10L) Tank
PURITY

On top of filtering the air first, Air Water is among the purest forms of water. Nearly all of the contaminates found in tap and bottled water are non-existent in the air.

HEALTHY

KARA PURE adds rare and unique minerals to make luxurious drinking water that promotes healthy skin, calmness and better hydration.

KILLS 99.0% OF GERMS

KARA PURE uses heat technology to destroy airborne viruses and germs. It also uses UV light to keep your water pure.
Turn Air Into Pure Drinking Water With Kara Pure - World's 1st 9.2+ pH Air-To-Water Dispenser
Frequently Asked Questions
What is Air to water?

Air to water means that we take humidity from the air and turn it into water. No, it is not magic, but it is sustainable and safer than ground water.
How much water does it produce?

Kara Pure produces up to 10L (2.5 gal) per day, everyday. This will vary depending on the humidity of the day.
Does Kara Pure work with110v and 220v?

Yes! Kara Pure is available in both 110v and 220v.
How does air to water work?

Kara Pure uses desiccant technology which is naturally acts like a magnet to water molecules in the air.
Is the Stored water stored safe to drink aftersitting for a while?

Yes, absolutely! Kara Pure intelligently cycles the water in the storage area continuously, ensuring that the water is always purified and great tasting.
How often do I Need to change the filters?

Unlike other water dispensers you only need to change Kara
Pure's filters annually! KaraPure there are 2 filters: KaraPure's mineralizer and the carbon one. Molds can grow on filters every year, and that is why customers can buy replacements from the website. They are for $200 and a $50 discount can occur, having the listed price as $150.

The air filter can be cleaned by hand and should be cleaned
every 3-6 months.
How deos the filters work?

The filters filter the air so that big particles won't come inside, then kills unseen pollutants then filters the water, and runs through the mineralizer which naturally increased the pH to 9.2 while introducing rare and unique minerals. After that, it ionizes the water making it alkaline. Finally, it goes thru UV-C sterilization and carbon filtration.
What are the benefits of kara pure?

Healthy, reliable, and pure water. Kara Pure water has minerals
that promote healthy bones, cleaner skin, and mental wellness. Kara Pure is also alkaline which boost immunity!

Kara Pure taps into air water, a purer, less contaminated, and widely available source of water around the world. Ground water, in any form,
put you at risk for lead, plastic, and bacteria exposure. Kara Pure kills
bacteria and viruses in your water and in the air. Kara Pure is more than just pure water, it's peace of mind.
Why Switch From my Water Cooler?

With water coolers, even though you may be receiving clean drinking water, the cooler itself may be unsanitary. Bacteria, algae, and other germs living the coolers contaminates your water once it comes into contact with it.
I Really Like what my bottled water brandoffers, why switch?

We've compared Kara Pure water to the top brands in the world and analyzed their benefits. Some offer great alkaline benefits, other great mineral benefits, and some unique smoothness. Kara Pure doesn't just offer one of these, Kara Pure offers all three of these benefits in every pour.
Why Switch from a water DISPENSER?

While water dispensers take many precautions to deliver clean drinking water, the difficulty is filtering out all of the unknown contaminants in ground water. A standard water dispenser with a standard carbon filter typically DOES NOT remove lead from the water. Lead is a known cancer causing agent. When water evaporates most contaminants, especially the heavy ones, stay on the ground. This makes air water much safer than ground water.
Why switch from my reverse osmosis system?

Reverse osmosis, removes contaminants down to a microscopic level, but some contaminants still pass through into your water. Two very important contaminants that freely pass through an RO system are PESTICIDES and HERBICIDES. These contaminants are highly dangerous. Aside from pesticides and herbicides, RO is actually too pure. Sounds funny, but water that has no minerals, when you drink it, it strips your body of minerals. Overtime, this can lead to fatigue, cramps, and other muscular disorders. Pesticide and herbicides are primarily found in the ground as they are used for agricultural purposes, meaning that it is unlikely to be found in the air, making air water much safer than ground water. Additionally, Kara Pure prides itself on offering the best mineral water that reduce fatigue, improve functionality, and promote a healthy lifestyle.
Why Switch from my carbon filter waterpitcher?

One of the most common household water filters is a carbon filter water pitcher They are convenient and easy to use. These filters are great when properly managed. Unfortunately when a pitcher isn't regularly cleaned, it becomes a breeding ground for bacteria and germs. When the filter isn't changed regularly, it can grow mold. Lastly, unless you purchase the premium filters, standard carbon filters DO NOT filter out lead or heavy metals. Basically, carbon filters remove odors and large contaminants, leaving a lot of room for other contaminants to enter your water.

Kara Pure has a 7-stage filtration process that pre-filters the air as it enters the unit, removes odors, kills germs, and doesn't use lead or heavy metal containing ground water. Honestly, for your own safety, switch from a carbon filter water pitcher…
What minerals are in KaraPure water?

Our water contains Healthy & Natural mineral: Ca, Mg, Li, Zn, Se, Sr, H2SiO3

Ca - Bone Health

Mg - Healthy Blood Pressure

Li - Mental Wellness

Zn - Immune Support

Se - Powerful Anti-Oxidant

Sr - Reduce Acidity 

H2SiO3 - Healthy Skin
What is the pH (alkalinity) of Kara Pure Water?

Kara Pure water is 8.5 - 9.5 pH. Kara Pure water is alkaline water.
Does the air in my room,office, or space effect the taste or smell of my water?

Not to worry, the Kara Pure filtration process removes odors, airborne particles, or any other "odd" scents in your room…Our 7-stage filtration process includes a double carbon filtration process to ensure that your water taste great and eliminates any odors in the air from getting into your water. The result is great tasting, smooth odor free water!
How will Kara Pure help mesave money?

Kara Pure operates at roughly 1-1.5 kWh / liter, offering up to a 95% cost savings compared to luxury bottle water brands around the world. The average luxury water bottle cost between $2-3/500ml. Kara Pure's exceptionally luxury water cost between $0.5-0.25/500ml. The cost saving will vary depending
on where you live and what the kWh / hour cost is in your region of the world.
See below for kWh/h by region:

USA: $0.14

India: $0.08 (6RUP)

Singapore: $0.19 (0.26SGD)

Australia: $0.25 (0.35AUD)

Mexico: $0.07 (1.62MXN)
Can it run off of solar?

The unit doesn't have a battery you have to plug it in. For a solar panel to work you need a battery and an inverter that produces DC power, the inverter will convert to AC, you would have to plug the unit into the inverter and that's how it would work. In our case, it is not feasible because there is no solar direct. The best option for us is if the house is already solar powered.
How does the water taste?
Does it produce hot andcold water?

Does it produce hot andcold water?
What happens if I don't useall of the water every day?

Kara Pure will automatically shut on/off when it's full or needs to make more water. 
Do I need any tools toreplace the filter?

100% NO. We made sure that you don't need a degree in engineering to replace Kara Pure filters. Simply pop them out and put the new ones in and get back to enjoying your great tasting water without having to worry if you missed a screw.
KaraPure Plicies
KaraPure Refund Policy

Return & Refund Policy

Thanks for shopping at Kara Water. If you are not entirely satisfied with your purchase, we're here to help.

Returns

You have 14 calendar days to return an item from the date you received it. To be eligible for a return, your item must be unused and in the same condition that you received it. Your item must be in the original packaging. Your item needs to have the receipt or proof of purchase. Returns are subject to restocking fees, return shipping fees and other applicable fees that the vendor may incur. 

Refunds

Once we receive your item, we will inspect it and notify you that we have received your returned item. We will immediately notify you on the status of your refund after inspecting the item. If your return is approved, we will initiate a refund to your credit card (or original method of payment). You will receive the credit within a certain amount of days, depending on your card issuer's policies. 

Shipping

You will be responsible for paying for your own shipping costs for returning your item. Shipping costs are nonrefundable. If you receive a refund, the cost of return shipping will be deducted from your refund. 

Contact Us

If you have any questions on how to return your item to us, contact us.