EcoFlow|110W Portable Solar Panel
Regular price

Price:

$299.00 USD

Regular price

List Price:

$399.00 USD

Sale price

Price:

$299.00 USD

You save:

$100.00 USD (25%)

Unit price

per
4% off, Free Shipping & Tax Free| Coupon Code: EcoFlow | Ends:
Shipping Information

Free Shipping to Contiguous United States| We do not ship to Alaska, Hawaii, American Samoa, Guam, Northern Mariana Islands, Puerto Rico, U.S. Virgin Islands
30 Days Price Match Guarantee
ecopowerit will refund you the difference if you find a lower price from us within 30 days of your purchase, shop with confidence.
Share
Convert sunlight into Clean, Renewable energy using 110W portable solar panels, perfect for Camping, RVs, & Home use
• Collect more energy with a two-in-one bifacial design
• Durable tempered glass that"s built to last
• Up to 23% conversion rate
• Self-supporting with an adjustable angle
• Durable with IP68 waterproof rating
Portable Solar Panels
Power your everyday appliances at home aEcoFlow|110W Portable Solar Panelnd off-grid with sustainable solar energy
.
Powerfully Portable
With an industry-leading 23% conversion rate, it"s far lighter and approx. 10% smaller than similar portable solar panels on the market. That means a faster, easier charge wherever you are
.
Self-Supportable
Take it camping, on a road trip or in your backyard with a case that doubles as a stand. Unzip and prop up your panel at just the right angle to ensure maximum solar coverage
It Comes With A Carry Case Too
On the go? Keep your panel folded up and protected while you hit the road. Save valuable trunk space and go easy knowing your panel is safe. Once you arrive, simply unfold, prop up and start generating clean, green electricity
.
Waterproof & Durable
Designed to withstand your adventurous lifestyle, this panel is IP68 certified. That means we dunked it underwater for 72hrs in lab conditions. Just to make sure*. Built with a high-strength composite, it can take a beating too. That"s an all-weather ready panel designed to stand the test of time.
Part Of EcoFlow EcoSystem
Introducing the world"s first portable home battery with an expandable ecosystem for home backup, smart energy management, lower energy bills, and more. The EcoFlow DELTA Pro is the next leap in portable power technology, offering you power security and independence, wherever you are.
3.6kWh - 25kWh Expandable Capacity
Power Your Home For Days
Huge Expandable Capacity For Any Situation



3.6-25kWh

DELTA Pro has a huge expandable capacity that you can customize to meet your energy needs. With two Smart Extra Batteries, you can increase your capacity to a whopping 10.8kWh. And for the first time ever, you can power your home for days with an incredible 25kWh capacity.
Power For Any Situation
From tailgate power to extreme blackouts that last for days on end, DELTA Pro delivers up to 25kWh of capacity. With that, you"re covered for any situation. That"s the industry gold standard.
All The AC Output You'll Need
A single DELTA Pro unit packs a 3600W AC output, which can be expanded up to 4500W with X-Boost technology. Power 99.99% heavy-duty devices at home, outdoors, or at work. You can even pair two units together to achieve 7200W.
The World's Fastest Charging Portable Power Station
MultiCharge delivers record-breaking speeds at 6500W. To reach 6500W, you can opt for these charging methods.
Fully Charge In 1.8 Hours
EcoFlow's X-Stream charging technology isn"t just fast, it"s safe too. The battery management system ensures safety and longevity while you fully charge DELTA Pro from a standard AC wall outlet in 1.8 hours*.
Plug & Play Home Backup Power
Starting from one unit, power your essential appliances with 3600W and 120V output by directly connecting one DELTA Pro with a generator cord to your home"s power inlet box* for partial home backup when a blackout hits. Easily chain together two DELTA Pros using the Double Voltage Hub and plug in to your power inlet box* to hit the massive 7200W and 240V to power your entire home during a power outage. The DELTA Pro and Double Voltage Hub provide a simple and convenient home battery system without rewiring or running dangerous extension cables through your home. *including transfer switch or GenerLink which has a male L14-30 twist-lock connection that can accept a L14-30 extension cord.
Charge Up At Thousands Of EV Stations Worldwide
For the first time ever with a portable power station, you can charge up at thousands of EV stations worldwide. This unique charging method gives you up to 3000W fast charging on the go.
Go Renewable With 1600W Solar Charging
EcoFlow"s suite of solar products gives you a cost-effective renewable energy source to stay powered. You can use solar energy to charge DELTA Pro in just 2.8-5.6 hours. DELTA Pro has a wide voltage range from 11-150V, which makes it compatible with 90% of third-party solar panels with MC4 connectors. And when the weather gets unpredictable, the smart maximum power point tracking (MPPT) automatically adjusts, maximizing your solar generation at any time of the day.
Get Emergency Backup Power With The EcoFlow Smart Generator
The EcoFlow Smart Generator serves as an emergency option that integrates with your DELTA Pro ecosystem. It auto-starts when your DELTA Pro hits a low level of charge, re-charges your DELTA Pro, and stops the engine all by itself once your DELTA Pro hits a full charge. Compared to a traditional gas generator, the EcoFlow Smart Generator delivers less energy loss, faster charging, and higher efficiency.
A Battery That Lasts For Years On End
DELTA Pro sports a brand-new LFP battery with 6500 cycles, which means you can use DELTA Pro for years and years before your unit reaches 50% of the original capacity. EcoFlow's battery management system provides real-time analysis and regulation of voltage, current, and temperature. This unique protection mechanism makes DELTA Pro an incredibly safe and efficient home battery.
Multiple Ways To Control & Monitor
Control DELTA Pro either on the unit itself, using the remote control accessory, or unlock a ton of customization via the EcoFlow app. On the app, you can access your power settings, such as charging and discharging levels, AC charge speeds, control the Smart Generator and a whole lot more.
The world's First Portable Home Battery EcoSystem
DELTA Pro"s expandable ecosystem provides you with power during blackouts, customizable energy around the clock, and lower energy bills. How does it achieve all this? With a selection of extra batteries, smart generators, solar trackers, wind turbines, a smart home panel, and more. From backup power to reducing your reliance on the grid with green alternatives, the DELTA Pro ecosystem can be customized to your needs.
The EcoFlow Smart Home Panel
The new EcoFlow Smart Home Panel is the heart of the DELTA Pro home battery ecosystem. It integrates up to two DELTA Pro units with 10 home circuits. Each DELTA Pro can be connected with extra batteries, solar panels, or smart generators, giving you uninterrupted power during blackouts, smart energy management for your critical loads, and lower energy bills.
Uninterrupted Home Backup
With a fast 20ms switchover time, DELTA Pro and the Smart Home Panel can keep you powered on during a blackout. All the while, the EcoFlow app keeps you in the know, letting you select and modify your device priorities.
Smart Energy Management
The EcoFlow DELTA Pro ecosystem stores energy day and night, reducing your reliance on the grid and lowering your energy bills by combating time-of-use rates. It integrates directly with your home using the EcoFlow Smart Home Panel. The EcoFlow app gives you a smart breakdown of your energy habits, and you can customize your energy usage for any type of situation.
RV living Made Easy
With DELTA Pro, you can take home with you, wherever you go. It features wheels and a suitcase-esque extendable handle that makes transport easy. And if you're looking for a complete power solution for RV road trips and outdoor adventures, DELTA Pro comes with solar panels and a dedicated 30A Anderson port and AC outlet.
The Power That Means Business
Not only does DELTA Pro provide home backup and off-grid power, it also gives you a secure power source for any type of professional work. Whether you're working at home or outdoors, from DIY to professional projects, DELTA Pro helps you get the job done.
Tech Specs
| | |
| --- | --- |
| Unfolded Dimensions | 20.2*62.5*0.8 in /178.5*42.0*2.5cm |
| Folded Dimensions | 20.2*16.5*0.8 in/42.0 x 48.0 x 2.5cm |
| Weight | 8.8lb (4kg) |
| Warranty | 12 Months |
| Rated Power | 110W(+/-5W)* |
| Efficiency | 22%–23% |
| Connector Type | Solar Connector |
| Open Circuit Voltage | 21.8V (Vmp 18.4V) |
| Short Circuit Current | 6.5A (Imp 6.0A) |
| Cell Type | Monocrystalline Silicon |
| Operating & Storage Temperature | −4°F to 185°F |
What's in the box
110W Solar Panel Protective case and kickstand*1
110W Solar Panel *1
Snap Hook*4
User Manual *1
Warranty Card*1

User Manual
EcoFlow 110W Foldable Solar Panel Manual
EcoSystem
Portable power was once a choice between clunky DIY arrays or small capacity. EcoFlow developed an all-in-one battery with an intimidating capacity that you can wheel around and stow away. Let's take a deep dive into DELTA Pro by going over both the features you can see and the ones you can't – plus the ecosystem of add-ons that let you do more with DELTA Pro. If you're not really sure what a portable power station is, check out this page first.
| | Quick Specs |
| --- | --- |
| Capacity | 3600Wh (expands to 25kWh) |
| Output | 3600W (expands to 7200W) |
| Charges by | AC outlet, Solar, Vehicle, EV station, Smart Generator |
Delta Pro Power Station
Structure

If you're somewhat familiar with portable power stations, the fact that it has wheels might come as a surprise, but a telescopic handle on the front gives it the maneuverability of a suitcase. The body is made from rigid ABS plastic that has been infused with metallic particles so it's both lightweight and resistant to abrasion. Commonly used outlets like USB and wall outlets are on the front, technical ports are under the front corner panel, and input ports are on the back. Four powerful fans on the top keep the battery cool to maintain high cycle life and top performance.
Battery

We picked the LiFePO4 battery chemistry because this industry favorite has a long cycle life, long shelf life, and high stability. Since DELTA Pros will be used around the world in every scenario imaginable, we paired it with an all-star battery management system to handle atypical temperatures, voltages, and currents, while simultaneously preserving the battery's cycle life.
X-Stream
EcoFlow"s proprietary X-Stream technology delivers one of the fastest AC recharging rates on the market. Using a built-in smart inverter, DELTA Pro can recharge its full 3600 watt-hours in 2 hours and 40 minutes at 1800W.

X-Boost
When the combined wattage of everything drawing power from DELTA Pro exceeds 3600 watts, EcoFlow's X-Boost technology lets the unit accommodate 4500 watts worth of devices. Some devices will run at a lower wattage during this period – toasters may take longer and power tools may be less powerful, and some devices may not work at all. X-Boost shouldn't be seen as a way to get 4500W out of DELTA Pro, but rather as a safety net so that a temporary surge in usage doesn't overload the inverter.

Near, Far, Wherever
DELTA Pro has physical buttons and switches for when it's accessible, but the EcoFlow app lets you adjust, control, and monitor more. Connect at close range with Wi-Fi-based pairing or Bluetooth, or connect it to a home network to manage it from anywhere around the world.
LCD Screen
The oversized numbers and auto-brightness are designed for maximum readability at a distance, and the generous size of the display fits in key information for energy management.

Capacity as a percentage

Estimated runtime at your current usage (when discharging)

Time until fully recharged (when recharging)

Real-time input and output watts iIndicators about what's plugged in, alerts, and connections
USB Ports
The USB ports on the front are for powering everyday devices in DC, which is more efficient than charging from the AC ports. The USB-C ports are at 100W and can charge newer laptops.
20A Outlet
Anything that plugs into your home's wall outlet can be plugged into these four NEMA 5-20 outlets, even professional 20-amp devices. These outlets vary by region to match what is used in the home.
30A Outlet
Mid-sized RVs and trailers need a higher amperage than a regular wall outlet can provide, which means most all-in-one batteries can't be used as a battery backup. With DELTA Pro, the cable on your RV that normally plugs into a campground's shore power box plugs into its built-in NEMA TT-30 receptacle. (Not to be confused with the NEMA 10-30 receptacle used for dryers and welding machines)
Solar/Car Charging Input Port
Recharge DELTA Pro on a DC current through this XT60 cable. It supports 12V/24V charging from a car outlet for when you're on the go and up to 1200W from solar input when you're where you want to be. Charging from a car outlet for a few hours will provide a relatively small amount of power that is better suited to keeping your DELTA Pro topped off than for meeting your energy needs. Three 400W solar panels linked in a series can fill all of DELTA Pro's 3600 watt-hour capacity in 4 to 8 hours with the right conditions. It might sound like a long time, but remember, 3600Wh is a whole lot of power.
X-Stream AC Charging Port
X-Stream is an EcoFlow technology capable of recharging 3600 watts hours of capacity in 2 hours and 42 minutes. That number can drop to below 2 hours when charging from solar and AC simultaneously.
AC Charge Speed Switch
The Speed Switch toggles between fast charging and the speed you set in the app (or 400W by default).
Overload Protection Switch
If you do manage to exceed the output DELTA can handle and "trip it's breaker" so to speak, press this button before continuing.
Extra Battery Ports
These two ports connect with EcoFlow's Extra Battery or Smart Generator. Read more about them in the EcoSystem section below.
Anderson Port
Like the 30A AC outlet, the Anderson output port is another way for RVs and trailers to get 30 amp service. Some swear by it for its versatility and efficiency, though it may require some know-how to set up if your outfit doesn't have it integrated yet.
Car Outlet and DC 5521
Why is it that as the automotive industry is dropping 12V accessory outlets, portable power stations are picking them up? Car outlets are still a great way to get power from the battery without losing energy to DC to AC inversion – things with a car outlet are more efficient. The same goes for the two DC 5521 outlets for 5.5mm barrel plugs that appeal to a techier audience.
Remote Control Port
EcoFlow's Remote Control shows DELTA Pro's screen from a wired or wireless connection (see the Ecosystem section below for more info). Since the wired connection uses an Ethernet cable, it's possible to run the cable for long distances and install Ethernet wall jack.
Standby Switch
DELTA Pro normally powers off after two hours of not being used, but when switched to standby mode, it can power on when something tries to draw power or remotely from the app or the Remote Control.
Infinity Port
We came up with this port because we needed something that was as smart as USB with the power of AC. Why? It lets DELTA Pro connect to another DELTA Pro or to the Smart Home Panel for home integration. It's also how you can charge DELTA Pro from an EV charging station, just like you would an electric vehicle.
THE ECOSYSTEM

It's hard to talk about DELTA Pro without looking at the ecosystem surrounding it. By ecosystem we mean all the add-ons that are compatible with a DELTA Pro so you can do more with it. Charge from an EV charging station, integrate DELTA Pro with your home circuitry, use a smart gas generator for worst-case scenarios, or connect a second DELTA Pro for the highest output available from a portable power station.
Smart Home Panel
Essentially a second breaker panel, the Smart Home Panel connects the battery capacity of one or two DELTA Pros to your home's light fixtures and wall outlets. Decide which rooms get battery power either from the panel's interface or from the EcoFlow app. The panel is how DELTA Pro can get used year-round both as an energy management solution.
Backup: Using the panel cuts out the need to bring your portable power station inside or run extension cords to different parts of the house. It also makes it possible to power things that don't have plugs like lighting, alarm systems, well pumps, bathroom vent fans, and ceiling fans.
Energy management: The Smart Home Panel's second potential benefit is for capturing cheaper energy when electricity prices are lower, and running your home on stored power when rates are higher*. You can set all this up on the EcoFlow app so the switch to battery backup happens seamlessly and automatically.
Double voltage: With one DELTA Pro connected to the Smart Home Panel, any 120V wall outlet in your home becomes battery powered. With two DELTA Pro units, the Smart Home Panel combines their voltage to power both your 120V and 240V wall outlets for things like dryers, ovens, water heaters, and even HVAC systems.
*Savings are dependent on an electricity plan where prices vary throughout the day and are not at fixed rates.
Double Voltage Hub
For insanely high wattage devices when you're not at home, the Double Voltage Hub – like the Smart Home Panel – connects two DELTA Pro units to output 7200 watts. You probably don't own anything that would draw that much, but multiple things used at once could. The hub is suited for both mobile workstations using heavy-duty power tools and off-grid living spaces with all the amenities. Power 240V devices through the NEMA 6-20 outlets and NEMA L14-30 outlet, whose twist-lock design makes it ideal for any situation where there's risk of pulling the cord loose.
EV Station Charging Adapter
DELTA Pro is the first portable power station capable of recharging from an electric vehicle charging station. With an adapter in the Infinity port, DELTA Pro can recharge from 0–100% in less than 2 hours at any Level 2 EV charging station.
Remote Control
A screen that mirrors DELTA Pro's at a bigger size makes it easier to manage energy usage when DELTA isn't right in front of you. Connect by Bluetooth for convenience or Ethernet cable to cover longer distances and added certainty.
Extra Battery Unit
DELTA Pro's Extra Battery has the same look and the same 3600Wh capacity, just without the ports. Two Extra Battery units can triple a DELTA Pro's capacity, and this trio can connect to another DELTA Pro with two Extra Batteries using the Double Voltage Hub or the Smart Home Panel. That's 21.6kWh of portable power!
Smart Generator
It may seem we've become the very thing we meant to destroy, but keep in mind that gas generators and portable power stations have their own strengths. The reality of portable power stations is that you can't just pour in more capacity during emergencies, and some scenarios may exhaust your battery capacity faster than solar can recharge it. EcoFlow's Smart Generator plugs into DELTA Pro's extra battery port and automatically turns on when DELTA Pro's battery drops below a certain level. The Smart Generator runs until DELTA Pro is charged up to a level you set in the app, and then powers off. That's added confidence knowing DELTA Pro always has a fallback for the worst case scenario. If that day should ever come, the Smart Generator can charge DELTA Pro during the day, so you can sleep peacefully while DELTA Pro powers on through the night.
Warranty
Shipping, Returns & Refund
EcoFlow Shipping, Return, Cancellation and Refund Policy
---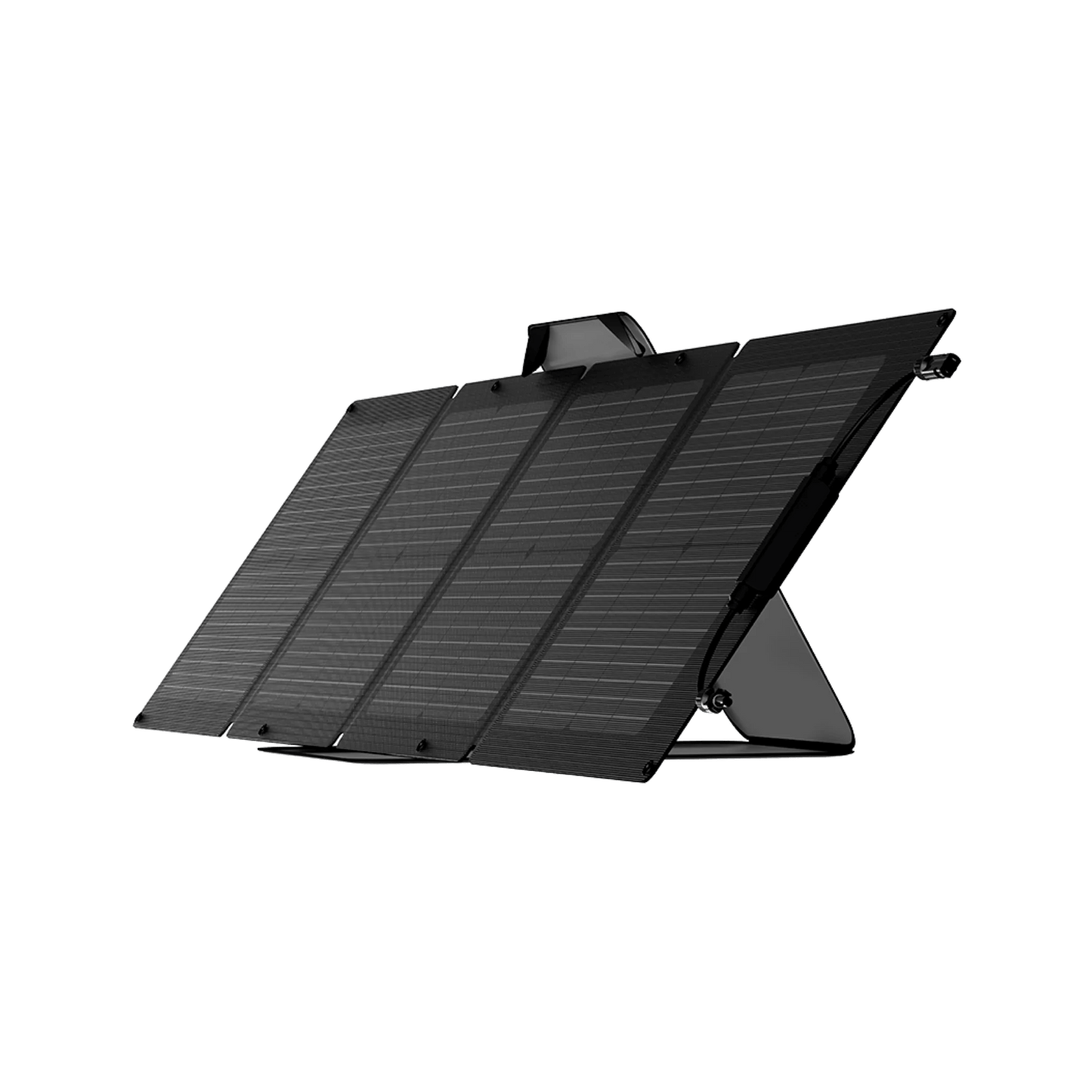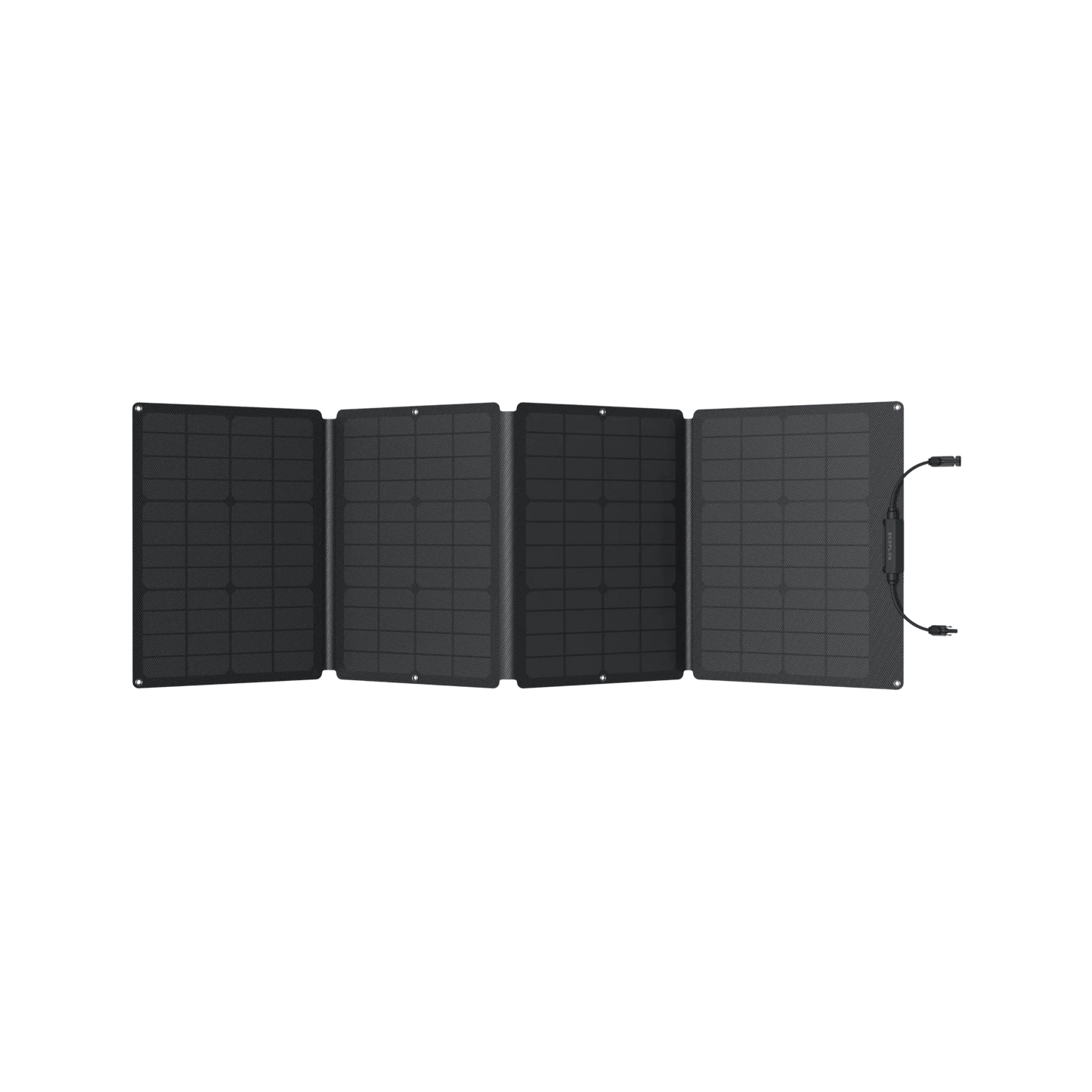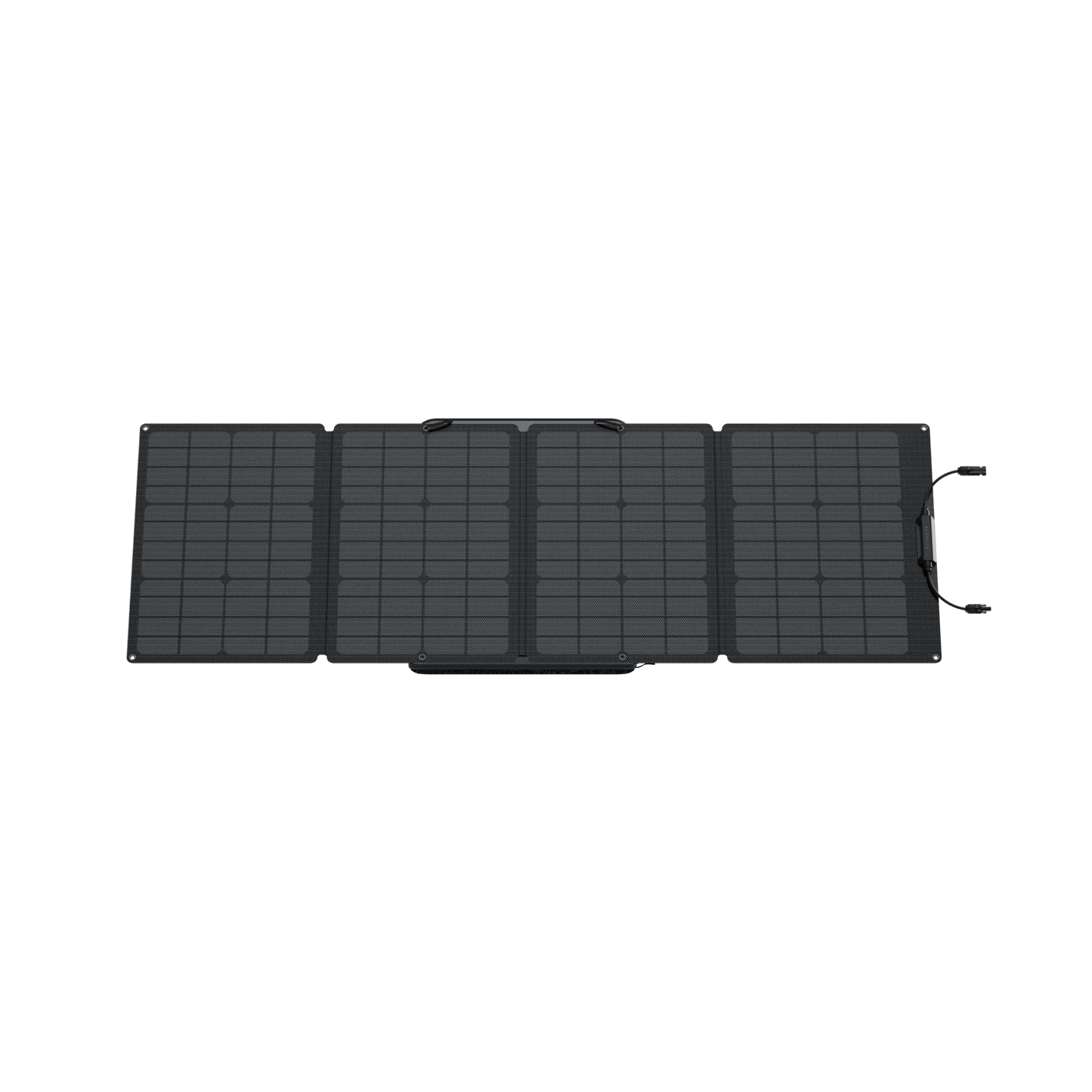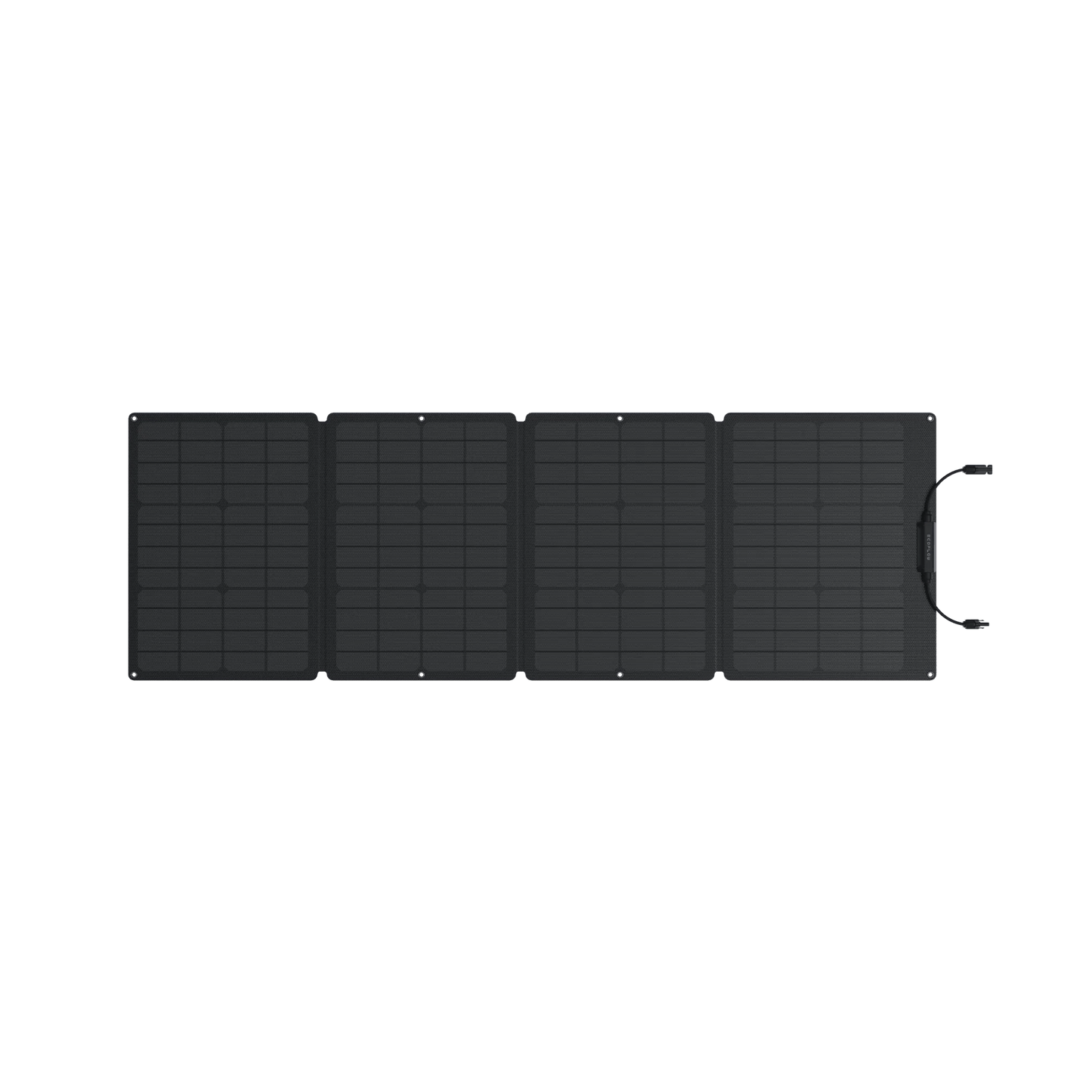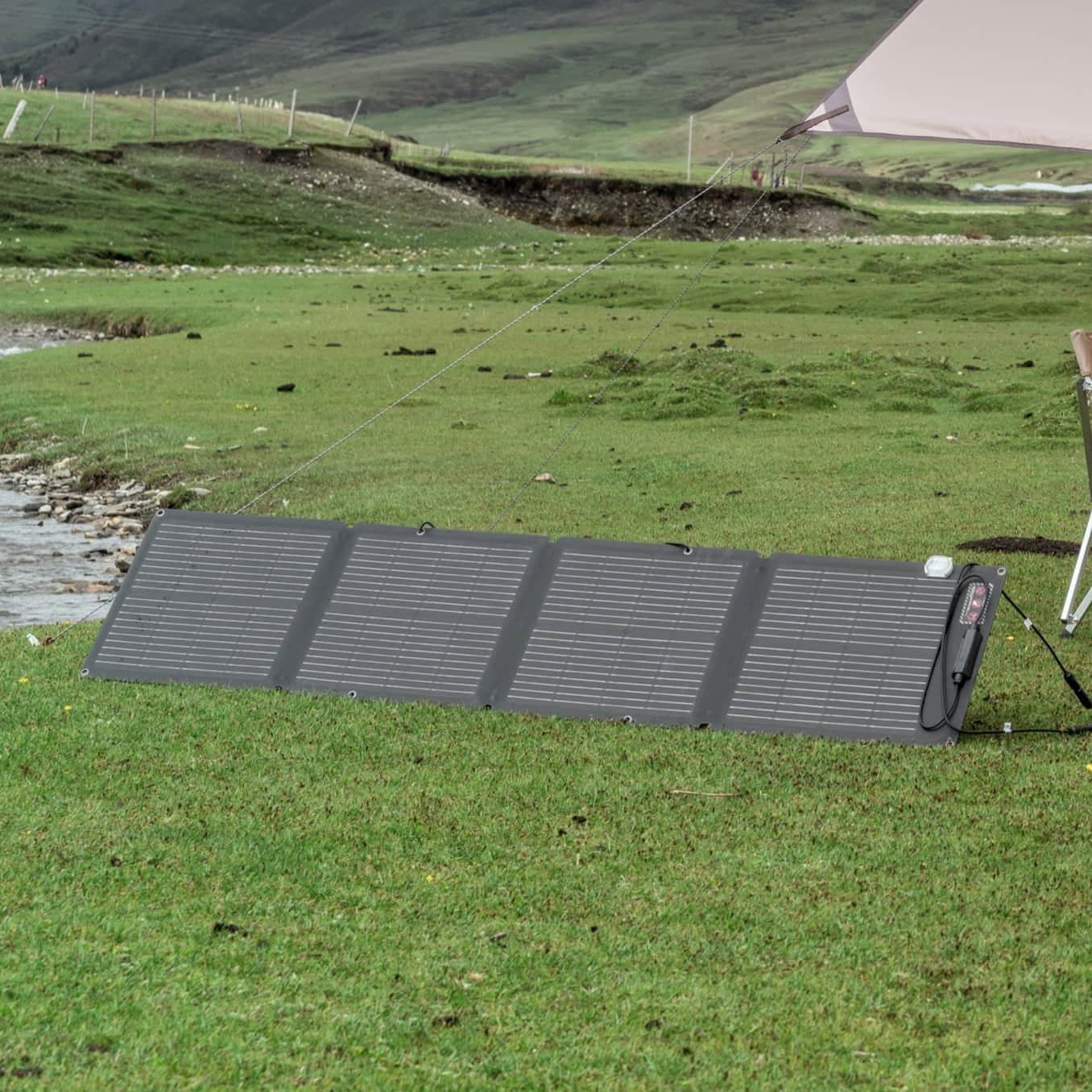 Compare The Models
110W Solar Panel

Rated Power:110 Watts
Unfolded : 62.5 x 20.2 x 1.0 in
Efficiency : 21-22%
Warranty : 12 Months

$399

160W Solar Panel

Rated Power:160 Watts
Unfolded : 61.8 x 26.8 x 1.0 in
Efficiency : 21-22%
Warranty : 12 Months

$449

400W Solar Panel

Rated Power:400 Watts
Unfolded : 93.1 x 43.7 x 1.0 in
Efficiency : 22%
Warranty : 12 Months

$1,199
Frequently Asked Questions
Are portable solar panels effective?

Portable solar panels are an extremely effective, clean, and renewable way to charge a portable power station. EcoFlow 400W portable solar panels have a larger wattage than typical solar panels and are more efficient due to their monocrystalline cells. Spring up to three 400W portable solar panels and use with a DELTA Pro portable power station for input of 1600W. Additionally, EcoFlow portable power stations use an MPPT algorithm that ensures a constant energy supply. Unlike static solar panels, portable solar panels are easily moved and adjusted depending on where the sun is in the sky.
Where do you place portable solar panels?

Positioning portable solar panels at an angle between 30-45 degrees, facing the direction of the sun, is best. EcoFlow portable solar panels have a built-in stand that can be adjusted, depending on where the sun is in the sky.
Which solar panels are best for camping?

Solar panels that are portable, foldable, and lightweight are the best kind for camping. Pair one with a portable power station and string up to 4 together for immediate power that is clean, green, and renewable.
Does the 220W Bifacial Solar Panel generate a full 220W ofpower?

In most cases, it is normal for a solar panel not to deliver its full nominal power. Some of the reasons why this happens, as well as some suggestions for getting closer to the nominal power figure, are given below. 1. Light Intensity. The amount of light shining on the panel will result in fluctuations to the power output. You are more likely to achieve nominal power output figures closer to those obtained under test conditions when using the product on a clear day during the midday sun, than when using the product in the morning or later in the afternoon. Weather conditions will also affect the amount of sunlight that shines on the panel. For example, you are much less likely to achieve the figures for nominal power in hazy, cloudy or rainy conditions. 2. Surface Temperature. The temperature of the solar panel surface will also affect the amount of power generated. The lower the surface temperature of the panel, the more power will be produced. For example, solar panels generate more power when used during the winter than during the summer, and this is completely normal. Solar panels generally reach temperatures close to 60°C (140°F) during summer. This reduces nominal power by 13%, despite the higher levels of light shining on the panel. 3. Sunlight Angle. In optimal light conditions, the sun's rays should remain perpendicular to the surface of the panel for best performance. Power output is only marginally impacted by sunlight hitting the panel within 10° either side this 90° angle. 4. Panel Shading. The surface of the solar panel should not be shaded during use. Shading caused by shadows, foreign objects and glass can all greatly reduce power output. Performance Issues Caused by Malfunctioning Panels: If the panel still isn't generating power or its output remains far below expected nominal power figures after addressing the issues above, there may be an issue with the panel itself. Please contact Customer Support for assistance.
How much power can 220W Bifacial Solar Panel generate undernormal conditions?

This depends first and foremost on weather conditions. Generally speaking, on a clear day with no clouds in the sky, sunlight hitting the panel at a 90° angle usually generates 160W–180W of power in the 220W panel. (Current light conditions are normally 800W–900W/m2 (74.3W–83.6W/ft2) with a panel temperature of 50°C (122°F) under test conditions. Nominal power ratings are based on 1000W/m2 (92.9W/ft2) in AM1.5 conditions with a panel temperature of 25°C (77°F) under test conditions. Power output figures close nominal values were normally observed in the midday sun during the winter.)
What should I know about the operating temperature, storage, anduse of the 220W Bifacial Solar Panel?

The operating temperature of the Bifacial Solar Panel is -20°C–85°C (-4°F–185°F). The panel should be folded into its original shape and stored in its Protective Case (Kickstand), which provides sufficient protection for the product. To extend the service life of the panel, ensure that the product is not exposed to external forces/impacts when not in use. The solar panel itself is made of glass and must not be dropped, pierced, bent, or sat on. These actions may break the glass and render the panel unusable. Any such damage will not be covered by the free warranty.
The 220W Bifacial Solar Panel has two sides. How can I tell whichside is which, and show can I optimize power generating using the rear side ofthe panel?

The front side of the Bifacial Solar Panel has a junction box. This side of the panel generates power by being positioned perpendicular to the sun's rays. Since the rear side of the panel faces away from the sun, it does not generate electricity in the usual way. Generally speaking, the rear of the panel uses ambient light to increase the overall performance of the product by up to 5%-25%. This figure is higher if mirrors are used, or when ambient light levels are high. Using the product with the rear side of the panel facing the sun generates 80% of the power when compared to using the front side. Using the panel in this way does not have a negative effect on the product.
Can I use non-EcoFlow branded power stations with the 220WBifacial Solar Panel?

Yes, but only certain types. The power station used must be compatible with MC4 standards in order to work properly. In addition, other brands of power station may not offer the same levels of compatibility as EcoFlow-branded power stations, may have lower nominal power ratings, and may not offer the same levels of performance.
Can I connect both 110W and 220W Bifacial Solar Panels togetherin series?

Yes, but this is not recommended. While the voltages of the two panels are identical, the current ratings are not. This means that when the panels are connected in series, the current will be limited to that of the 110W panel and the full performance potential of the 220W panel cannot be released, resulting in a 1+2<3 scenario. Please purchase panels of the same size if you intend to connect multiple panels in series.
Can I connect 220W Bifacial Solar Panel in parallel?

Yes, but this is not recommended. 220W solar panel have a maximum current rating of 12A. Though these panels can be connected in parallel, DELTA and RIVER series power stations only support a maximum current of 12A. Parallel connections increase power output by doubling the current, but connecting the panels in this way would result in a 1+1=1 scenario whereby the current is limited to 12A by the connected devices. We do not recommend connecting the panels in parallel, unless you use a different brand of power station with an input current of 20A or above.
How do I get the most solar power?

Increase the efficiency of your solar panel by facing it directly at the sun without any obstructions. Remember to be careful when handling your solar panel because damaged cells provide less power.
Deos it charge if it's inside?

Yes, if the only thing between it and the sun is transparent, but it won't charge as well compared to being outside. You can compare the difference by looking at the input section of your power station's LCD screen.